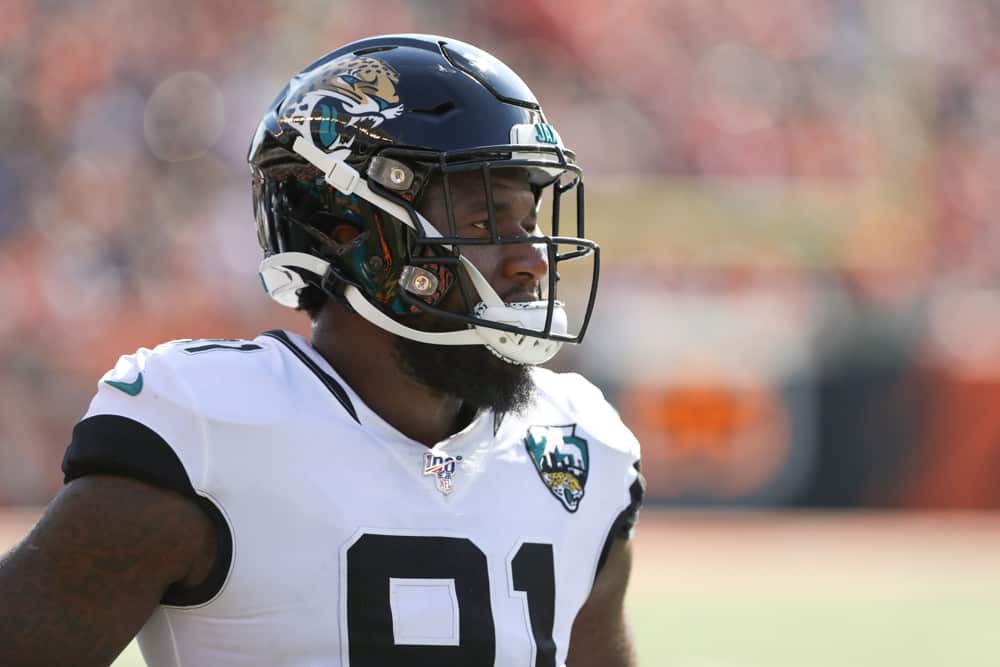 The 2020 offseason has been filled with trade rumors and speculation for the Cleveland Browns.
Earlier in the offseason, tight end David Njoku requested a trade from the organization.
He later pulled back that request and has decided to stay in Cleveland after meeting with the front office.
#Browns Andrew Berry admitted he was a little surprised David Njoku asked to be traded in the first place, but it's all good now pic.twitter.com/XZyCO8jaWd

— Mary Kay Cabot (@MaryKayCabot) August 4, 2020
There was plenty of speculation that the Browns might package Njoku in a deal for Jacksonville Jaguars defensive end Yannick Ngakoue.
Clearly, that isn't something that is going to happen now, but it didn't stop the team from reportedly inquiring about Ngakoue according to Mary Kay Cabot of Cleveland.com.
He's one of the players the #Browns inquired about this offseason https://t.co/2PcTRIFGtR

— Mary Kay Cabot (@MaryKayCabot) August 10, 2020
The 25-year-old has made it well-known he no longer desires to play for Jacksonville.
The organization placed a franchise tag on him this offseason, but it doesn't sound like he's going to play for them anymore.
Maybe a trade to Cleveland is in the works if Ngakoue refuses to suit up during the 2020 season.
Ngakoue to Cleveland?
There certainly seemed to be some interest in Ngakoue this offseason, but how much was truly there?
The star defensive end has made himself into a household name over the last four seasons.
That being said, Ngakoue's price tag is going to be fairly high considering he's one of the best young pass rushers in the league.
The Jaguars have not shown interest in signing Ngakoue long term, but maybe the Browns will do it.
Last season, Ngakoue recorded 41 tackles, 13 tackles for loss, and eight sacks in 15 games.
The former Pro Bowl defensive end has already recorded 37.5 sacks over the first 63 games of his career.
There is no doubting Ngakoue is an absolute stud, but do the Browns actually need him?
Browns D-Line 
Over the offseason, the Browns gave defensive end Myles Garrett a massive extension.
Details on the extension for the #Browns and Myles Garrett: In his rather large 5-year, $125M extension, there are $100M in total guarantees and $50M fully guaranteed at signing. He's now under contract 2026. https://t.co/873RKFYdbk

— Ian Rapoport (@RapSheet) July 14, 2020
He was the highest-paid defensive end in the league until Los Angeles Chargers defensive end Joey Bosa got a slightly larger deal.
Despite that, Garrett is still owed $100 million in guarantees, so he definitely got paid this offseason.
One the other side of the d-line, the Browns have Olivier Vernon and Adrian Clayborn to back him up.
Vernon is coming off a mediocre 2019 campaign but has a solid track record.
Clayborn has not started in quite some time, but has proven to be a reliable role player in the NFL.
The Browns already have a trustworthy front-four, so adding Ngakoue might not be completely necessary.
However, having Garrett and Ngakoue together would be a nasty duo.
What is Ngakoue's Value?
It seems like the Jags plan to hold onto Ngakoue until they get a massive offer from somebody.
Whether or not that happens remains to be seen.
It sounds like the Browns were just doing their due diligence and checking on Ngakoue's price tag.
It's unknown if the team actually has significant interest in trading for Ngakoue.
The Browns would likely have to give Ngakoue a long term extension if they traded for him.
The organization already has Garrett locked up, but has plenty of other young studs needing new contracts soon.
The list includes quarterback Baker Mayfield, running back Nick Chubb, and defensive back Denzel Ward.
Who knows if Cleveland plans on signing all of them, but they probably wouldn't have the money if they sign Ngakoue to a massive deal.
Having Garrett and Ngakoue together on a team would be a dream, but sadly it might stay that way.