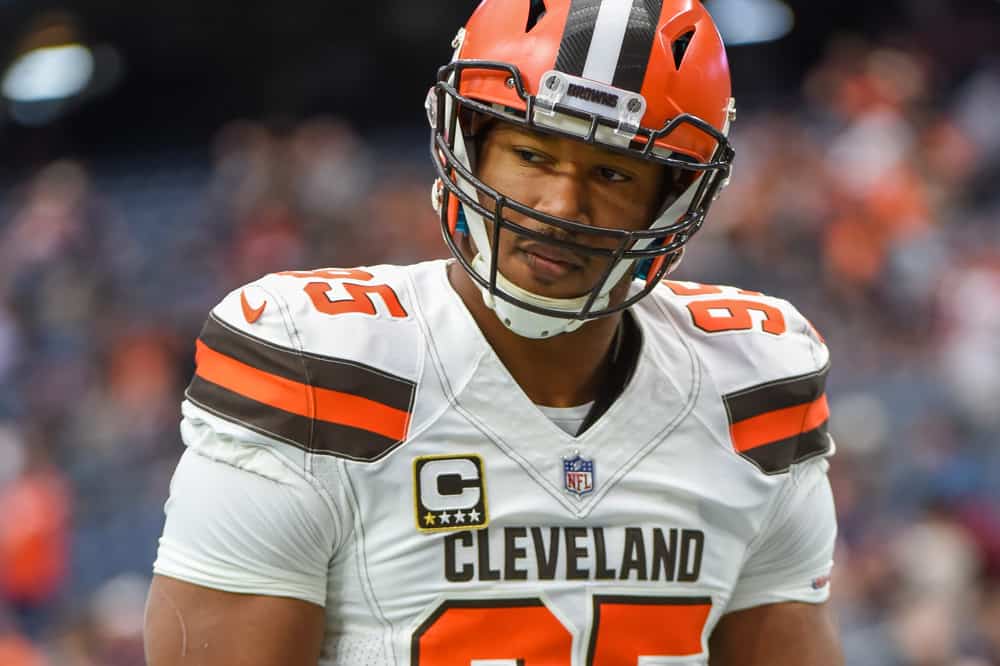 The Cleveland Browns and defensive end Myles Garrett appear to be closing in on a five-year extension worth $125 million, unnamed sources told NFL Network reporter Ian Rapoport.
Rapoport sent a follow-up tweet saying the deal includes $100 million in total guarantees, with $50 million guaranteed at signing.
"Their top priority of this offseason and they are in the final stages," Rapoport said of the Browns' efforts to offer Garrett a contract extension.
Details on the extension for the #Browns and Myles Garrett: In his rather large 5-year, $125M extension, there are $100M in total guarantees and $50M fully guaranteed at signing. He's now under contract 2026. https://t.co/873RKFYdbk

— Ian Rapoport (@RapSheet) July 14, 2020
Starting in 2022, Garrett is owed an average of $25 million per year through the 2026 season.
The deal makes Garrett the highest-paid defensive player in the NFL.
Chicago Bears edge rusher Khalil Mack makes an average of $23.5 million per year through the 2024 season.
The next highest-paid edge rushers are Dallas Cowboys' Demarcus Lawrence at $21 million per year and the Kansas City Chiefs' Frank Clark at $20.8 million per year.
On Tuesday, an unnamed source told ESPN Senior NFL Insider Adam Schefter the Kansas City Chiefs are giving defensive tackle Chris Jones a four-year, $85 million that includes $60 million in guarantees.
If Jones earns the full $85 million contract, it would pay him $21.25 million per season.
Los Angeles Rams defensive tackle Aaron Donald makes $22.5 million per year through the 2024 season.
However, the Rams do have a potential out with Donald in 2022.
Ahead of Tuesday's news, data from OverTheCap.com shows the Browns still have about $38.76 million in cap space, which is the most in the league.
Garrett, 24, is entering his NFL fourth season and is due to make $4.61 million in 2020.
The Browns already picked up Garrett's fifth-year option in 2021, which is worth $15.18 million.
Garrett played in 10 games last season, compiling 10 sacks, 29 tackles, 11 tackles for loss, 18 quarterback hits and two forced fumbles.
The NFL suspended Garrett indefinitely after he ripped off the helmet of Pittsburgh Steelers quarterback Mason Rudolph and hitting him with it on Nov. 14.
Garrett ended up missing the final six games of the 2019 regular season after getting reinstated by NFL Commissioner Roger Goodell in February.
"We welcome Myles back to our organization with open arms," Browns general manager Andrew Berry said at the time. "We know he is grateful to be reinstated, eager to put the past behind him and continue to evolve and grow as a leader. We look forward to having his strong positive presence back as a teammate, player and person in our community."
The league also fined Garrett $45,623 for his role in the brawl.
Defensive coordinator Joe Woods said Garrett is in a "good place" earlier this offseason.
"He is focused on getting better," Woods said. "He is focused on being a good teammate. He has been in the meetings. He is trying to step up and take more of a leadership role. I definitely think he is moving in the right direction and has the right mindset."
Since the Browns selected Garrett with the first overall pick of the 2017 NFL Draft out of Texas A&M, he made the Pro Bowl in 2018, logged 104 total tackles, 30.5 sacks, six forces fumbles and four passes defended in 37 games.
Garrett's 30.5 sacks from 2017-2019 rank 11th in the NFL during that span.