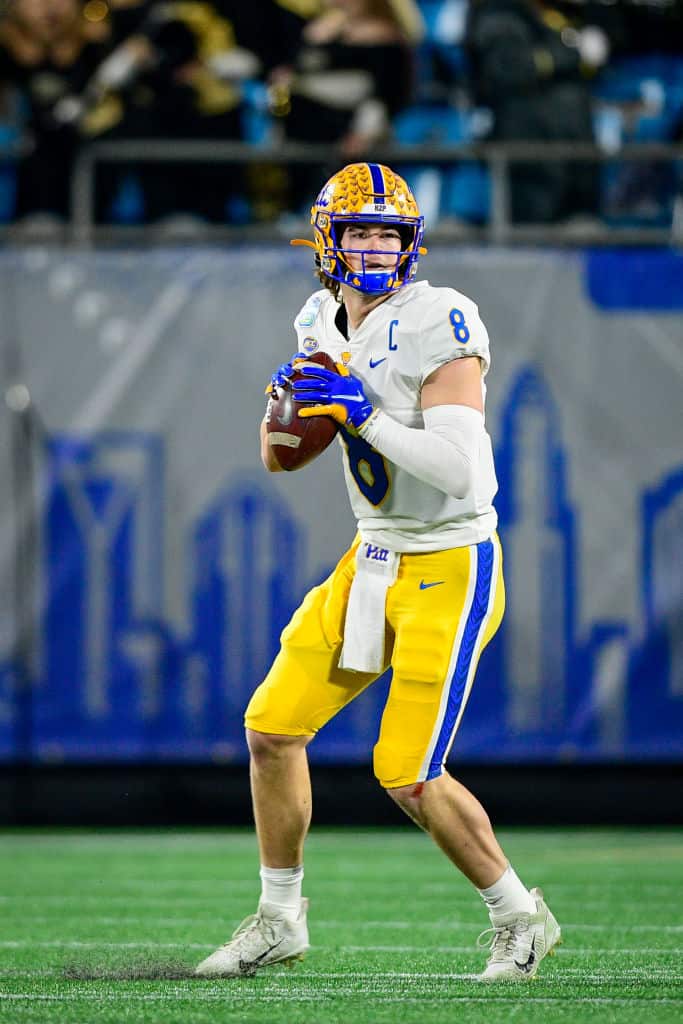 The Senior Bowl practices are ongoing with the game being played on Saturday, February 5, 2022.
This is the time for NFL executives and coaches to check out potential draft prospects to see if they could fit into their long-term plans.
The Cleveland Browns are no exception.
In fact, it is reported that the Browns were among the first teams to talk with one of the top quarterback prospects, Kenny Pickett of the University of Pittsburgh.
Kenny Pickett says #Browns are one of the first teams he talked to this week. pic.twitter.com/2ptGrWz9ak

— Brad Stainbrook (@BrownsByBrad) February 2, 2022
Who Is Kenny Pickett?
If he is not already, Kenny Pickett is going to be a household name by the time the NFL Draft rolls around.
The 23-year-old had a very successful career at Pitt that culminated in being named the 2021 recipient of the Johnny Unitas Golden Arm Award.
This award is given to the nation's top quarterback and measures not only his football skills but his character and leadership abilities are also evaluated.
In his Pitt career, Pickett threw for over 12,300 yards with 81 touchdown passes and only 32 interceptions.
He is capable of running the ball also as he had over 800 rushing yards and 20 touchdowns on the ground.
What It Means
The Browns reaching out to Pickett means very little in the scheme of things.
It is likely that 2/3 of the NFL teams will talk with Pickett at the Senior Bowl.
This is just part of the due diligence process that is underway to prepare for the 2022 NFL Draft.
It does not necessarily mean that the Browns are planning to draft Pickett.
The front office meeting with quarterback Kenny Pickett shouldn't surprise anyone. They are going to do their due diligence on every quarterback. As are other teams in the NFL Andrew Berry and the front office are doing the job they are paid to do #Browns.

— Tyler Johnson (@T_johnson_TJ) February 2, 2022
The Pittsburgh Connection
Obviously, with Ben Roethlisberger retiring, the Steelers will be taking a hard look at Pickett who is comfortable playing at Heinz Field where both the Pitt Panthers and the Steelers play.
He has reportedly met with the Steelers this week.
For what it's worth: Kenny Pickett officially confirmed today he has met with the Steelers formally

— Nick Farabaugh (@FarabaughFB) February 2, 2022
Pickett sounded amenable to the idea of being a Steeler.
"The possibility of getting drafted there, would be unbelievable. Pittsburgh's really my second home."