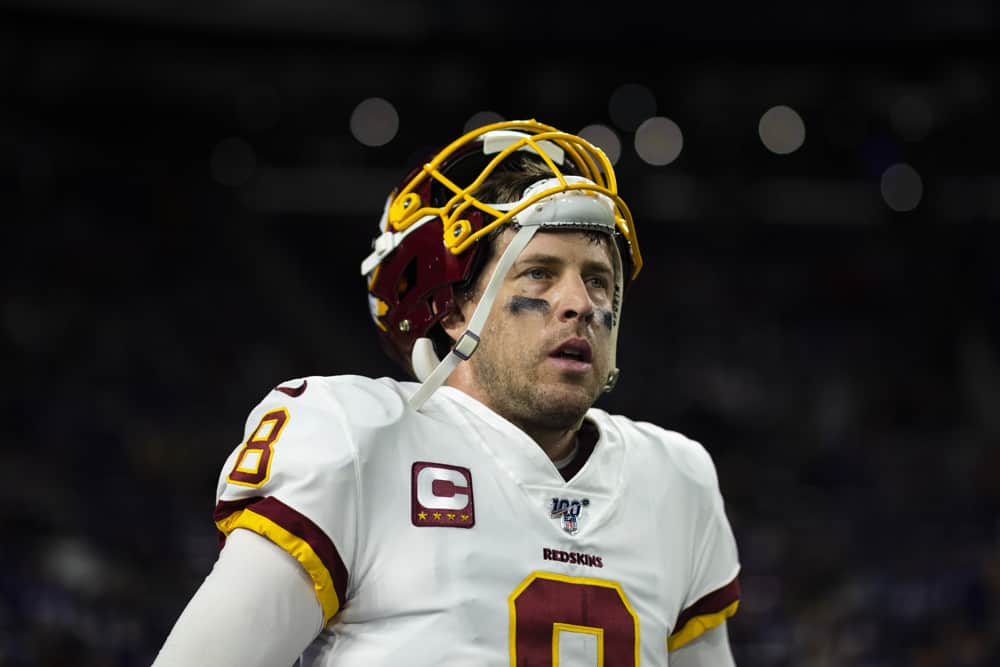 The Cleveland Browns are continuing to spend in free agency.
According to Adam Schefter, the Browns have reached an agreement with free-agent quarterback Case Keenum
Browns reached agreement with former Redskins' QB Case Keenum on a three-year, $18 million deal that includes $10 million guaranteed, per source.

— Adam Schefter (@AdamSchefter) March 16, 2020
The Browns believe adding Keenum to the quarterback room will be valuable for current starter Baker Mayfield.
The Browns believe Keenum will really bring value to the QB room, alongside Mayfield. Btw, Keenum's QB coach in college was Kliff Kingsbury, whom Mayfield played for one season at Texas Tech. In terms of profiling your backup to your starter, Keenum is a terrific match

— Jake Trotter (@Jake_Trotter) March 16, 2020

Keenum will be reunited with former coach Kevin Stefanski.
Keenum had his best year under Stefanski in 2017 when Stefanski was his quarterback coach.
He had 8 games with a 100+ passer rating that tied for the 2nd-most in Vikings team history.
He also went 10 games without throwing an interception.
Keenum guided the Vikings to an 11-3 record and a victory over the Saints in the divisional round of the playoffs before losing to the Eagles in the NFC championship game.
In his career, Keenum has thrown for 14,368 yards, 75 touchdowns, and 47 interceptions.
He has a career passer rating of 85.3.
The Browns have had a busy day as they have already agreed to terms with free-agent tight end Austin Hooper and RT Jack Conklin.
Let's recap todays free agent signings under new GM Andrew Berry:

– TE Austin Hooper – 4-year, $44M
– OT Jack Conklin – 3-year, $42M
– QB Case Keenum – 3-year, $18M

Great start. #Browns pic.twitter.com/tQTiyxYNOl

— MoreForYouCleveland (@MoreForYou_CLE) March 16, 2020
New free agent signing Austin Hooper also likes the Case Keenum signing as well, saying:
"It's never bad to have a veteran presence in there. It's always good to have an older guy…who understands everything w/in the system, what to check to, how to check in/out of certain plays"
New #Browns TE @AustinHooper18 on @BullandFox on addition of QB Case Keenum with Baker: "It's never bad to have a veteran presence in there. It's always good to have an older guy…who understands everything w/in the system, what to check to, how to check in/out of certain plays"

— Keith Britton (@KeithBritton86) March 16, 2020