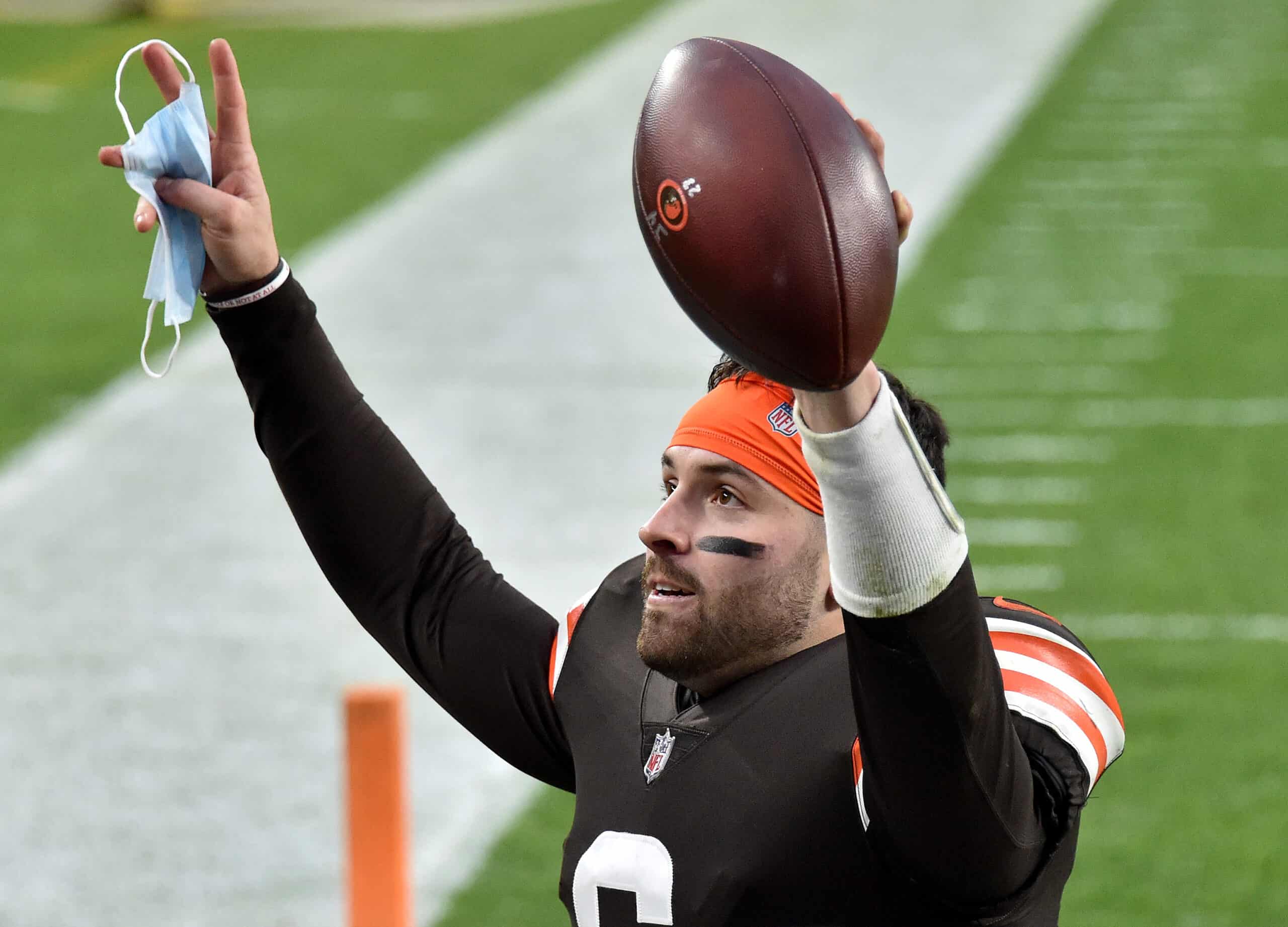 One of the many side stories of the 2021 preseason is the state of Cleveland Browns quarterback Baker Mayfield's contract extension.
Remember, he is one of three first-round draftees that is seeking an extension beyond the fifth-year option.
His peers include Buffalo Bills quarterback Josh Allen and Baltimore Ravens quarterback Lamar Jackson.
While Mayfield downplayed any stories related to the extension at last week's minicamp, a report is emerging that states that Mayfield's extension could be the first of the three to be completed and the timeframe is sooner rather than later.
Jeremy Fowler of ESPN talked about this on today's episode of SportsCenter.
"So some people around the league believe this could get done the soonest because [Lamar Jackson] and [Josh Allen] are mostly top-five-to-seven quarterbacks. They're considered high-end guys, where Baker is still working his way into that. Maybe a bit of a different market could be easier to get done."
Mayfield vs. Peers
Statistically, Mayfield is behind his peers.
Touchdowns and interceptions tell the tale.
Allen leads the pack with 92 career touchdowns (passing and rushing) and 31 interceptions.
Jackson is second with 87 touchdowns and 18 interceptions.
Mayfield has 79 total touchdowns and 43 interceptions.
What Berry May Be Thinking
Mayfield had his best season in 2020; however, the average of his first three years is still subpar.
Perhaps GM Andrew Berry wants to lock in Mayfield at a more bargain price before what could be his breakout year in 2021.
Berry also has to prioritize Mayfield's extension with Nick Chubb and Wyatt Teller's.
Both could be free agents at the end of the 2021 season.
There is also Denzel Ward who, like Mayfield, is under a fifth year option keeping him with the Browns until the end of the 2022 season.
Fowler talked about all four potential contract extensions.
"The Browns have made it clear they want to keep their core intact the best they can. They got guard Wyatt Teller, cornerback Denzel Ward, running back Nick Chubb and Mayfield. In a perfect world, they'd love to try to keep all of those guys, so I suspect they will chip away at a potential deal with Mayfield in the coming months. And I'm told Mayfield feels he's in a much better place with Cleveland than he was, say, 18 months ago. They were coming off that rough year, it was hard to know what to expect with their offensive identity. Now, Mayfield is a big part of that identity for the future."
Mayfield's Comments On His Extension
#Browns QB Baker Mayfield reiterated he's focused on winning instead of contract extension, but he has believed for years he's meant to play here. He added Cleveland is a great town with a blue-collar mentality and that's why it's a great fit for him

— Nate Ulrich (@ByNateUlrich) June 16, 2021
For his part, Mayfield has said exactly what you would expect him to say about a potential contract extension.
He is focused on the upcoming 2021 season and will control what he can.
Mayfield has expressed a strong desire to stay with the Browns.
#Browns QB Baker Mayfield said he's in no rush to sign contract extension, he's sure his agents are handling it and he'll handle what he can control.

— Nate Ulrich (@ByNateUlrich) June 16, 2021
Mayfield and his agents could be thinking that an extension after what everyone hopes is a blockbuster 2021 season and would be more money in the bank for the quarterback.
It is a risk-reward assessment for all parties involved and will be interesting to watch how all of this unfolds in the upcoming months.