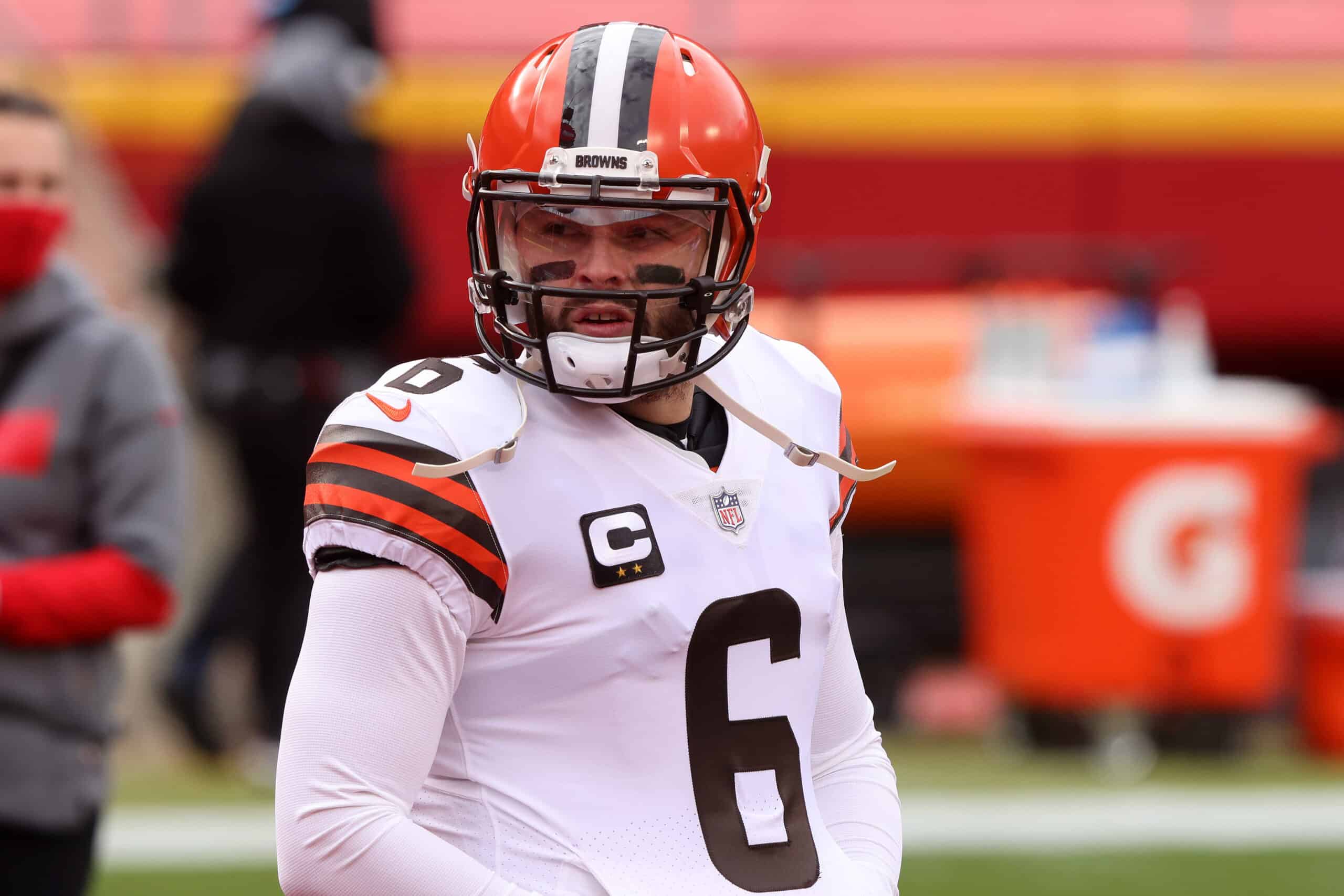 As everyone knows, the Cleveland Browns have a lot of young players whose rookie contracts will soon expire.
At the end of the 2021 season, running back Nick Chubb and guard Wyatt Teller could be free agents.
After the 2022 season, quarterback Baker Mayfield and cornerback Denzel Ward could be free agents.
As expected, GM Andrew Berry has not revealed any specificity on how all of this will play out.
NFL Network's Ian Rapoport is reporting that Mayfield's contract may come later potentially after the 2021 season.
From NFL Now: #Browns QB Baker Mayfield will be patient as he awaits a contract extension, and that makes sense for a number of reasons. pic.twitter.com/32JgBZcEf9

— Ian Rapoport (@RapSheet) July 21, 2021
Chubb Should Be First
Though Rapoport does not talk about Teller's contract, both his and Nick Chubb's should be the top priorities.
The Browns under Berry's management have been financially savvy so there is no reason to think that these contract deals will be anything but fair, reasonable, and smart for the long term success of the Browns.
Chubb has been adamant that he wants to stay in Cleveland.
#Browns RB Nick Chubb on what it would mean to stay in Cleveland long-term: "It'd mean a lot. Cleveland drafted me, trusted me and put their faith in me to come here and help build this culture. Cleveland's where I want to be."

— Keith Britton (@KeithBritton86) June 15, 2021
What About Mayfield
Mayfield's agent thought a deal would be done sooner rather than later.
Baker Mayfield's agent on contract extension: "I think something will be done this summer"https://t.co/IFt1LElmsj pic.twitter.com/CiQ8kIcAm2

— Around The NFL (@AroundTheNFL) June 23, 2021
Other media types thought that Mayfield's deal would be the easiest to complete among his peers in the same situation.
They are Lamar Jackson of the Ravens and Josh Allen of the Bills.
That may not end up being the case.
As Rapoport says in the above clip, the Browns could be waiting on Mayfield's to see how 2021 goes.
Mayfield is not worried about his contract extension right now; he is focused on winning.
He is correct that winning will take care of everything else.
#Browns Baker Mayfield still not worried about his contract extension pic.twitter.com/IYdtNk3oZT

— Mary Kay Cabot (@MaryKayCabot) July 21, 2021
Mayfield had an outstanding 2020 so watching his growth and progression in the second season with Stefanski and Van Pelt could be a prudent move.
It can also be an expensive one as his value may increase by virtue of his performance in 2021 or the contracts of his peers.
The #Browns need to finalize an extension for Baker Mayfield ASAP. Dak just set the new QB market and now he's the 2nd highest paid QB in the NFL. This is the nature with QB contracts; they keep going ⬆️. CLE can't afford to let Josh Allen and/or Lamar Jackson sign first. https://t.co/UXnOcaSdZ6

— Roberto Shenanigans (@Rob_Shenanigans) March 9, 2021
Focus On 2021
Contract extensions should be resolved within the next month.
Players do not want or need to be distracted during the 2021 season with these discussions.
The Browns report to training camp on Tuesday, July 27 and open the season on September 12 so August will be the time for any deals to be completed.