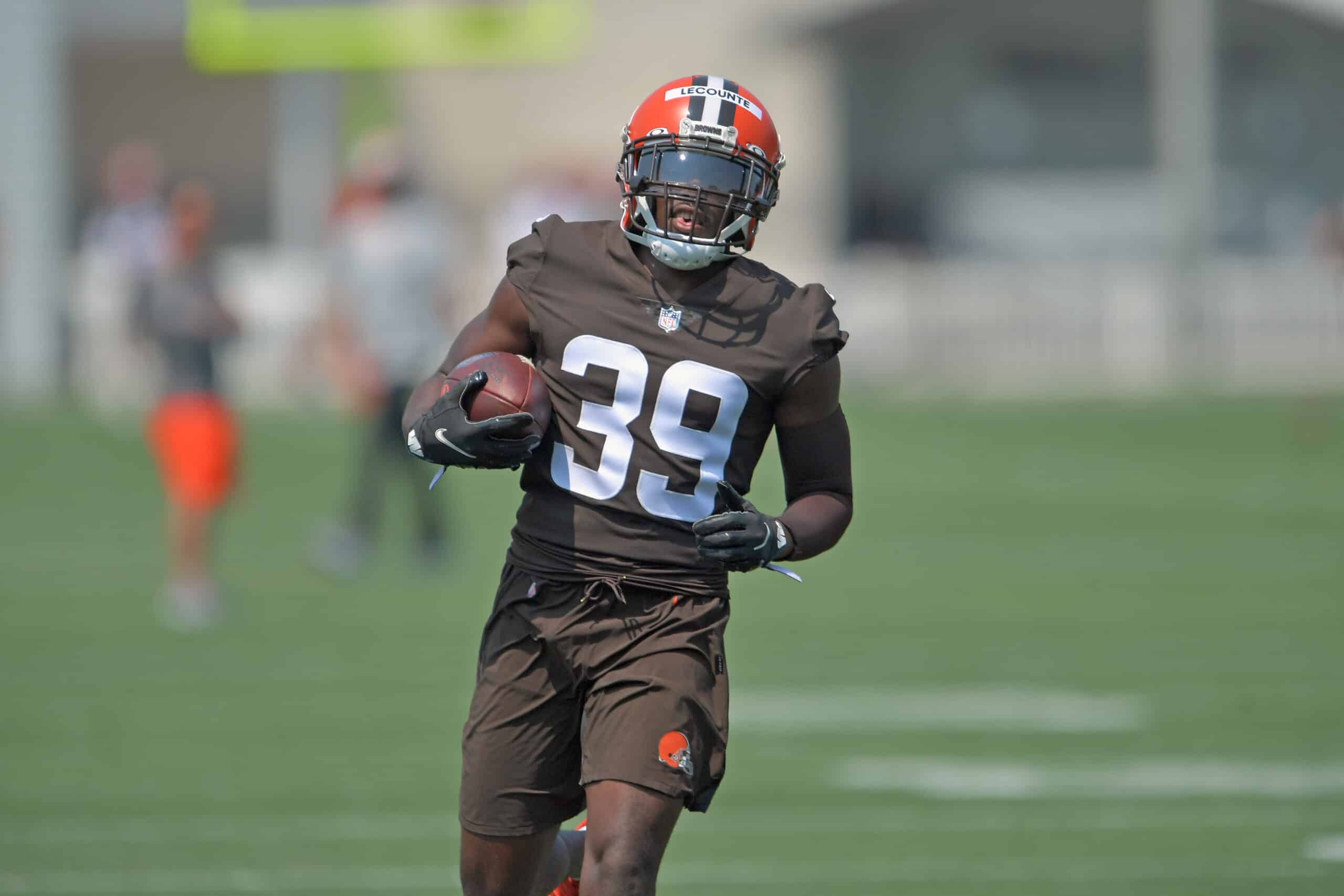 The 2021 preseason opener was a success for the Cleveland Browns.
There were obviously a few bumps in the road, but there were mostly positives to take away from their matchup with the Jacksonville Jaguars.
One of the biggest takeaways was the performance by rookie safety Richard LeCounte.
His stellar play made him one of the highest-graded rookie defensive backs thus far.
Highest-Graded Preseason Rookie DBs:

1. Patrick Surtain II, Broncos – 94.8
2. Richard LeCounte, Browns – 90.4
3. Andre Cisco, Jaguars – 84.1
4. Marco Wilson, Cardinals – 83.7 pic.twitter.com/ualvuQVmqi

— PFF College (@PFF_College) August 17, 2021
Yes, it's obviously early in the preseason, but it appears LeCounte came to play.
The Browns had multiple rookies step up and play well, so the future appears to be bright in Cleveland.
Counting On LeCounte
It's obvious that the Browns front office made it a focal point to improve their secondary.
They added multiple players through free agency and selected a handful of defenders in the draft.
Most notably, defensive back Greg Newsome II with their first-round selection.
However, LeCounte outplayed Newsome during their matchup with Jaguars.
During that game, LeCounte recorded two tackles, one sack, and one interception in his limited action.
Here's Richard LeCounte's INT.pic.twitter.com/GZBulV6z97

— Eric Taylor (@EricTaylorTTR) August 15, 2021
The young safety made a big splash in his NFL debut and certainly impressed the coaching staff.
The fifth-round pick might be able to quickly climb his way up to the depth chart in Cleveland.
Keeping Realistic Expectations
Yes, LeCounte had a nice game, but there's still plenty of football left to be played.
As of right now, John Johnson III and Ronnie Harrison are expected to be the starting safeties heading into the regular season.
Second-year safety Grant Delpit was expected to be a starter, but continues to be sidelined by injuries.
It's uncertain if Delpit will be ready by the start of the regular season, which could mean more playing time for LeCounte.
It's worth noting that LeCounte had one of the highest grades for a non-first-round rookie during the first week of the preseason.
Highest-graded non-first round rookies:

▪️ Miller Forristal, Titans – 91.1
▪️ Richard LeCounte, Browns – 90.4
▪️ Darius Hodge, Bengals – 89.9
▪️ Joseph Ossai, Bengals – 89.6 pic.twitter.com/59f19mPgC1

— PFF College (@PFF_College) August 17, 2021
However, he'll still be competing with a few other players for a role in the Browns secondary.
Both Sheldrick Redwine and Jovante Moffatt could be ahead of LeCounte right now due to the fact they're familiar with the Browns' defensive scheme.
Although, it's early in the preseason and things can quickly change, so nothing is settled yet.
The Browns knew that LeCounte was a bit of a work in progress, which is why he fell into the fifth round.
It's uncertain if he has the skill set to be a full-time starter in the NFL.
Regardless, it's nice to have LeCounte as an option especially with Delpit sidelined right now.
He has proven that he can make plays, but we'll see if that carries over into the next preseason matchup.