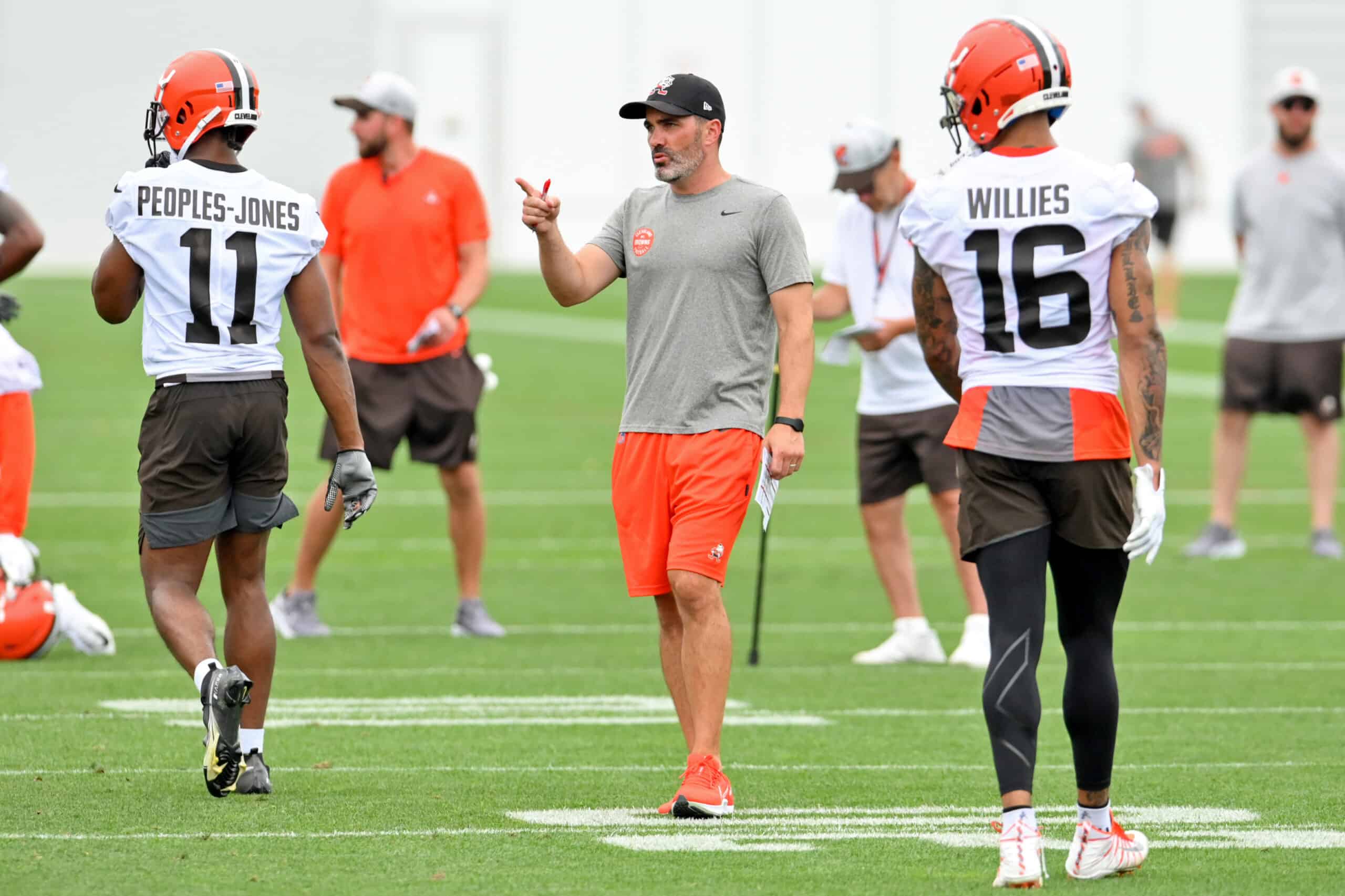 The Cleveland Browns were back at it on Tuesday, August 16 with Day 14 of Browns Training Camp.
Here are some of the memorable news and notes.
1. Baker Thanks Military Fans In Attendance
In light of everything that is going on in the world right now, it was only right that quarterback Baker Mayfield would stop what he was doing and come over to recognize the uniformed military personnel watching camp.
He extended that thanks to veterans who have served also.
Baker Mayfield just came over to thank the military in attendance at Browns training camp today pic.twitter.com/nC3UZt9Jq4

— Jake Trotter (@Jake_Trotter) August 17, 2021
2. Davion Davis
Davis continues to capitalize on his strong showing at the preseason game in Jacksonville by hauling in a pass from Case Keenum.
Case Keenum finds Davion Davis, whose been making a name for himself in camp this year. Courtesy of the #Browns#BrownsCamp #ThisIsCle #D4L #GoBrown #DawgPound #DawgCheck pic.twitter.com/7hS2OJ3BbO

— BrownsTown USA Podcast 🎧 (@BrownstownUSA) August 17, 2021
3. Injured Players Returning To Practice
After the weekend's bad news about Stephen Carlson being out for the season, it was good to see Mack Wilson who suffered a minor shoulder injury during the Jacksonville game back out on the field.
Anthony Schwartz, Mack Wilson, and Ronnie Harrison are all dressed and out there today. 🔥

— Nick Karns (@karnsies817) August 17, 2021
Joining him were Anthony Schwartz and Ronnie Harrison who have been sidelined with hamstring injuries during camp.
Grant Delpit was also back which is great news.
In addition to recovering from his Achilles injury that caused him to miss the entire 2020 season, Delpit has been dealing with a hamstring issue also.
#Browns S Grant Delpit (hamstring) getting some work in 11-on-11 team drills already

— Daryl Ruiter (@RuiterWrongFAN) August 17, 2021
4. Giants Are Coming To Town
#Browns Kevin Stefanski: Tuesday and Wednesday will be lighter practice days building up to joint sessions with Giants on Thursday and Friday.

— Scott Petrak ct (@ScottPetrak) August 15, 2021
Tuesday and Wednesday practices are lighter since the Giants will be in town for joint practices on Thursday and Friday ahead of their preseason game at FirstEnergy Stadium on Sunday, August 22.
The New York Giants will hold out running back Saquon Barkley from joint practices according to Giants Coach Joe Judge.
Giants not risking Saquon Barkley's health in joint practices https://t.co/tI86JPwpmm pic.twitter.com/5YoL5wtzKR

— New York Post (@nypost) August 15, 2021
Will Odell Beckham Jr. be involved against his former team?
That is unclear also.
Both Saquon and OBJ are coming back from ACL surgeries so both teams have understandably been easing the players back on the field.
Stefanski also has not indicated if starters will be involved in Sunday's preseason game.