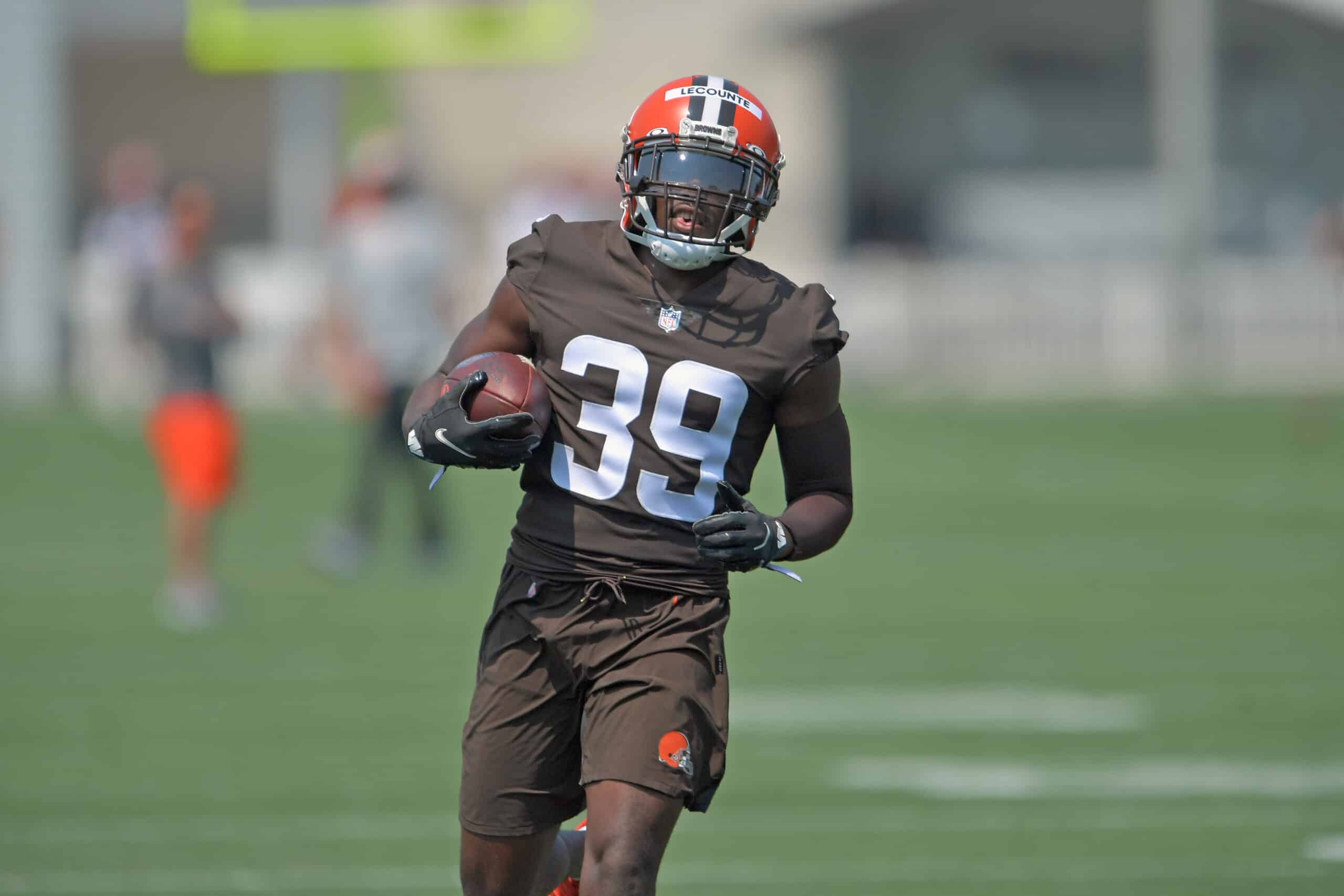 The Cleveland Browns 2021 draft class is having a spectacular training camp and preseason.
Most have been involved in big plays somewhere along the way.
Yesterday, safety Richard LeCounte added his own big play, an interception, to the mix.
This is LeCounte's second interception in two preseason games.
He also picked off Gardner Minshew last week in Jacksonville.
#Browns After nearly intercepting a pass earlier in the game, Richard LeCounte III makes it count this time and picks off Gardner Minshew.

— Camryn Justice (@camijustice) August 15, 2021
He has played well in both games.
#Browns Rookie Safety, Richard LeCounte III has showed out in his preseason action. 🔥

In 2 games LeCounte has recorded:

🔸6 Tackles
🔸2 INT
🔸1 Sack
🔸3 Passes Deflected

The secondary is coming together. 🔐@LeCounteRichard #NFL pic.twitter.com/vztYKQhO0c

— The Hottest Take (@Hottest_TakePod) August 22, 2021
Sunday's interception was deja vu in the sense that LeCounte also intercepted an end zone pass in Friday's joint practice with the Giants.
LeCounte Is Getting Noticed
The fifth-round draft pick (169th overall) out of Georgia may not be mentioned as often as first and second-round picks Greg Newsome II and Jeremiah Owusu-Koramoah, but he is balling out.
LeCounte is 22 years old and peaking at the right time given the Browns' secondary is dealing with injuries.
Some believed he would be on the bubble to make the 53 man roster, but he is making the case to be on the team not just as a reservist but on the field playing also.
Both Grant Delpit (hamstring) and Sheldrick Redwine (ankle) have been limited at camp, and LeCounte is making the most of his opportunity.
Coach Stefanski talked about LeCounte in Sunday's postgame press conference.
"Ball finds a way to him, and he has great ball skills. Certainly did in college as well. To be able to get the ball at the end was important. We finished even in the turnover margin to be able to get that one to offset our previous giveaway [a Case Keenum interception]."
Comeback Story
Richard LeCounte proved that his recovery from his accident last year is going good. He proved that AB was right to trust his eyes and the tape, not his bad pro day. PFF gave him a 90.4 in his rookie debut. Unlike last year the #Browns have legitimate depth that can play. pic.twitter.com/u8A9GZ3Hnt

— Jacob Roach (@roachizm13) August 17, 2021
LeCounte was injured in a motorcycle accident less than a year ago.
The motorcycle he was riding was hit by two cars last November.
He did not elicit the pre-draft interest that perhaps he should have.
That is everyone else's loss and the Cleveland Browns' (and Andrew Berry's) gain.