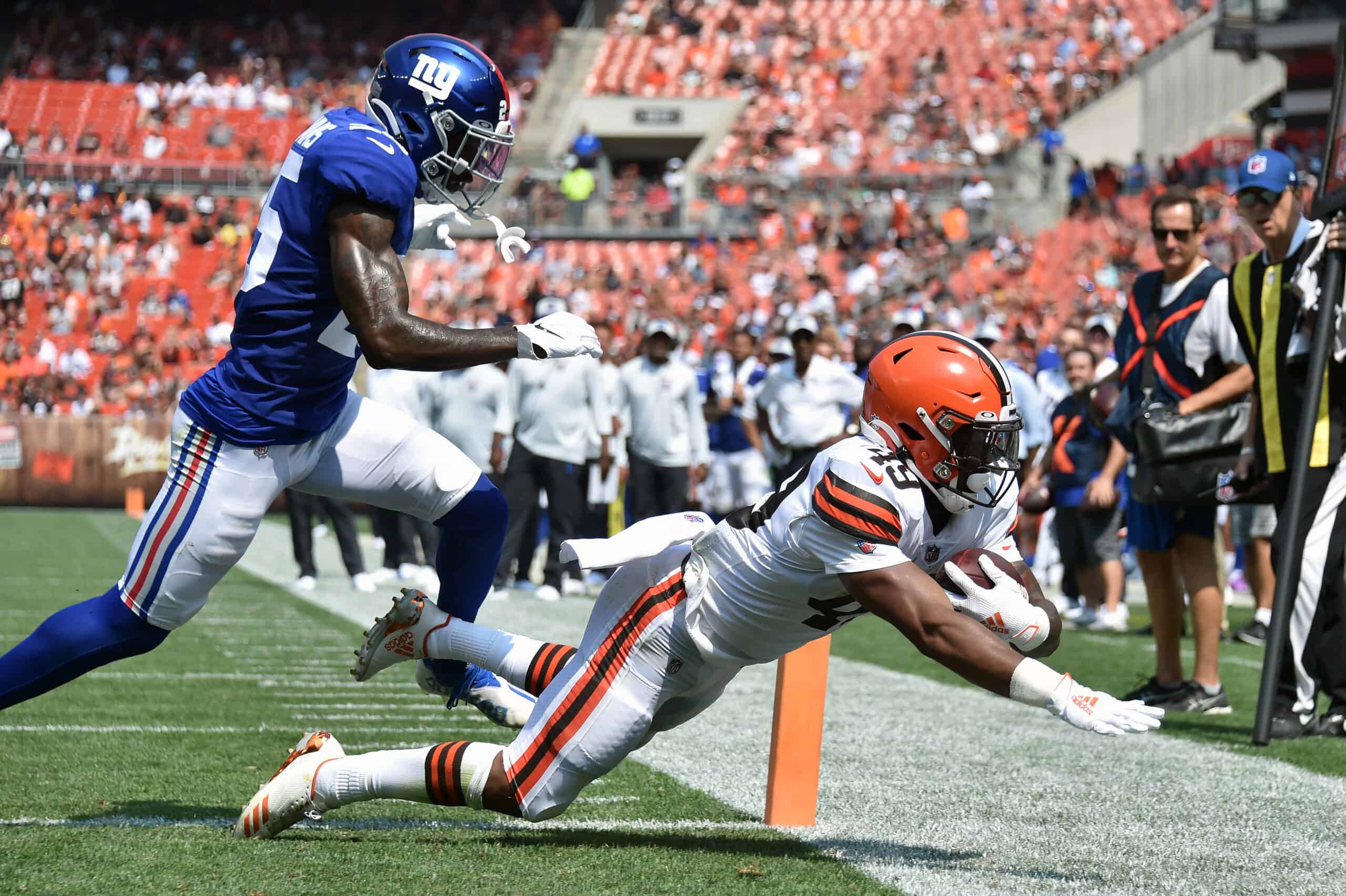 The Cleveland Browns went 2-0 on the preseason after a 17-13 win over the New York Giants on Sunday, August 22.
Starters from both teams did not play so the game was largely dominated by reservists and young players attempting to make both teams' rosters.
Here are the news and notes from the game.
1. Troy Hill
Joining the reservists and rookie players on the field yesterday was cornerback Troy Hill.
Hill was involved in the end-of-practice fight on Friday with New York Giants wide receiver Sterling Shepard.
Coach Stefanski did not confirm or deny that Hill played because of the fight.
"All those things I'll keep between Troy and myself and keep that internal."
Baker Mayfield told the media late last week that Stefanski said he would play in the preseason game if he started a fight.
#Browns Baker Mayfield said Kevin Stefanski told him if he started a fight at practice he'd have to play in the preseason game.

Troy Hill, who was involved in a scuffle with Sterling Shepard after practice Friday, started today.

Coincidence?

— Camryn Justice (@camijustice) August 22, 2021
Hill's appearance in the game was anything but a coincidence.
2. Greedy Williams
Cornerback Greedy Williams left the game in the first quarter with a groin injury.
Postgame reports provided good news; it was not as serious as it could have been.
Source to me on #Browns CB Greedy Williams, at this time: "Slight groin pull. Should be fine."

— IG: JosinaAnderson (@JosinaAnderson) August 22, 2021
3. "Franks And Beans"
Tight end Jordan Franks stepped up in the absence of Stephen Carlson and played well.
Nate Burleson of the NFL Network coined the term "toe drag swag" so it was no surprise he talked about this play on Monday morning's episode of Good Morning Football.
He even created the hashtag #franksandbeans as a result of it.
TOE. DRAG. SWAG.

Unreal effort by @Browns TE Jordan Franks.

📺: #NYGvsCLE on @NFLNetwork (or check local listings)
📱: https://t.co/NGcyn9UWUm pic.twitter.com/Afo63uqVui

— NFL (@NFL) August 22, 2021
4. Cody Parkey
Parkey kicked an extra point and the ensuing kickoff in the first half of the game and then went MIA.
Chase McLaughlin took over and converted an extra point and a 49-yard field goal.
Given the kicking competition, no one gave this strategy much thought.
That changed in the postgame.
Coach Stefanski reported Parkey had a quad injury but provided no additional information.
#Browns K Cody Parkey sustained a quad injury. Stefanski not sure when it happened.

— Tom Withers (@twithersAP) August 22, 2021
5. Linebacker Depth Is In Question
Following Jacob Phillips' injury, the Browns re-signed Montrel Meander last week.
He was injured in the game and carried off in a cart with a reported Achilles injury.
The linebackers have been beaten up at training camp so the depth is already in jeopardy.
Linebacker Montrel Meander is being taken off the field quickly on a cart with a leg injury. He was re-signed because of injuries to Sione Takitaki and Jacob Phillips…End of three quarters – #Browns 14, #Giants 7

— Jeff Schudel (@jsproinsider) August 22, 2021
6. KhaDarel Hodge And D'Ernest Johnson Make Their Cases
Both Hodge and Johnson are fighting for roster spots and created game highlights.
The @Browns go for it on 4th and goal and SCORE!

What a grab by KhaDarel Hodge. 💪 @ItsKhaDarel

📺: #NYGvsCLE on @NFLNetwork (or check local listings)
📱: https://t.co/NGcyn9UWUm pic.twitter.com/BLPXhR5tic

— NFL (@NFL) August 22, 2021
Hodge made a great grab on 4th down to score the Browns' first touchdown of the game.
KhaDarel Hodge strumming the guitar after catching a 7-yard TD on 4th & goal. Cody Parkey PAT. 7-0 #Browns over #Giants.
D'Ernest Johnson 3 carries for 34 yards + 8 yard reception on the 10-play, 81-yard drive.

— Daryl Ruiter (@RuiterWrongFAN) August 22, 2021
Johnson was involved in both the running and passing game on Sunday and performed well.
Roster Cuts Tomorrow
Five players will be cut from the roster on Tuesday, August 24.
#NFL Roster Cut Schedule

Down to 85: 8/17 (4PM ET)
Down to 80: 8/24 (4PM ET)
Down to 53: 8/31 (4PM ET)
Final Cut Waiver Claim Deadline: 9/1 (4PM ET)
Practice Squads: 9/1 4:01PM ET

— Spotrac (@spotrac) August 13, 2021
With all of the talent the Browns have in camp, these cuts will get more difficult.
Next Tuesday is the big cut to get to the magic number of 53.