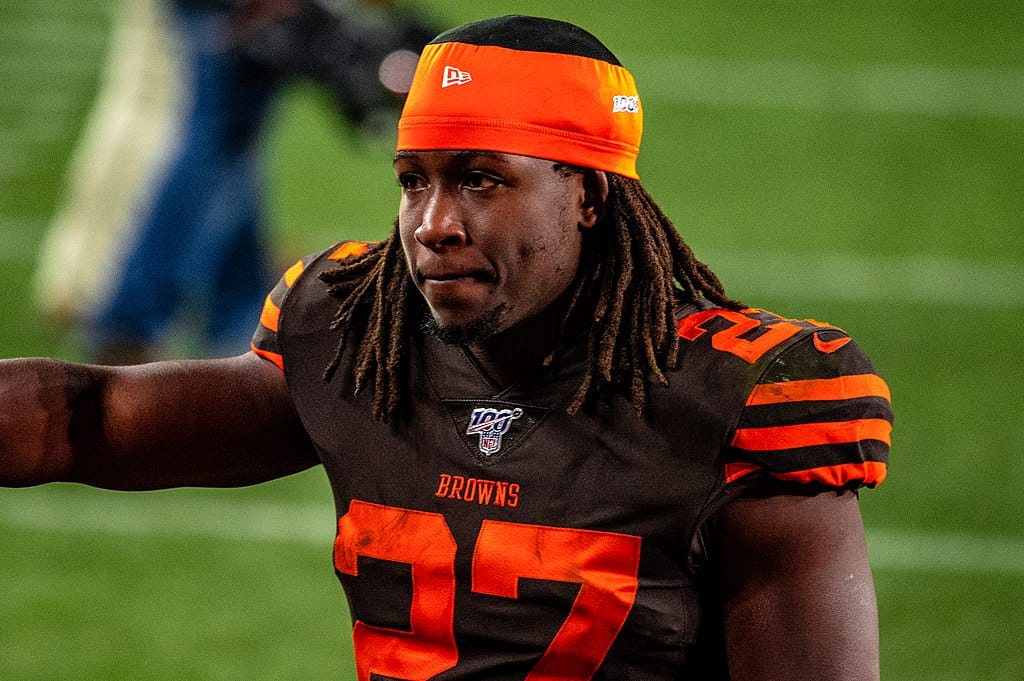 The new faces in the Cleveland Browns organization already have one major decision to make this offseason.
That is what to do with Kareem Hunt.
The running back is a restricted free agent in 2020 and his latest incident in which he was pulled over for speeding could lead the new regime to move on from a player brought in by John Dorsey.
But Hunt was not cited even after some marijuana was found in his car.
That is apparently a decision that is causing some controversy among those who believe Hunt got preferential treatment.
Wow. Listen to Kareem Hunt here: "I should be playing for the frickin Super Bowl. It hurts my soul.'' https://t.co/SfXSanTF3R

— Adam Teicher (@adamteicher) January 27, 2020
Rocky River Police has had to come out and explain why Hunt was not cited for marijuana or for the open container of vodka in his car.
The Explanation
WKYC spoke with the police department and were told that the officer treated Hunt like he would any other person in that situation.
Rocky River PD defend the actions of their officer who did not cite Browns running back Kareem Hunthttps://t.co/vnqJrh3gK6

— WKYC 3News (@wkyc) January 30, 2020
The bottle of alcohol had been opened, but Hunt was not actively drinking out of it.
Then there was the small amount of marijuana and the fact Hunt told the officer he would not pass an NFL drug test.
The department noted the fact there has been a law change in the area and small amounts of the drug are not worthy of citations.
Hunt was also apologetic and did nothing to escalate the situation.
So the officer let him go with just a ticket for speeding.
The Argument of Preferential Treatment
It is easy to see why some are upset with Hunt getting off with just the ticket.
Our society has featured countless situations where such a traffic stop did not end in just one small ticket.
Anyone who has had such an experience may not understand why Hunt was treated differently.
I suppose the only explanation is that this cop was properly following the law and did not create a big deal out of a situation that did not warrant an arrest.
The situation was not escalated by either individual and new laws make small amounts of marijuana not worthy of even a citation.
Could the officer have let Hunt go because of who he is?
Sure, that is entirely possible.
But the cop knew the whole encounter was on camera and did nothing that called his character or integrity into question.
Moving On
The cop in this situation should actually be commended for his actions.
Others should follow his lead and not create problems when a routine ticket and warning will suffice.
Teaching others to do the same is better than saying Hunt should have been cited or arrested just because others have been in the past.
This is obviously a touchy subject and one where those who have bad experiences with law enforcement may never be swayed.
Though when applied strictly in a Browns-centric focus, it was good to see Hunt get off without any more unnecessary issues.
He is clearly having a tough time and said as much to the officer.