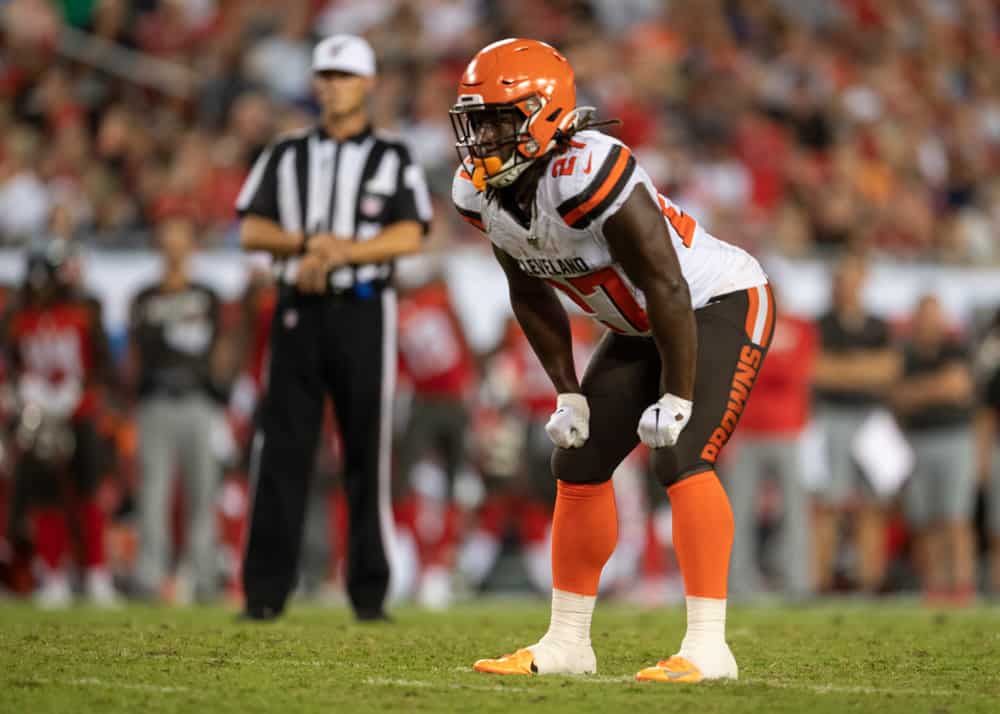 Late Tuesday night of this past week, Browns running back Kareem Hunt was pulled over for speeding in Rocky River, Ohio.
Earlier today, a dashboard camera video was released that captured the interaction with Hunt and an officer.
"You know what happened to me," a disgruntled Hunt uttered to the officer. "Should be playing for a freaking Super Bowl".
Kareem Hunt: "should be playing for a freaking Super Bowl" pic.twitter.com/kgQqevQwVy

— BBQ Sports (@RealBBQSports) January 27, 2020
It's clear the former Pro Bowl running back is still hurting from the domestic violence incident in 2018 that cost him a spot on the Kansas City Chiefs.
Those same Chiefs are now playing for the Super Bowl this Sunday, without their former league-leading rusher.
Hunt, on the other hand, is coming off a 6-10 year with the Browns.
Kareem played well when he returned from suspension in week 10.
He didn't put up the numbers he did in Kansas City, but he also played second fiddle to Nick Chubb.
With an opportunity to utilize both tailbacks next season, Browns fans can't help but be excited.
But what if Kareem Hunt continues the off-field hiccups?
Cleveland already has their fair share of drama; do they need extra from their second string running back?
Hunt is a restricted free agent this offseason.
The question must be asked, should the Cleveland Browns move on from Kareem Hunt?
The Case To Move On
With personalities like Odell Beckham Jr. and Baker Mayfield already on the roster, it is easy to say this team doesn't need any more egos.
With Hunt getting into trouble with the law just over a year after his previous incident, people will just be waiting for him to screw up again.
Why even take the risk?
Nick Chubb is already here and was just 47 yards short of being the NFL's leading rusher in 2019.
Chubb is also as quiet as a Prius when it comes to off-field shenanigans.
Heck, he's equally as quiet on the field. There are no 15-yard penalties for taunting with him, just bulldozing defenders.
Additionally, it's been shown this year that teams can sustain a top rushing attack without elite backs.
The 49ers had the second-best rushing attack in terms of yards last season and are now in the Super Bowl.
Despite that, not one of their running backs was in the top 25 rushing yard leaders.
Still, they managed to dominate on the ground all season and help Raheem Mostert, a former Brown, run for a historic day in the NFC Championship game.
Raheem Mostert is the only player in NFL history with 200+ rush yards and 4+ rush TD in a playoff game.#49ers | @RMos_8Ball | @49ers

— NFL Research (@NFLResearch) January 20, 2020
With the zone-run scheme of Kevin Stefanski on its way to Cleveland for the 2020 campaign, this Browns offense should be able to sustain itself on the ground.
That includes both with or without Hunt.
Tack on the fact that a drug test from the NFL is probably incoming, it may just be easier to find another option for running back depth.
The Case To Re-Sign Him
On the other hand, why would you pass up the opportunity to bring back someone who once led the NFL in rushing?
Now would be the perfect time to do it considering his value should have taken a hit in the eyes of NFL general managers.
Aside from this traffic incident, Hunt was more well-behaved than a choir boy last season when he returned to action.
For someone who many thought would cause countless distractions, Hunt was well-collected in 2019.
The one-two punch of Chubb and Hunt should be lethal under a proper offensive game plan, something Freddie Kitchens rarely put together last season.
If Stefanski can find a way to emulate what he did in Minnesota, even with an inferior offensive line, those two will be dangerous.
Plus, let's say the Browns do not want to keep Hunt long term.
Barring a suspension for a potential failed drug test, Hunt will be available at the start of 2020.
So, Andrew Berry could let things play out and let Hunt rack up big numbers.
If he does, his name becomes even more valuable in trade proposals and the Berry could bolster up some weak spots around the roster.
Even thinking strictly in terms of potential trade value, keeping Hunt could pay big dividends for Cleveland.
Comment below whether you think the Browns should re-sign Hunt or not!