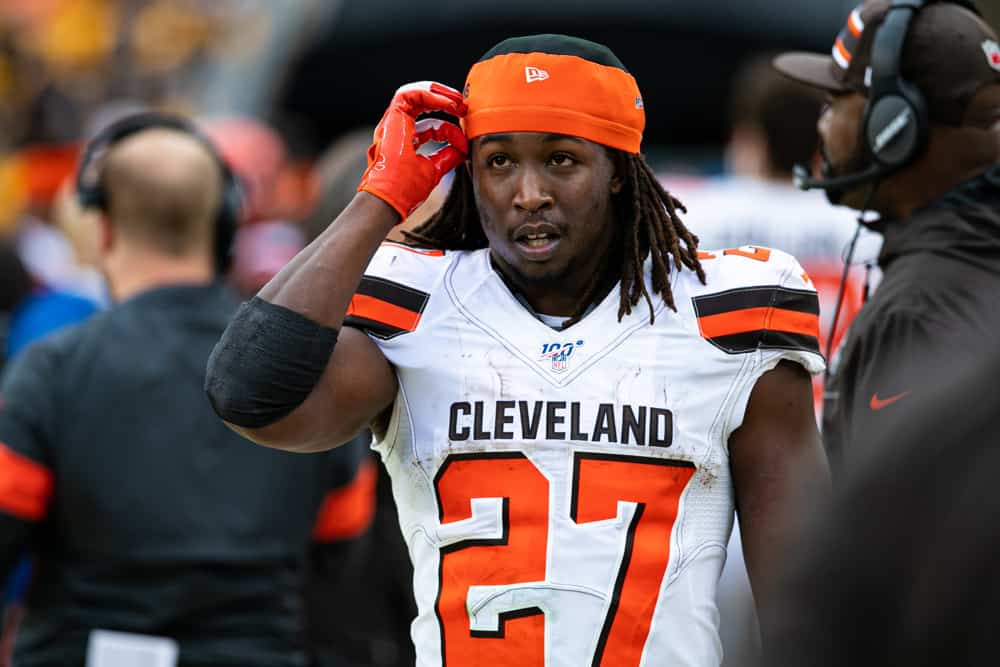 Late last week, Kareem Hunt was cited for speeding and it was reported that marijuana was found in his vehicle.
Today, TMZ released a video showing what happened during Hunt's traffic stop.
It was reported that Hunt had an open bottle of vodka in the car and also admitted that he would fail a drug test if it was administered to him.
The video shows the Browns young running back speeding down the highway in his Chrysler in Rocky River, Ohio on Jan 21.
After the cop gets Hunt out of the car, it's obvious that Hunt is clearly emotional.

He also appeared to be sobbing during the stop.
"Man, I've been through a lot," Hunt says. "Officer, I've been through a lot."

"I just — it stresses me out," Hunt later added. "I lost everything already, sir. I'm just trying to be in my hometown and chill."
Both of them talked about who the marijuana belonged to, but Hunt ultimately admitted to the officer that he would fail an NFL drug test if he were given one.
"I mean, yes, sir," Kareem said. "It's the offseason. Sorry I was having a good time."
The officer then goes on to explain to Hunt that he is disappointed in his actions and that he is a huge Browns fan.
"You had a good second part of the year," the officer says. "You don't want to screw that up over some weed."
Hunt appeared very emotional during the entire conversation and even lamented not being able to play for his former team the Kansas City Chiefs in the Super Bowl.
"It hurts my soul. You don't even understand. I've been fighting a lot of sh*t lately. It still hurts me to this day."
The Cleveland Browns did release a statement last week in regards to the incident saying that they were "aware and looking into it"
Hunt is also a restricted free agent this offseason.