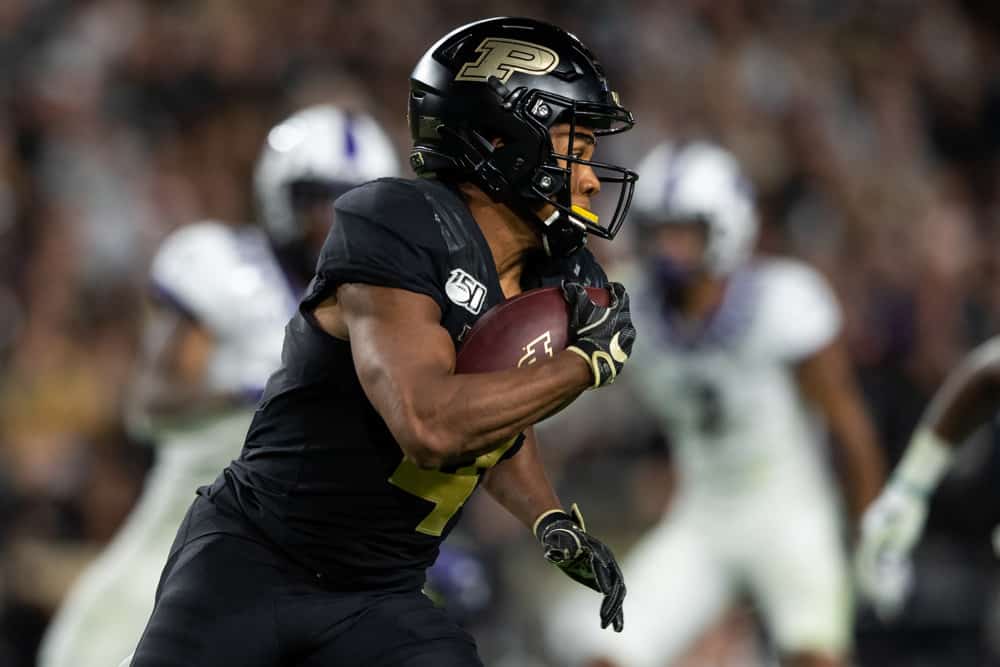 At first glance, many might question why the Cleveland Browns would go after a wide receiver in the first round.
This roster already has two Pro Bowl receivers in Odell Beckham Jr. and Jarvis Landry.
They also brought back Rashard Higgins who put together a fantastic 2020 campaign.
Cleveland did a tremendous job of adding talent on the defensive side during free agency.
There could be a case to be made that the Browns add some depth to their wide receiver group early on draft day.
The Moore You Know
On paper, Purdue wide receiver Rondale Moore has all the skills to be a talented player at the next level.
Somehow, Purdue hasn't produced a first-round wide receiver since 1975, but Moore could very well change that.
There honestly isn't much to dislike about Moore's game, which is why he might be selected in the first round.
He has explosive quickness and a burst that often times creates separation between himself and defenders.
rondale moore's got some quick feet pic.twitter.com/fq4qYwwoQO

— Steven Ruiz (@theStevenRuiz) March 28, 2021
Moore displays strong hands and an ability to snag the ball in the air while running full speed.
He shows the focus as well as concentration to make highlight reel receptions with defenders all over him.
His lack of size could be a problem at the next level, but he has the initial quickness to make defenders pay for overlooking him.
There is plenty of growth and potential in his game, assuming he lands in the right system.
Moore shouldn't be used as a lone deep threat option because he hasn't proven to be reliable in that type of a role.
However, he is the type of player that has the speed and elusiveness to bring a ton of YAC in the NFL.
A player that is best used in a slot type of role and let him use his quickness and burst to get open in the middle of the field.
Should Cleveland Take The Gamble?
Moore exploded onto the scene during his freshmen year at Purdue.
He smashed school records for all-purpose yards in a season (2215), and for single game all-purpose yards (313).
In 2018, Moore recorded 114 receptions, 1,258 receiving yards, and 12 touchdowns in 11 games.
Those fantastic numbers earned him first team All-American, Big Ten Wide Receiver of the Year, and Big Ten Freshman of the Year.
He is not only a beast on the field as he also squatted 600 pounds during his freshmen season.
Here is Rondale Moore squatting 600 lbs as a 180 lb freshman

— PFF Draft (@PFF_College) March 23, 2021
Everything seems to be coming up roses with Moore, but sadly he hasn't been able to do much on the field since 2018.
The injury bug has taken a bite out of him and has only allowed him to play seven games since his first year at Purdue.
He produced above average numbers during those limited games, but the injury history is a concern.
The initial comparison that comes to mind is former Clemson star wide receiver Sammy Watkins.
#PlayOfTheDay (2013): Clemson's Sammy Watkins trucks Georgia defender, outraces secondary for TD – Clemson won 38-35 pic.twitter.com/FjjKFctLMF

— Pick Six Previews (@PickSixPreviews) July 9, 2016
Watkins is a former first-round pick by the Buffalo Bills back in 2014, but has experienced issues staying on the field.
In fact, Watkins hasn't played a full-16 game season since his rookie campaign with the Bills.
There is no way to predict the future, but this has Watkins vibes written all over it.
Both players seem to share a similar skillset and could very well both end up taken in the first round.
This appears to be a high risk-high reward type of situation, so we'll see if general manager Andrew Berry is willing to take the gamble on Moore.