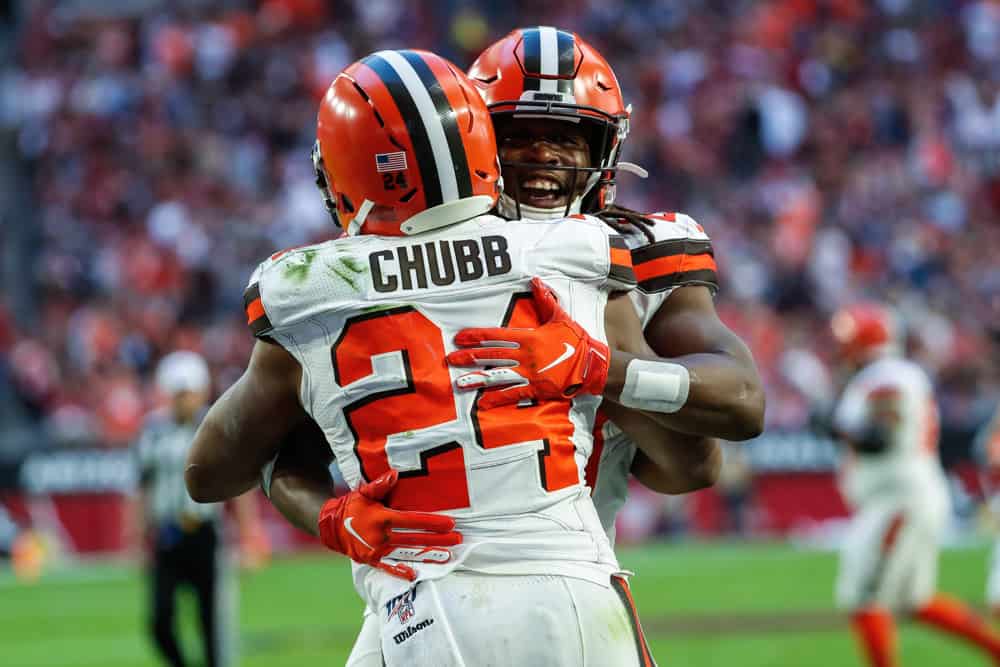 It's no secret the Cleveland Browns missed running back Nick Chubb.
The Browns struggled to run the ball as effectively considering Chubb and starting right guard Wyatt Teller hadn't played since the Oct. 4 win over the Dallas Cowboys.
Chubb (knee) and Teller (calf strain) both played during Sunday's 10-7 win over the Texans.
In Week 10, Chubb (126 rushing yards) and running back Kareem Hunt (104 rushing yards) became the first Browns teammates to each rush for 100 yards in the same game since Leroy Kelly (113) and Ernie Green (103) on Oct. 8, 1966.
During Wednesday's edition of "Bull and Fox" on 92.3 The Fan, SportsTalk 790 host and former NFL quarterback Sean Salisbury discussed the importance of pairing Chubb and Hunt together.
"When you add to the mix there, you get such a great mix of being able to push the line of scrimmage, being able to inside-outside and they don't need a ton of carries, obviously, to do their thing," Salisbury said. "So to me, it's the perfect storm."
Salisbury called the Browns' running back duo "devastating" to opposing defenses.
Plus, Pro Football Focus named Teller its Offensive Player of the Week for his Week 10 performance.
The Texans allow an average of 167.4 rushing yards per game, which ranks last in the NFL.
"[The Browns] didn't have to do much [in the passing game] last week," Salisbury said. "We can't defend the run in Houston at all, and you knew that eventually, they were going to wear them out."
Salisbury also discussed Philadelphia Eagles quarterback Carson Wentz's struggles this season despite leading the NFC East division at 3-5-1.
The Browns play the Eagles on Sunday.
"Over his career, the injury thing has hit him," Salisbury said of Wentz. "It seems like every year there is something, offensive line, the secondary, the wide receivers.

"Maybe I'm just digging too deep or maybe not deep enough. I do believe that no Frank Reich and [John] DeFilippo have bothered him. Now, he may not say that, but it's awfully coincidental. He hasn't played his best football since they were gone."
Reich is now the head coach of the Indianapolis Colts and DeFilippo is the quarterbacks coach for the Chicago Bears.
Salisbury pointed to his time in the NFL in that quarterbacks tend to spend more time with offensive coordinators and quarterbacks coaches rather than head coaches.
Salisbury said the expectation is for Wentz to play at an MVP level considering how he played during the 2017 season when he led the team to an 11-2 record before getting injured.
"When you're not playing at the level, that's a tough town now, and the NFL is a tough business," Salisbury said.
The Eagles went on to win Super Bowl LII under backup quarterback Nick Foles.
Salisbury also said Wentz has missed easy throws that he should complete.
"It's not the tough one where he doesn't have time, it's the…when he has a chance to set his feet, the accuracy is all over the place," Salisbury said. "And, it's concerning to me because [of] the easy plays he's not making."
Salisbury also called the Eagles "a bad team," which has prompted Wentz to press.
"My concern is that they've surrounded him with such bad players and then his mechanics have started to suffer," Salisbury said. "I have to see him play his way out of this because if he doesn't, that fire is going to get a little bit hotter, and you'll start to hear if you already haven't the whispers of, 'we have should be going in a different direction' and he's a better player than this."
The Browns opened as a 3.5-point favorite over the Eagles.