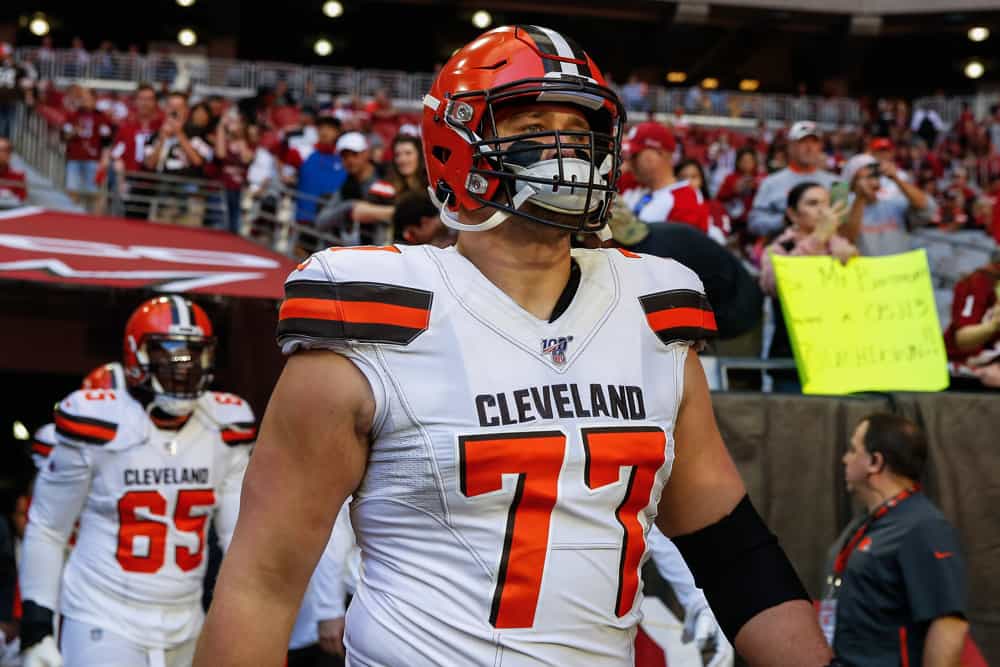 Pro Football Focus named Cleveland Browns guard Wyatt Teller their Offensive Player of The Week.
It was Teller's first game back after a Week 5 calf injury landed him on Injured Reserve.
Teller was PFF's Player of the Week for his last full game, the Week 4 victory over Dallas.
Cleveland's right tackle earned a spot on the PFF First Quarter All-Star squad, too before missing four games.
This season, #Browns Wyatt Teller has more games with a PFF grade above 96 than games with a grade below 85 pic.twitter.com/lx647xjgCY

— Sam Penix (@Sam_Penix) November 16, 2020
When Teller went down against the Colts, he boasted a 94.4 overall PFF grade on the season.
It represented the highest score through 5 weeks of any season since PFF started in 2006.
Teller topped that mark in his return against Houston, grading out at 96.6 for Week 10.
In announcing the award, PFF said this about Teller:
"Teller was the PFF Offensive Player of the Week in his last full game played back in Week 4 before getting hurt for his dominant run-blocking, and he took home the award in his first game back for the same exact reason. No guard came close to sniffing him in positively graded run block rate, and only one edged him out in negatively graded run block rate. He thrived in Kevin Stefanski's outside zone heavy rushing offense against Houston."
Browns Fans Didn't Need PFF To See Teller's Impact 
PFF uses some technical and non-traditional measurements and standards to grade NFL players.
But Browns fans didn't need their prowess to know Teller's return made an impact on their team's offense.
Rain and wind tamped down the scoring and big-play potential.
But it didn't stop Teller's pulling and zone blocking from paving the way to a big Cleveland rushing attack.
#Browns Guard, Wyatt Teller, is now the highest graded player in the #NFL.

Teller holds a mind-blowing Overall Grade of 96.8 per @PFF. 🤯

His Run Blocking Grade 95.6 is the best of any Offensive Lineman.

Would you like to see the @Browns offer Wyatt an extension? ⬇️ pic.twitter.com/8oPBcYgPmb

— The Hottest Take Sports Podcast (@Hottest_TakePod) November 16, 2020
Nick Chubb and Kareem Hunt became the first Browns duo in over 50 years to each top 100 rushing yards.
They combined for 230 yards on the ground and 28 more on 3 short passes.
Teller and company cleared the way for 7 combined runs of 10-yards or more, including 5 in the fourth quarter.
Baker Mayfield only threw 20 passes, on 22 pass snaps.
Houston was credited with one sack when Corey Liuget tripped Mayfield as he tried to step around the defender.
But overall, only 2 quarterback hits were recorded as Mayfield enjoyed a mostly pressure-free day.
PFF Awarded the Rest of the Offensive Line, Too
Teller was more than impressive in his return to the lineup.
But the best NFL players make those around them better, too.
Cleveland ran the ball at the 2nd highest % of any team this season.

Their RB duo combined for 7 runs of 10+ yards💪https://t.co/2DtkmUBZ6k

— PFF (@PFF) November 15, 2020
Jack Conklin earned the top PFF score among right tackles and a spot on the Week 10 PFF Team.
Rookie Jedrick Wills had his best run-blocking performance of the season and only lost one pass-blocking battle.
Cleveland's entire offensive line lost only 5 individual pass-rush matchups on the day.
That helped make them PFF's Offensive Line of the Week and earned them words of praise from the PFF crew:
"(The Browns offensive linemen) are beginning to look like the clear-cut best unit in the NFL. Cleveland's offensive line allowed just two pressures on 22 pass-block snaps and combined lost five total reps — the lowest marks in the NFL this week. Though, as always, the reason they were the top line of the week was because of their run-blocking from top to bottom. As a whole, the Browns had a run-block grade that was over 11 grading points higher than any other team in Week 10."
An age-old NFL adage says championships are won in the trenches.
Cleveland's PFF offensive line ratings bode well for the Browns in their pursuit of a playoff berth.