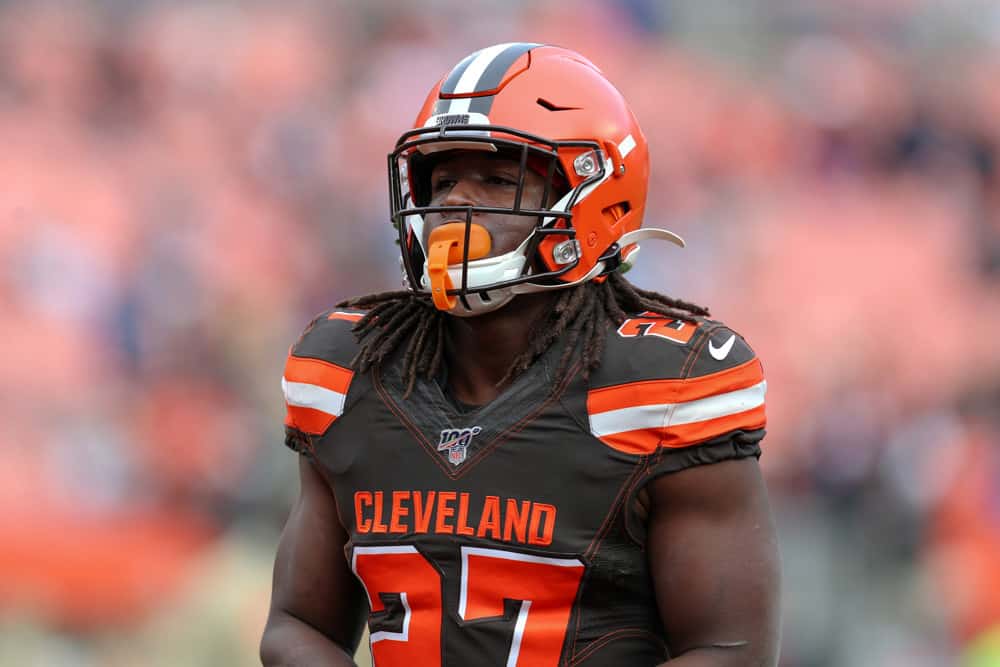 The Cleveland Browns made a bold decision to give Kareem Hunt a second chance.
The 24-year-old looked like a star for the Kansas City Chiefs before he was released in 2018 after video showed him assaulting a woman.
He could have fallen out of the NFL, but talent always seems to trump all and his second chance came from his hometown team.
Hunt served a suspension and ended up appearing in eight games for the Browns in 2019.
He managed to finish with 179 rushing and 285 receiving yards in what was a bit of a disaster second half of the year for the offense.
That was not his fault, but rather that of former head coach Freddie Kitchens.
A new group came to power and the Browns then placed a second-round tender on him this offseason, which he signed.
Clearly there is a lot of belief in the young man within the organization.
Kareem Hunt hints he would be open to signing with the Browns long term. pic.twitter.com/UHwGlytuKM

— Everything Cleveland (@EverythingCLE_) June 22, 2020
Now fans may be wondering if the team should offer him a contract extension before the start of the 2020 season.
Does Kareem Hunt Deserve an Extension?
In a weird turn of events, Hunt is the highest-paid running back on the roster in 2020.
His tender was worth just over $3.2 million, while Nick Chubb is set to earn just over $1.1 million.
That in itself is a bit backward, but that is just how contracts end up working out sometimes.
Chubb will get his money soon enough.
Hunt is an interesting case because he ran for 1,327 yards and eight touchdowns in 2017.
He also added 455 receiving yards and three touchdowns through the air.
Wow. Alex Smith to Kareem Hunt for a 78-yard touchdown. That fumble from the opening possession is long behind him. pic.twitter.com/NizdL5JN5L

— NFL Update (@MySportsUpdate) September 8, 2017
That ended up being the only year he has played a full slate of games and that also came in a dynamic Chiefs offense.
Hunt was obviously limited in only eight games last season, Kitchens aside, and right now he is still trying to prove he isn't a one-hit wonder.
That is also only considering his on-field play.
There are still several off-the-field incidents, aside from the infamous one on video, that raise concerns about committing millions to him.
The Verdict on Hunt
As of now, there is no logical reason for the Browns to give Hunt a long-term extension.
The team has already extended an offer of goodwill by even giving him a chance in the first place.
Then came the second-round tender that is paying him over $3 million.
There needs to be some evidence that he is the same player he was in 2017 before the Browns commit to him on a long-term basis.
We know for a fact that Chubb is the running back of the future.
Having Hunt is a bonus, but the Browns still have to make sure he can be trusted.
#Browns Kareem Hunt said he learned from his traffic incident and he's moved on pic.twitter.com/tDUBm4zflG

— Mary Kay Cabot (@MaryKayCabot) June 22, 2020
There was another incident around the time of the Super Bowl and while Hunt did not face legal trouble, this was still a concern.
The running back is still a young kid.
A second chance may not be accepted by some, but that is still the reality of the situation.
The Browns are staring down monster extensions for Chubb, Myles Garrett, and Baker Mayfield.
Waiting on Hunt seems like the smart strategy and the young man seems humbled enough to strictly focus on improving as a human being and not making any major demands.
Vote!
[socialpoll id="2657123″]