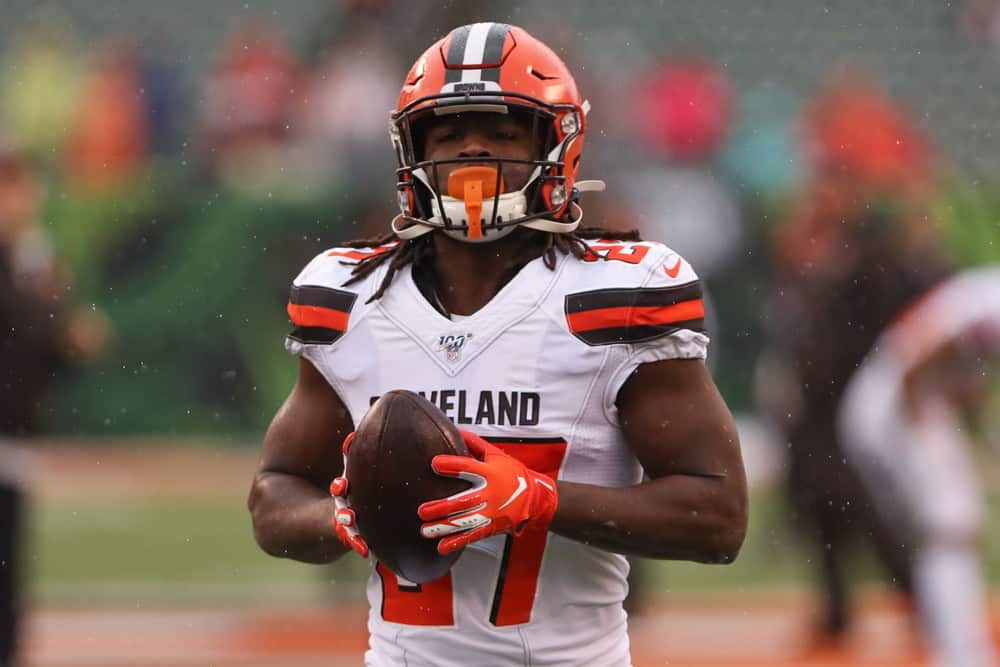 On April 17, 2020, Kareem Hunt reportedly signed his second-round free agent tender.
He made $3.26 million by signing the contract.
According to Spotrac, this contract is by far the largest of his NFL career.
Heading into the 2020 NFL season, Kareem Hunt is ready to prove himself for the Browns.
The former Kansas City Chiefs star running back enters his second year with Cleveland.
Hunt is attempting to reinvent himself in Cleveland, as he will be the change-of-pace back for Baker Mayfield's offense this upcoming season.
Recently, Mayfield discussed the importance of starting strong early in the season.
If Hunt is looking for a time to get in the good graces of Browns fans, he can do so in the first few games of the season.
He has the potential to do so with his ability to miss tackles:
Missed tackles forced on runs since 2017

1. Derrick Henry – 136
2. Kareem Hunt – 123
3. Chris Carson – 118
4. Melvin Gordon III – 117 pic.twitter.com/zoCOZwIuUw

— PFF (@PFF) May 6, 2020

With a new head coach and general manager, the Browns may have a revitalized game plan.
If so, Hunt could be an important part of the team's offense.
Kareem Hunt's Success in Kansas City
In his rookie season in Kansas City, Hunt was one of the best players in the NFL.
He rushed for an NFL-best 1,327 rushing yards.
Even in the pre-Patrick Mahomes era, Hunt was an impressive running back:
Missed tackles forced by rookie RB:

1. Josh Jacobs 69
2. Kareem Hunt 61
3. Alfred Morris 57 pic.twitter.com/dYAIprd2O5

— PFF (@PFF) April 1, 2020
Hunt finished with 2017 NFL All-Rookie Team and Pro Bowl selections.
Then, he was ranked No. 33 on the NFL Top 100 list in 2018.
When Hunt was the Chiefs running back in 2018, the team was on pace to win the Super Bowl.
However, off the field issues shortened his 2018 season to 11 games.
Hunt's time under Andy Reid ended with 2,151 rushing yards, 833 receiving yards, and 25 total touchdowns in two seasons.
The 2018 Chiefs went on to lose the AFC Conference Championship to the New England Patriots.
Then without Hunt the following year, the Chiefs won their first Super Bowl since 1969.
Hunt's First Year with Cleveland
Hunt's suspension ended midway through 2019, and he then was inserted into the Browns offense.
Former Cleveland head coach Freddie Kitchens played Hunt in just over half of the available offensive snaps in the second half of last season.
Due to Nick Chubb's domination on the ground, Hunt was mostly relegated to a pass-catching back.
He had to become the team's third receiving option behind Odell Beckham Jr. and Jarvis Landry.
With Hunt's relatively low spot on the depth chart, he was unable to spread his wings as much as Browns fans had hoped.
Of his 80 touches, 37 were receptions for 285 yards.
Hunt scored a total of three rushing and receiving touchdowns.
If Mayfield can successfully turn the page to 2020, then Hunt can as well.
With opposing defenses ready to load the box against Chubb, the Browns offense, especially Hunt, can explode in 2020.
With Hunt's strong ability to catch balls out of the backfield, he can be a huge part of the offense moving forward.
Hunt also has the opportunity to be a part of an impressive Browns offense in the upcoming years if they want to re-sign him after 2020.
Andrew Berry has continued to help build an impressive team.
With the second-easiest strength of schedule in 2020, the Browns are in a great position for success in the upcoming season.
Hunt has a chance to be a part of the best running tandem in the NFL.
If Stefanski can successfully balance Hunt's touches as a running back and receiver, the Browns could win their first season opener since 2004 and make the playoffs for the first time since 2002.