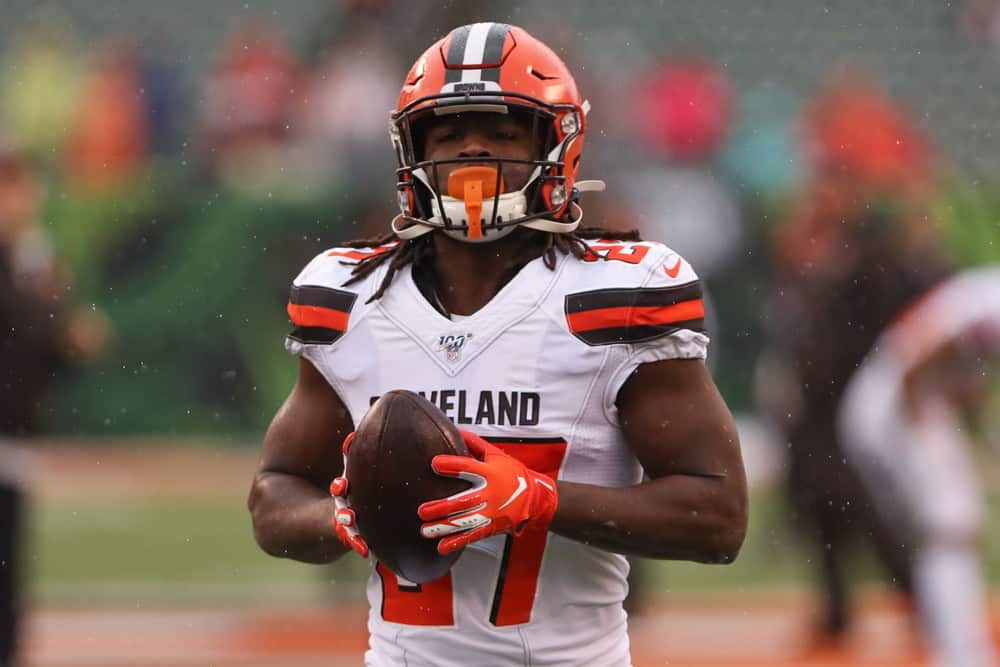 Kareem Hunt has received a number of chances so far in his short NFL career.
He's getting another with the Cleveland Browns after a traffic stop this offseason where he told the police officer that he would not be able to pass a drug test.
Kareem Hunt, "I should be playing for a freaking Super Bowl…" Vid from @TMZ #ChiefsKingdom pic.twitter.com/IcoZc3Z63k

— ChiefsJayhawksRoyals (@CJR16255) January 27, 2020
One thing about Hunt, however, is that he doesn't necessarily take these opportunities for granted.
Well, at least he claims he doesn't.
On Monday, Hunt held a Zoom call with local Cleveland media and told May Kay Cabot of Cleveland.com that he feels "lucky" and "blessed" to be a part of the Browns.
Having signed his one-year tender, he also said that he'd love to sign an extension here and be in Cleveland for a long time.
Another Shot
As mentioned, there's a certain amount of baggage that comes with having Kareem Hunt on your team.
The traffic stop has been the only issue so far in Cleveland, but the drug and alcohol aspect of it made it a little more than just a normal stop.
The domestic violence allegations of the past, though, will follow him until the end of his career.
People still jeer Steelers quarterback Ben Roethlisberger for an incident involving a woman back in the 2000's and associate that with him more than anything he's accomplished on the field.
He's been fortunate to make things work in the NFL since then.
Others have not been able to overcome similar incidents.
See Ray Rice for that.
The video that led to Hunt's suspension certainly doesn't look great.
There's debate over the context that preceded the incident, but that doesn't matter in the court of public opinion.
Hunt sort of has the label of "troublemaker" attached to him now.
Whether that's fair or unfair is irrelevant.
Guys that fall under that category have to be near flawless from a behavior standpoint for the rest of their careers.
Hunt hasn't been that, so it's fair to say he's a bit lucky to have another chance with the Browns.
Focus on Football
The best thing for Hunt right now is to just make sure his attention is centered on the gridiron.
Now there are eyes on him just waiting for another mistake.
Kareem mentioned in the traffic stop that he "should be playing for a Super Bowl" as his former team, the Chiefs, were getting ready to compete for the NFL championship.
One could assume Hunt is happiest when his team is playing at a high level.
It didn't happen last year under Freddie Kitchens.
However, things are looking brighter under new coach Kevin Stefanski and his staff.
There's no suspension to serve at the start of the year either, as Hunt was forced to miss the first half of last season.
Stefanski had success with the running game in Minnesota.
Not only is Hunt looking to have success on the ground, but also serve as a threat in the aerial game.
#Browns pass game coordinator/WR coach Chad O'Shea said RB Kareem Hunt has impressed him as receiver in past. Brings great value to the position. Has done some cross training with WRs in virtual meetings.

— Scott Petrak ct (@ScottPetrak) June 17, 2020
Paired alongside Nick Chubb, Hunt is certainly poised to be a contributor to a winning football team.
That alone, one would hope, should really help Hunt feel more confident about his current situation.
When healthy and well, Browns fans know exactly what Hunt can bring to their football team.
The Browns will get a healthy Kareem Hunt in Week 9… pic.twitter.com/crz2Aodc9g

— CLE 🟠 (@DawgPoundDave) June 8, 2019