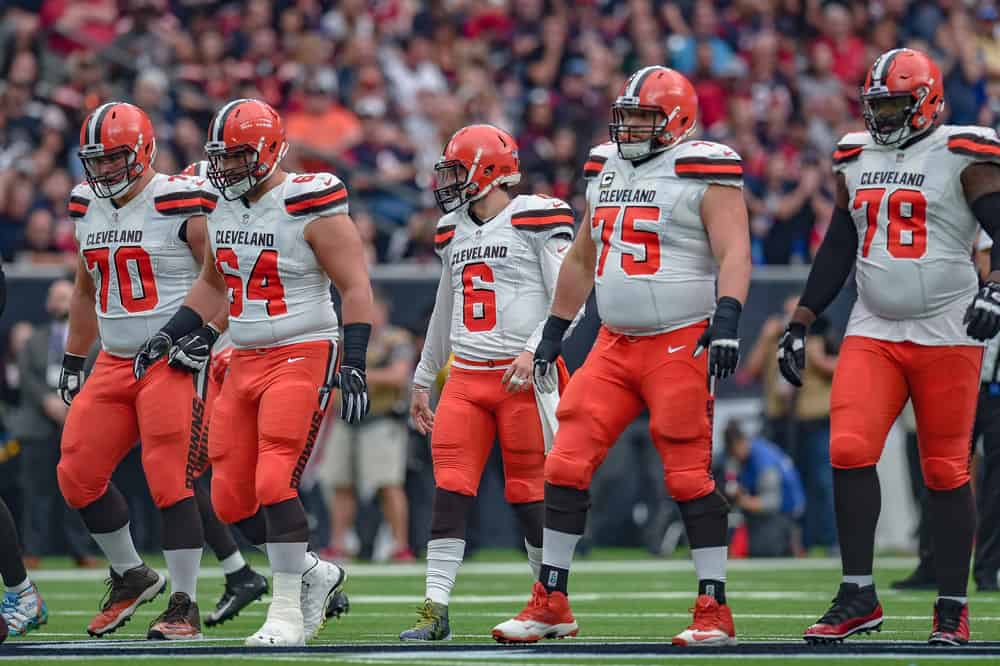 The Cleveland Browns have done a nice job of revamping their offensive line this offseason.
They added right tackle Jack Conklin through free agency and Jedrick Wills during the draft.
Both players are expected to be starters from Day 1, but the Browns might not be done adding yet.
Cleveland might need to add another right guard after Drew Forbes decided to opt-out of the 2020 season.
Browns OG Drew Forbes has opted-out out of the season, per the team

— Jake Trotter (@Jake_Trotter) July 29, 2020
He is the first Browns player to opt-out, but his absence does leave a hole on the offensive line.
The organization may lean on other current players to step up, but acquiring another guard is a definite possibility.
Who is Starting at Right Guard?
Losing Forbes does hurt the team, but he wasn't even the starter.
He was competing with Wyatt Teller for the starting right guard spot in Cleveland.
The Browns are left without many other options in terms of depth, so Teller is expected to begin the season as the starter.
He's not exactly a reliable option, but did start in nine of his 15 games with the Browns last season.
The Browns acquired Teller from the Buffalo Bills in August of 2019 in exchange for a few late-round draft picks.
He was below average with Cleveland last season, but maybe he'll improve.
The team doesn't have too many choices, so Teller might be forced to start if the Browns are unable to bring in another guard.
Currently, the backup right guard is Malcolm Pridgeon, who is an undrafted player the team signed in December of 2019.
Should Cleveland Make A Move?
The obvious answer is yes, but it might not be that easy for Cleveland.
The Browns shouldn't trust Teller to hold down the right guard spot by himself.
He was below average last season, so it's unlikely that he makes a miraculous turnaround.
The Browns front office needs to be making calls and trying to land another guard right now.
This team needs to do a better job of protecting Baker Mayfield after he was sacked 40 times last season.
Yes, the Browns have made upgrades at offensive line, but the right guard spot was already a shaky area before Forbes decided to sit out.
The Browns could always sign a free agent player, but the options are limited at this point in free agency.
The best option for Cleveland could be 30-year-old right guard Josh Kline.
With the Drew Forbes news I wonder if the #Browns look into Josh Kline who was with Coach Stef last season… 🤔

— Jeff-LJ-Lloyd (@Jeff_LJ_Lloyd) July 30, 2020
Kline is currently still a free agent and played with new Browns head coach Kevin Stefanski last season.
He is not a star option whatsoever but could be someone who could be counted on as an average starter or backup.
Otherwise, the Browns will have to make a trade within the next few months.
They don't need to make a splash and trade for a superstar, but the Browns do have the assets if they want to go that route.
The Browns could also trade away a few low-end draft picks and get someone to backup Teller.
Regardless, the Browns have multiple routes they can take here, so hopefully, the team is able to upgrade the position before the season begins.