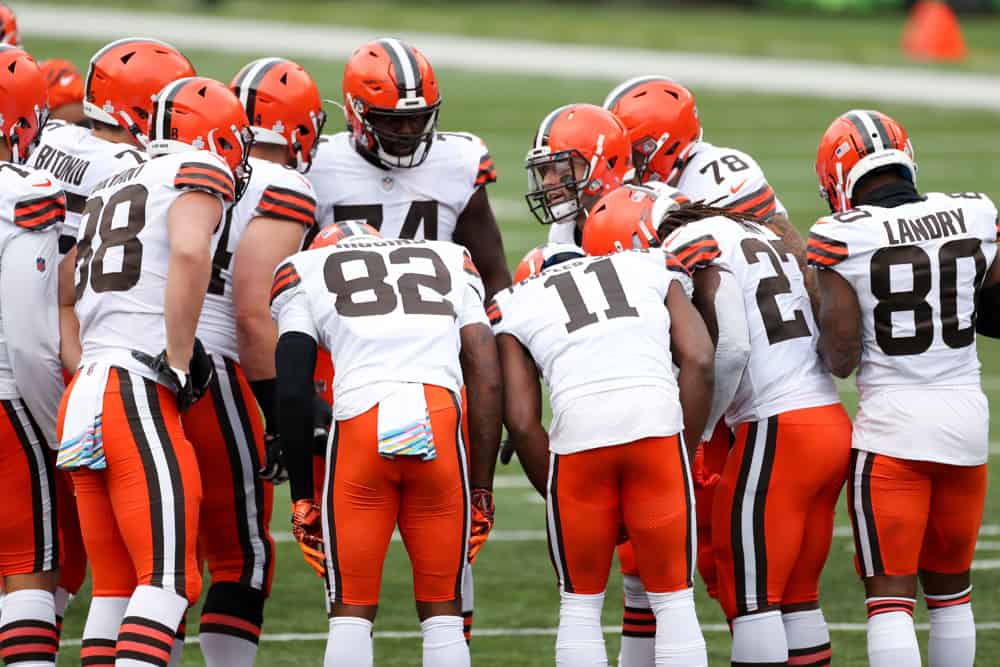 This was obviously not the way the Cleveland Browns wanted to end their season.
They came into this game as heavy underdogs and battled against the Kansas City Chiefs on Sunday.
Sadly, the Browns weren't able to come away with the win as the Chiefs pulled away with the 22-17 victory.
Cleveland didn't win this game, but this was still a successful season for the Browns.
This wasn't the desired result, but this was great experience for the Browns' young players.
Stud: Nick Chubb
On paper, running back Nick Chubb didn't have a fantastic game, but it wasn't all his fault.
The Browns didn't give Chubb enough chances to make an impact on the ground.
Chubb rushed for 69 yards on 13 attempts during Sunday's loss to the Chiefs.
At first glance, 69 yards might not seem like significant damage, but that's 5.3 yards per carry.
Chubb gave it everything he had, but sadly it just wasn't enough to get the win.
Nick Chubb with the TOUGH run 😤

(via @thecheckdown) pic.twitter.com/CHfLDHyNHQ

— NFL on ESPN (@ESPNNFL) January 17, 2021
Although, the Browns would've been in much worse position without the performance by Chubb.
This organization is lucky to have a two-time Pro Bowl player like Chubb in their backfield.
Stud: Baker Mayfield
This loss shouldn't diminish what quarterback Baker Mayfield has accomplished this season.
He was the first quarterback to lead this team to a playoff win in 18 years.
Mayfield had a fantastic regular season and is hopefully going to be the franchise quarterback of his team.
He completed 23 of 37 passing attempts for 204 yards with one touchdown and one interception.
This was his second postseason appearance.
The Chiefs took advantage of Mayfield's inexperience, but it wasn't all bad.
Mayfield did make some impressive throws during this contest.
.@bakermayfield finds @God_Son80 for SIX!

📺: https://t.co/k8TCbMTBLa pic.twitter.com/6vcBb1oqYm

— Cleveland Browns (@Browns) January 17, 2021
Dud: Rashard Higgins
Browns wide receiver Rashard Higgins was involved in the most controversial play of the game.
Cleveland was about to make it a one possession game before halftime with a Higgins touchdown.
Sadly, Higgins fumbled the ball out of the end zone for a touchback.
There was helmet-to-helmet on this play, but the refs didn't throw a flag.
Rashard Higgins fumbles out of the end zone for a Chiefs touchback…#CLEvsKC #NFLPlayoffs pic.twitter.com/40XWWoDiT0

— SportsGrid (@SportsGrid) January 17, 2021
Despite this mistake, Higgins put together a fairly solid stat line in this game.
He hauled in five receptions for 88 yards and almost had a touchdown.
Higgins was trying to make a play in the end zone, so it's tough to blame him for the touchback call.
It's an unfortunate event, but he still had a decent game and a positive season for the Browns.
Dud: Austin Hooper
The Browns expected big things from tight end Austin Hooper when they signed him to a massive deal this offseason.
Sadly, he wasn't ever able to make a huge impact throughout his first year in Cleveland.
Last week, Hooper hauled in seven receptions for 46 yards and one touchdown in the win over the Pittsburgh Steelers.
Although, he wasn't able to carry any of that momentum into this game versus Kansas City.
On Sunday, Hooper finished with two receptions for 16 yards, which was his lowest amount of yards since Week 12.
This was a frustrating year for Hooper, but the Browns can be hopeful for a bounce back season in 2021.
The Browns take a second round exit, but plenty of positives to take away from this season.