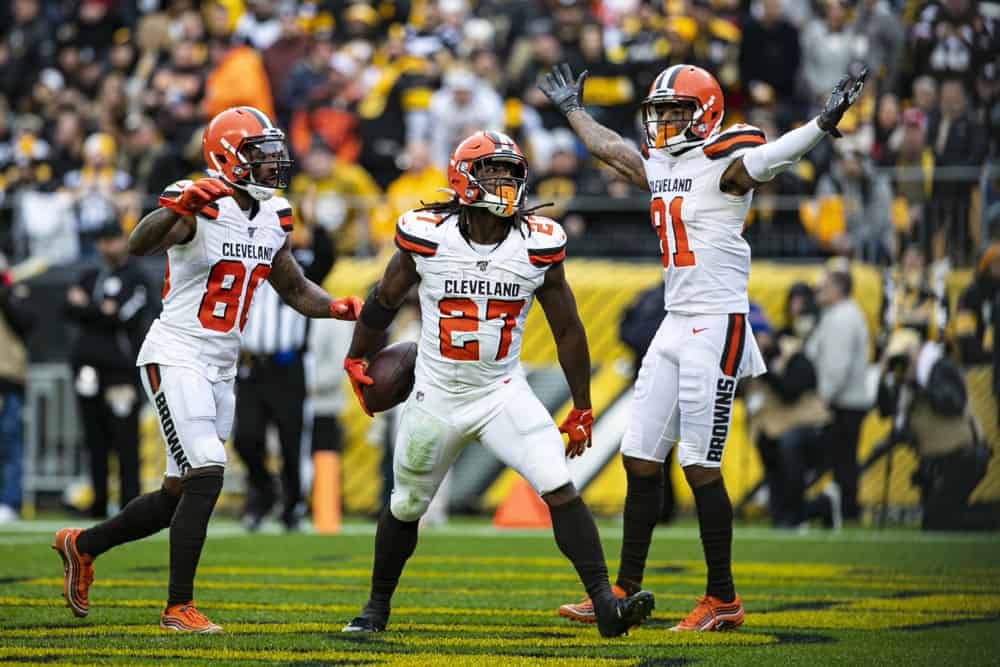 The offseason not starting after week 17 this season was a blessing for Cleveland Browns fans.
That time, after the loss to Kansas City on Sunday, has now come for the Browns.
This one, however, has more optimism and excitement around it than ever before.
That isn't because the Browns have a top-five draft pick or have a litter of head coaches to choose from as the next man in charge in Berea.
That upbeat feeling comes from the fact that Kevin Stefanski and company have an entire winter, spring, and summer to build upon the best season in Cleveland since the 1990's.
Changes will happen, as they do in every city in every offseason.
Their should be changes that take the Browns to the next level.

1. Extend Baker Mayfield's Contract
The decision to keep Baker Mayfield around long-term should be an easy one for Andrew Berry.
Baker Mayfield was surgical today. The Browns should offer him an extension as soon as they can. He's their guy.

— Ben Axelrod (@BenAxelrod) January 17, 2021
After week 11, Mayfield finished the regular season throwing 11 touchdowns and just one interception.
He threw for over 300 yards in back to back weeks against great defenses in Baltimore and Tennessee.
While he may not have been truly "surgical" in the loss to the Chiefs, he certainly was in the playoff win over Pittsburgh.
After a tremendous rookie season, a second-year slump, and a resurgence this year, it has been a roller coaster for Mayfield.
Dealing with multiple head coaches and offensive coordinators is tough for any young and developing quarterback.
Mayfield has taken it all well, maturing on and off the field along the way.
Some push back when using the term "franchise quarterback" around Baker.
He is without question the closest thing Cleveland has had to that in over 20 years though, so he needs to stay.
Berry "very pleased" with QB Baker Mayfield. "He's grown before our eyes." Berry wouldn't get into any discussions about a contract extension for Mayfield, but made it clear team is excited about him and his future.

— Tom Withers (@twithersAP) January 15, 2021
2. Revamp the Linebacker Core
Going into this season, fans knew the Browns linebackers would struggle.
While they did make some big plays this year, such as Sione Takitaki's interception of Big Ben against the Steelers in the Wild Card game, that group needs addressed this offseason.
Browns need to add multiple quality DB's and linebackers this off-season .. through both free agency and draft.

— Al Pawlowski (@AlPawlowski) January 17, 2021
The secondary is not as much of an issue as the linebackers.
Grant Delpit and Greedy Williams will return next season and were both projected to start this year.
The secondary needs another year together before long-term evaluations can be made.
The linebackers simply aren't good enough as-is and will need addressed.
Two Steelers come to mind in the forms of Bud Dupree and Avery Williamson as both are about to hit free agency.
Dupree has taken a big step forward as a pass rusher his last two seasons in Pittsburgh.
He tore his ACL halfway through this season, which could impact his price on the market.
The Steelers have tons of cap room issues and may not be able to bring him back, leaving the door open for Andrew Berry to make a move.
Dupree would look great opposite Myles Garrett.
Bud Dupree is the most slept on pass rusher in the @nfl. I still don't know how he haven't been voted into the pro bowl yet. Smh @Bud_Dupree pic.twitter.com/lfLfLfBO0B

— Coach Brandon Jordan (@CoachBTJordan) January 16, 2021
Williamson may be a more realistic target financially and would help the interior of the linebacker unit.
He played well in his time in Pittsburgh after being traded from the Jets and it was shocking to see him sidelined against the Browns in the playoffs.

3. Grab a Nickel Corner
The nickel corner continues to be more and more prominent in today's NFL.
While Kevin Johnson was serviceable this season, the Browns should look to upgrade this offseason.
Another Steeler comes to mind here in Mike Hilton.
Hilton was a tremendous coming off the blitz in Pittsburgh this past season and was typically solid in coverage.
He is another name that could be available given the financial issues in Pittsburgh.
Shaun Wade out of Ohio State could be an option if Andrew Berry wants to fill the position through the draft.
There's mixed feelings on Wade, and with his latest performance being a bad one on national TV against Alabama, he isn't getting a ton of positive chatter right now.
Truthfully, this past year wasn't great for Wade as a whole either.
His draft stock is plummeting, so if the Browns can find him in the third or fourth round, he'd be worth taking a shot on.
Returning to play a season at outside cornerback didn't bolster Shaun Wade's draft stock the way he had hoped, but I still believe he'll be a successful pro. He'll move back inside to play slot cornerback or safety in the NFL.

— Dan Hope (@Dan_Hope) January 15, 2021
This is tough to say but Shaun Wade should have sat out this season for his own sake. He really did hurt his draft stock this season.

— Alex P. Keaton (@fighterguy2424) January 12, 2021