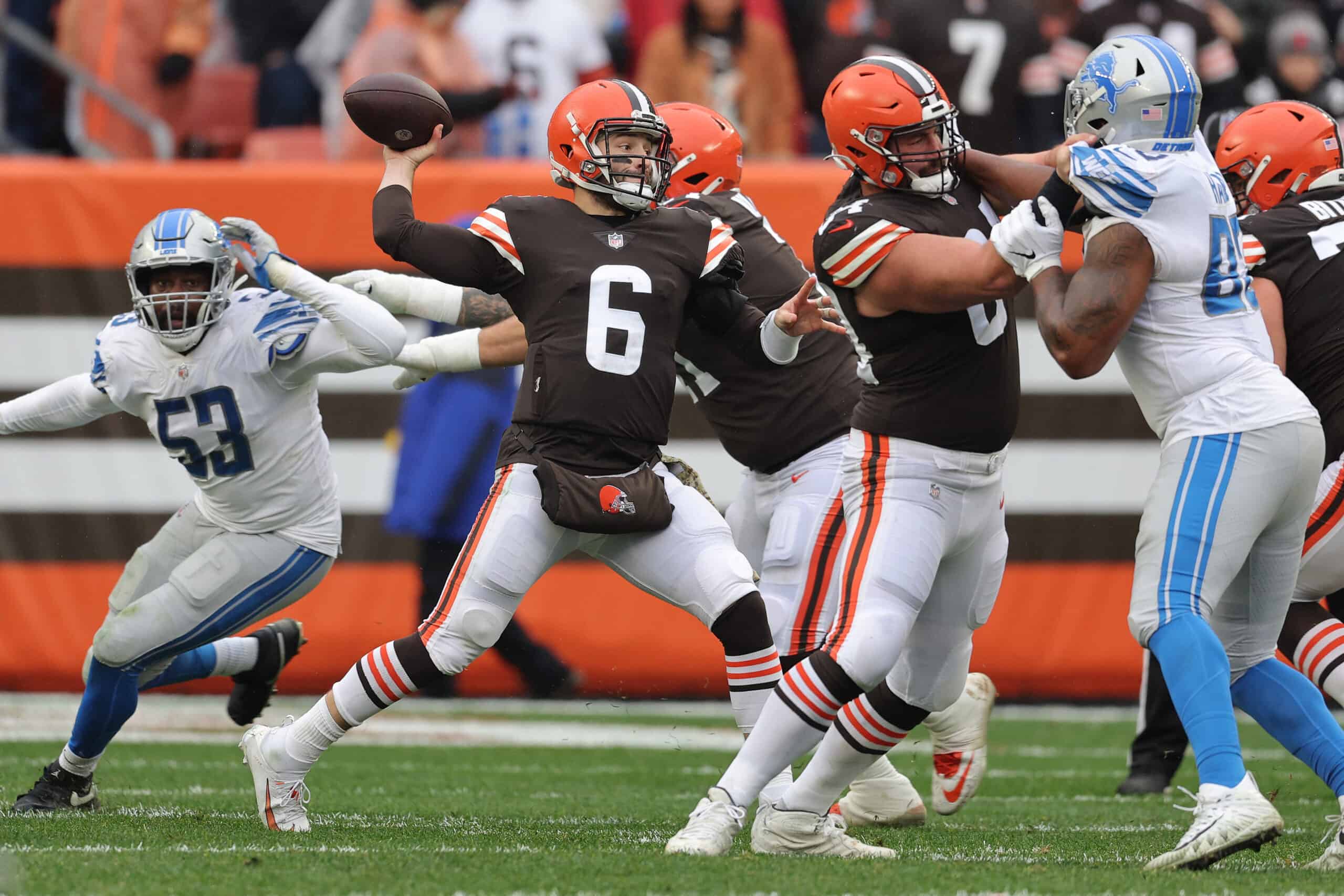 The Cleveland Browns pulled out a win over the Detroit Lions.
Though not a vintage Kardiac Kid win from the old days, this game was a bit of a nail-biter and left fans frazzled and extremely frustrated.
Here are the biggest studs and duds from the game in no particular order.
Stud: Malcolm Smith
Smith's interception of Tim Boyle came at a key moment early in the game when the Lions were driving the ball.
He intercepted the ball on the 15-yard line on the Lions' second possession of the game.
It happened on a critical third down play.
This evened things up after the Lions intercepted Mayfield to gain possession to start the drive.
Big step in the right direction for Browns' 3rd down defense.

LB Malcolm Smith picks off Tim Boyle at the 15, and the Browns escape any danger of surrendering points after Mayfield's INT.

— Andrew Gribble (@Andrew_Gribble) November 21, 2021
Dud: Chase McLaughlin
McLaughlin has been solid, but he needs to keep it up.
These points have to be automatic; he missed a field goal and had an extra point blocked.
Rain and wind should not be factors for him because he is the Cleveland kicker.
As we get into winter, the conditions will be harsher especially at Lambeau Field on Christmas Day.
There can be no more misses for McLaughlin down the stretch.
Tough kicking day for Chase McLaughlin, a miss and now a blocked kick. #Browns

— P.J. ZIEGLER (@PJFOX8) November 21, 2021
Stud: Nick Chubb
Nick Chubb is about to beat COVID and the Lions in the same week. Built different. #Browns pic.twitter.com/r6Kshi4yDa

— John (@JohnHillbery) November 21, 2021
This goes without saying.
Chubb carried this team on his back after beating COVID-19.
He is exactly what they needed today against a Lions' defense who has difficulty stopping the run.
What makes him an even bigger stud is that he was not rusty or tired from missing last week's game.
He came in and plowed through the holes and ran hard in his typical trademark style.
Those 130 rushing yards were instrumental in the Browns' win, and the receiving touchdown was icing on the cake.
Dud: Baker Mayfield
Mayfield had a rough week.. again.
Whether it is the injuries or the mental toll this season has taken, no one knows for sure.
He did not play well, and it is troubling especially as the Browns prepare to face the Baltimore Ravens for Sunday night football in Week 12.
There need to be serious conversations about whether he should be playing.
Toughness is admirable; however, it is now at the point where he could be jeopardizing his future playing through these injuries.
Also, the fact that he did not speak after the game, and let's not forget it was a winning effort, is really disappointing and puts him at the head of the dud class in Week 11.
I want Baker Mayfield to succeed, but that isn't going to happen playing injured. So no, I am not defending him playing today and skipping talking to the media. It was stupid and selfish. #Browns

— Eric Poston (@ericposton) November 22, 2021
Stud: Jarvis Landry
.@God_Son80 the ultimate dual-threat!

📺: #DETvsCLE on FOX
📲: Browns mobile app pic.twitter.com/VmKQ24QU5R

— Cleveland Browns (@Browns) November 21, 2021
Finally, Landry scored his first touchdown of the season.
Between his knee injury and the Odell Beckham Jr. situation, Landry is having a rough season.
The fact that he reinjured his knee just figures; that is his luck and the Cleveland Browns overall fate this year.
Hopefully, he can play against the Ravens, but if not, his hard work to help secure this win is much appreciated.
Conclusion
The Browns should be satisfied that they secured a must-win game.
There is no rest for the weary as the Browns take on the Ravens next Sunday night at Baltimore.
This team needs to keep being scrappy and finding ways to win because the Ravens game is another must-win game.