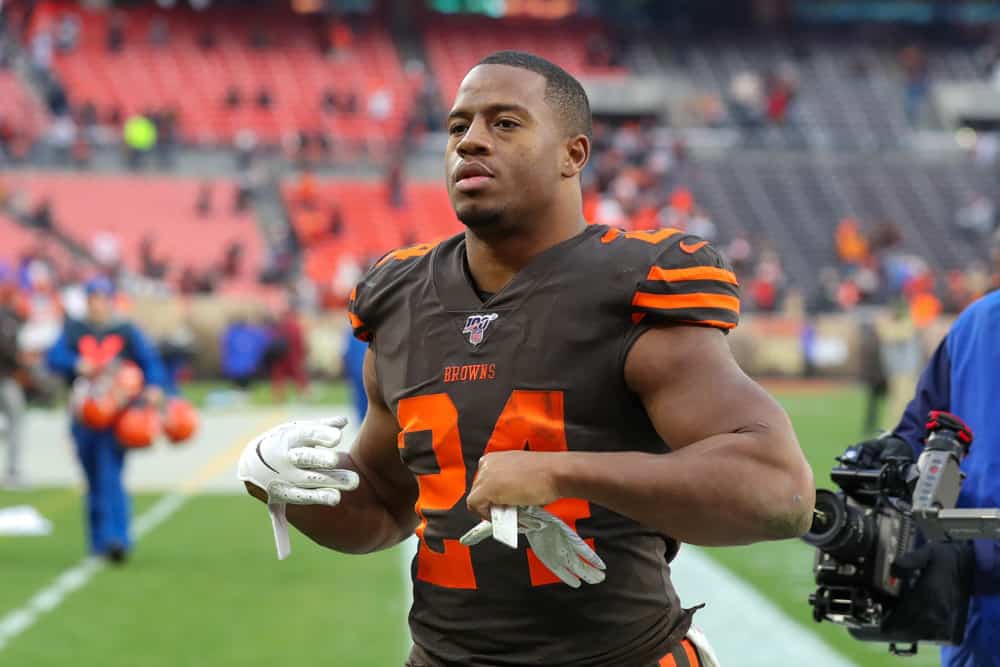 The Cleveland Browns have a winning record for the first time in six years after a convincing 34-20 win over the Washington Football Team.
By moving to 2-1, the Browns took care of a game that they were favored to win.
On paper, the Browns had a lot more studs than duds that particularly stood out.

Stud: Nick Chubb
What else can you say about the team's stud running back?
Besides that, he is going to get paid big bucks down the line.
Chubb added two more rushing touchdowns and 108 rushing yards on 19 carries as he continues to look like a dominant force on the ground.
#Browns WR Odell Beckham Jr: "One of my biggest growths has come in acceptance." Says he knows big #s might not come every game, his goals will remain…Nick Chubb or Kareem need to be the No. 1 rusher in the league. "Our team is very, very, very good at running the football."

— Keith Britton (@KeithBritton86) September 24, 2020

The Browns offense is going to flourish as long as Chubb continues to pile up yards on the ground.
He did that once again on Sunday.

Stud: Karl Joseph 
All it took was six tackles but the team's safety was second on the team in tackles on Sunday.
He also included an interception that eventually set up one of Chubb's touchdowns.
Karl Joseph avec l'interception… et le fumble 🤨pic.twitter.com/Xu6wS3rdmG

— TDActu.com – Actu NFL 🏈 (@TDActu) September 27, 2020
Stud: Sheldon Richardson
Richardson had a very productive afternoon on paper.
Three solo tackles, one sack, one tackle for loss, one quarterback hit, and one pass deflection.
This was the second week in a row that Richardson recorded a sack.
Sheldon Richardson has been phenomenal this season. #Browns

— Camryn Justice (@camijustice) September 27, 2020
Stud: Cody Parkey
Parkey is going steady in revitalizing his NFL career since his disastrous 2018 season with the Chicago Bears.
Since taking over for Austin Seibert, Parkey has been solid.
On Sunday, Parkey added four extra points and two more field goals, including a 42-yard conversion.
If the Browns are going to be successful, the team is going to need big plays from their kicker at all phases.
#Browns eliminated big kick returns against their special teams unit by having Cody Parkey kick into the end zone – 7 touchbacks for Parkey on kickoffs today.

— Daryl Ruiter (@RuiterWrongFAN) September 28, 2020
Stud: BJ Goodson
On a day where Dwayne Haskins threw three interceptions, Goodson picked up one of those.
He also included a fumble recovery.
While Browns fans loved it, fans of the WFT did not…
LMFAO YOU GOT PICKED OFF BY BJ GOODSON

— Dyl🇳🇿 (@Comebacksznnnn) September 27, 2020
Needless to say, Goodson had a solid game for a defense that forced five turnovers.

Dud: Austin Hooper
Austin Hooper makes a lot of money to just block.
Hooper put up another dud performance on offense (three receptions for 25 yards).
At some point, Hooper might break out but that doesn't appear to be any time soon.
Both Harrison Bryant and David Njoku are out-scoring Austin Hooper in #FantasyFootball in 2020 #Browns pic.twitter.com/WSwu3Zrge4

— Anthony Cervino (@therealNFLguru) September 27, 2020