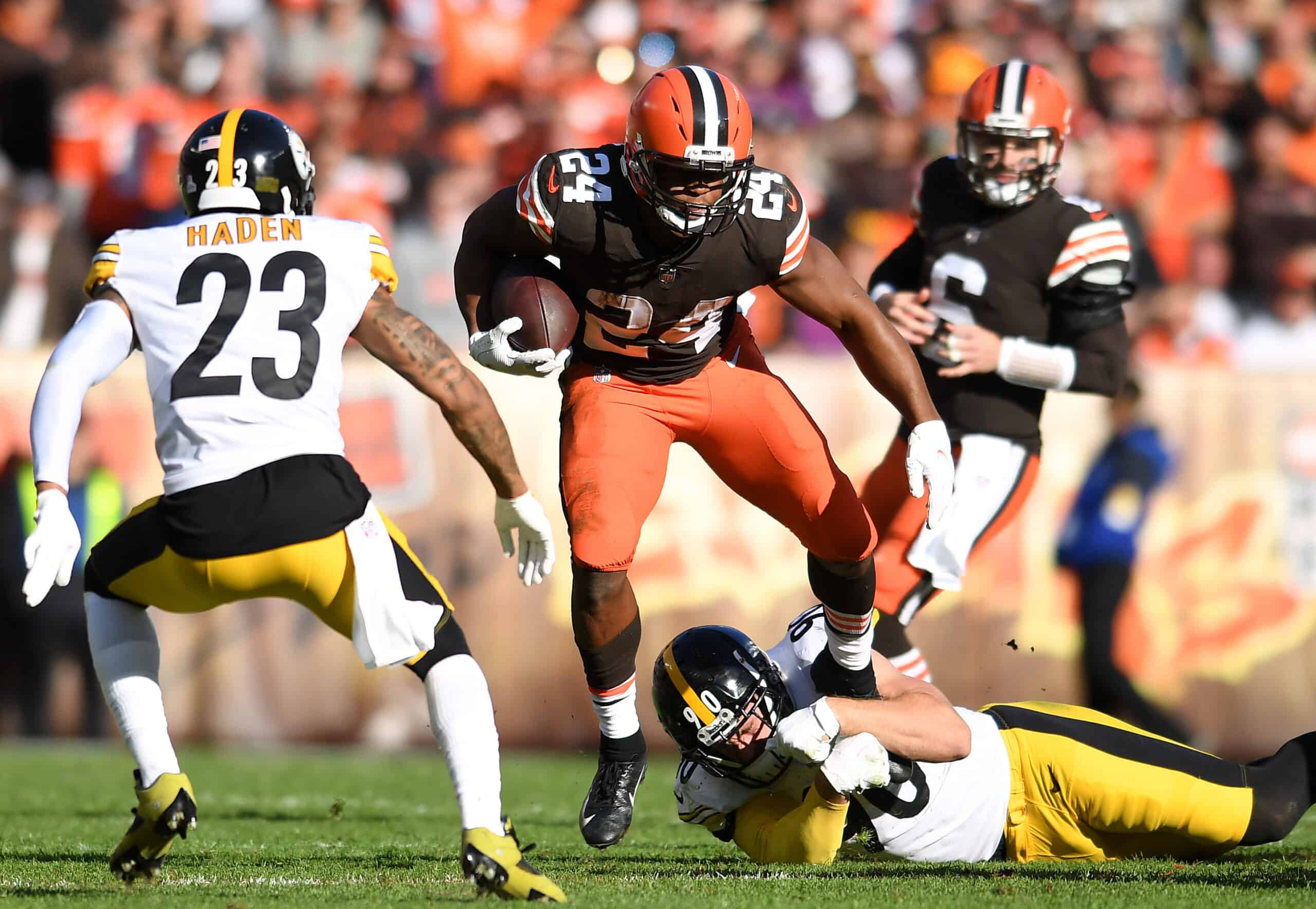 Well, if Kevin Stefanski was looking for a team effort from his Cleveland Browns offense, he got it.
The entire unit underwhelmed against an admittedly stout Steelers defense.
And penalties and drops were distributed among almost all of the starters.
Despite a chance to gain an advantage with a division win, there appeared to be little urgency.
FINAL. pic.twitter.com/QBzZLxdQ3j

— Cleveland Browns (@Browns) October 31, 2021
It was as if each player was nursing their own injured, brace-supported shoulder.
Or maybe they just had a Halloween party to get to.
Studs were hard to come by in the Browns 15-10 loss.
But we'll take an optimistic view on a couple of folks to offset the lengthy list of duds.
Stud: Baker Mayfield 
Baker Mayfield didn't look great Sunday, but not many folks expected him to.
And it is possible his altered throwing motion had the ball arriving a little slower or softer to his receivers.
But, he got the ball close enough for his guys to catch it more often than not.
Various analysts recorded anywhere from 5-8 dropped passes on the day.
Baker Mayfield is FIRED UP after taking a hard hit. pic.twitter.com/6Czd0ovXBs

— The Big Lead (@TheBigLead) October 31, 2021
We have to give Mayfield some credit for toughing it out with a wounded arm.
But he also provided what should have been a momentum-grabbing, victory-propelling moment late in the game.
His 5-yard scramble to convert a third down, and the fist-pumping that came after, was just such a moment.
It's not Mayfield's fault his teammates followed his heroics up with a 1-yard run and a crushing fumble.
Dud: Jarvis Landry 
Every receiver contributed to the dropped pass frenzy that ruined the Browns' day.
Landry had a pair of catchable passes he failed to come up with.
But it was his fumble after a catch that crushed the momentum of Mayfield's scramble.
His catch offset the disappointment of another 1-yard Nick Chubb run.
#Browns WR Jarvis Landry on Baker Mayfield's play: "It sucks I didn't make those plays when we needed them, because his effort should be commended for sure."

— 92.3 The Fan (@923TheFan) October 31, 2021
And just when it looked like Cleveland would push on down the field, the ball was on the ground.
Adding insult to injury, former Browns linebacker Joe Schobert knocked it loose and TJ Watt recovered.
Cleveland got the ball back, but the tone had been set by the turnover a series before.
And just in case it wasn't, Landry failed to come down with Mayfield's final pass, too.
Stud: Myles Garrett
Myles Garrett continued his record-pace with another sack of Ben Roethlisberger.
He was also credited with 2 quarterback hits and a pair of tackles for a loss.
But those small numbers don't describe the effort he put in all day.
Roethlisberger was rushing throws and shying away from Garrett all day.
There goes the Sack Reaper! ⚡️@Flash_Garrett | #Browns pic.twitter.com/ctzU93c0k7

— Cleveland Browns (@Browns) October 31, 2021
Even when he didn't land an official blow, Garrett made sure the quarterback knew how close he was.
When Garrett sat out for a few plays, the pass rush was non-existent.
Cleveland's defensive leader was the main reason the Steelers did not score more than 15 points.
And for good measure, he had the best Halloween costume of the day, too.
Dud: Offensive Line 
Much was made of the matchup between the Browns' highly ranked offensive line and the Steelers' defensive line.
Give this contest to Pittsburgh.
Nick Chubb found little room to get any momentum going on all but a handful of touches.
Cleveland was outrushed by the Steelers, with the Browns finishing with under 100 yards.
D'Ernest juked out TWO people 😳

📺: #PITvsCLE on CBS
📲: Browns mobile app pic.twitter.com/DF5DrX430e

— Cleveland Browns (@Browns) October 31, 2021
Considering their desire to protect Baker Mayfield from undue abuse, failing to establish the run was unacceptable
Speaking of which, Mayfield got sacked 4 times and hit 6.
That includes the sack he took on an obvious passing situation that killed the opening drive.
That continued a disturbing trend for the line this season and muted an impressive start for the team.
Stud: Defensive Secondary 
We warned you studs were hard to come by, and we could probably drop Ronnie Harrison from this list.
But Cleveland's secondary came into this game shorthanded, and it got worse quickly.
Denzel Ward and AJ Green were inactive due to injuries, and by halftime, safety John Johnson was out.
Harrison gave up the final touchdown on a fourth-down and goal.
WHAT A CATCH!!!!!!@pat_fry5 | 📺: CBS pic.twitter.com/NKRGy15nSr

— Pittsburgh Steelers (@steelers) October 31, 2021
But he was in a good position, even if he failed to knock the ball down or pull the receiver away from it.
And there were no big plays until the 50-yard catch and run to end the game.
Considering they played almost the entire game, Greedy Williams, Troy Hill and Greg Newsome deserve some credit.
And safety Grant Delpit and Harrison held up for the most part in an imperfect effort that yielded only 15 points.
Duds: Everyone Else 
Even the studs had moments that left fans gasping or yelling in grief during this game.
The drops were bad enough, but nobody seemed capable of making a big play.
Odell Beckham Jr reached back and extended high to get a hand on a potential long touchdown.
Even without the brace he wore, it would have been a great play, and what we expect from a stud receiver.
The Cleveland #Browns are last in the AFC North (and that's honestly where they deserve to be at the season's halfway point)

— Jake Trotter (@Jake_Trotter) October 31, 2021
Likewise, Mayfield threw a high, hard one to Landry on the final play.
But it is the kind of catch we've seen Landry make so many times.
And when is the last time Rashard Higgins dropped a pass?
Well, it was 2019 to be precise, a season we hope is not repeating itself this time around.