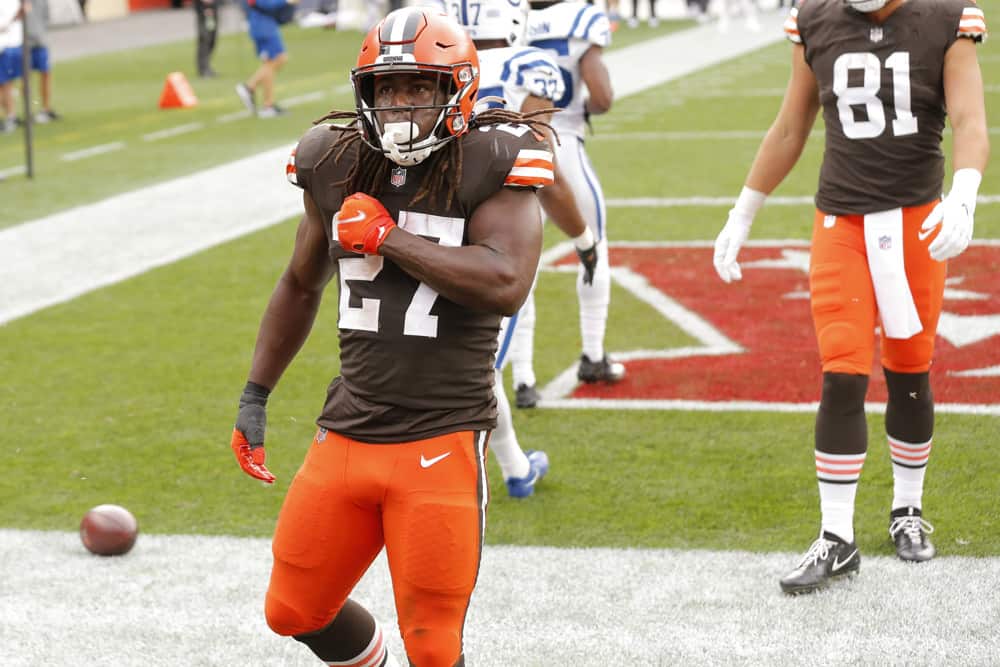 2020 continues to be a different year.
After knocking off the Indianapolis Colts on Sunday, the Cleveland Browns now sit at 4-1 for the first time since 1994.
The last time the Browns started 4-1 was 1994 when Bill Belichick was head coach and Nick Saban was defensive coordinator 😳 pic.twitter.com/IlxiOPqfae

— NFL on ESPN (@ESPNNFL) October 12, 2020
As has been the case for the past four weeks now, there were plenty of guys who showcased their abilities in the win over Indy.
Of course, there were a few guys who struggled despite the victory.

Stud: Ronnie Harrison Jr.
A pick-six is guaranteed to land you a spot on the "stud" side of this.
For Ronnie Harrison Jr., it was the first of his career.
HOUSE CALL❗️@Rharr_15 | #INDvsCLE
📺: #INDvsCLE on CBS pic.twitter.com/VVBcaZWGGR

— Cleveland Browns (@Browns) October 11, 2020
This play came at a crucial point in the game as well.
The Browns were coming off a dominant first half and looking to continue that momentum with a defensive stop.
Harrison's play gave them that and then some.
Unfortunately, the kickoff unit would give those points right back on the ensuing kick.
Still, Harrison's play served as a reminder of this defense's ability to create game-changing turnovers.
This is one that should have served as more of a dagger, although it was still early in the second half.

Dud: Andrew Sendejo
Andrew Sendejo finds himself on the "dud" side two weeks in a row, and deservedly so.
His defendants on social media claim his worth is magnified in the run-stopping game.
Whether you agreed or disagreed with that up to this week, his performance against the Colts certainly was not great in that area.
Sendejo thought his defensive assignment here was the Cupid Shuffle pic.twitter.com/jpLBSZYFEk

— Scott @ WFNY (@WFNYScott) October 12, 2020
There's also the face that he is consistently on the wrong side of deep passing plays this season.
This week was no exception.
I'm not smart enough to know how many of the blown coverages Sendejo is responsible for, but I do know he's usually the guy in the frame when every big play against the Browns happens.

— Ben Axelrod (@BenAxelrod) October 11, 2020
Andrew Sendejo continues to be an issue that cannot be hidden.

— Andrew Siciliano (@AndrewSiciliano) October 11, 2020
It's gotten to the point to where there is an unofficial petition to try and get Sendejo out of Cleveland.
It doesn't need to be that personal with him, but his play has been atrocious this year.
He is consistently late trying to make a play on the ball, and with Harrison and Sheldrick Redwine showing out this week, his snap count should decrease in coming weeks.

Stud: Jarvis Landry
The running game was solid this week, but it was clear the Browns will miss Nick Chubb until he returns.
So, the Browns will need Baker Mayfield and the receivers to step up in his absence.
Despite a few bad drops late, Jarvis Landry was a receiver who really helped carry the offense this week.
Them 2 will haunt me for a night or 2!!!! BUT GREAT TEAM WIN IN FRONT THE BEST FANS 💪🏾💪🏾💪🏾💪🏾💪🏾💪🏾 #4-1 #DawgPound

— Jarvis Juice Landry (@God_Son80) October 12, 2020
Jarvis Landry's absurd catch over the defender 😲

(via @NFL)pic.twitter.com/kJHeY6q651

— Bleacher Report (@BleacherReport) October 11, 2020
He was the team's leading receiver this week with 88 yards on 4 receptions.
Landry even battled through a bit of pain this week after he was slow to get up after a play early in the game.
That's the name of the game for Landry though.
He is the ultimate team player that is always willing to do whatever it takes to win.
Mayfield and the offense called upon him to show up big against the Colts, and to no surprise, Jarvis delivered.

Dud: Late-Game Execution
There was no individual that I could deem worth of a "dud" for their performance against the Colts.
Of course, the Browns made enough plays to secure the win.
D'Ernest Johnson's first-down run late to ice the game was also nice to see.
Still, the Browns offense did not find the end zone in the second half and had a couple of disappointingly short drives that could have helped take some question out of the outcome.
The aforementioned drops from Landry and some poor throws from Mayfield contributed to the late-game issues this week as well.
I recently wrote about this problem after the Dallas game.
There again was an example of this Browns team struggling to really put away their opponents in the second half.
A win is a win, and fans should absolutely be excited after knocking off the Colts.
That doesn't mean there isn't room for improvement, and closing out games continues to be one of those areas.