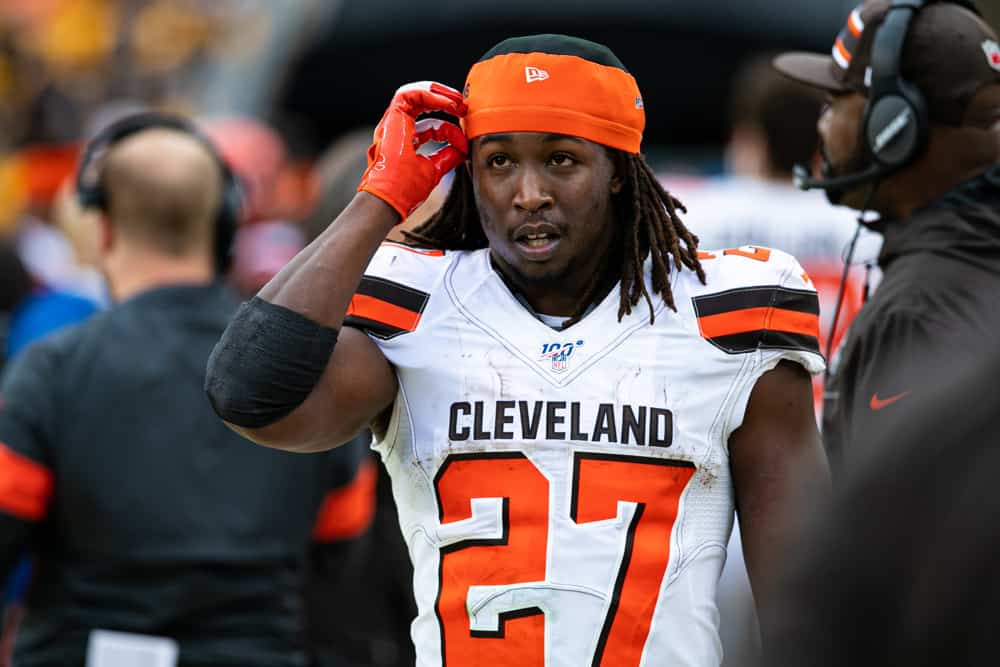 The Cleveland Browns earned their first win of the season with a 35-30 win over the Cincinnati Bengals.
FINAL: The @Browns defeat the Bengals on #TNF! #CINvsCLE #Browns

(by @Lexus) pic.twitter.com/RD4X4fGyhk

— NFL (@NFL) September 18, 2020
Here are the studs and duds from last night's game.
Studs
1. Nick Chubb
Nick Chubb running with a purpose 👀 pic.twitter.com/RAvALMJstP

— Athlete Tweets 🔥➐ (@AthleteTweetts) September 18, 2020
124 rushing yards and 2 TDs is a good night's work for Nick Chubb.
He found the holes and showed his speed by averaging over 5 yards per carry.
2. Kareem Hunt
Hunt had a great night on the ground also with 1 TD and 86 yards rushing.
3. Baker Mayfield
This angle of Baker's TD pass to OBJ is incredible 👀 @bakermayfield @obj @Browns pic.twitter.com/YSvmwmqlZC

— The Checkdown (@thecheckdown) September 18, 2020
Mayfield showed glimpses of 2018 the way he rolled out of the pocket and fired with tremendous accuracy.
He spread the ball out to a variety of receivers and kept the chains moving.
4. Offensive line
The O line blocked well and created holes for the running backs.
Also, Baker was not sacked so they are partially responsible for that.
5. Cody Parkey
The Browns new/old kicker delivered on every opportunity.
Five converted extra points is a definite confidence booster after Austin Seibert's Week 1 issues.
Duds
1. Special teams
Yes, I listed Cody Parkey as a stud above, but the Browns need some work on special teams.
They gave up a lot of yards on kickoffs.
Cincinnati started several drives on their own 40-yard line.
To put it in context, the box score shows that Cincinnati gained 87 yards on 2 kickoff returns.
They need to tighten up play there so they don't give opponents such good field position.
2. Playcalling
Playcalling could fall in both the stud and dud categories.
On the goal line drive where they couldn't convert on 4th and goal with Nick Chubb, the plays could have been designed better.
Cincinnati expected a Chubb run and stacked the box accordingly.
The decision to go for it and not take the field goal could also be disputed.
Browns head coach Kevin Stefanski on decision to go for it on 4th and goal: "We want to be aggressive. I think 7s over 3s are a huge deal."

— Ben Axelrod (@BenAxelrod) September 18, 2020
3. Clock management
Cincinnati had longer drives that did not end up scoring points which is good news for Browns fans.
In the end, the Bengals had the ball 33 minutes and 39 seconds, and the Browns had it 26 minutes and 21 seconds.
The Bengals ran 88 offensive plays while the Browns ran 58.
While the Browns had quicker drives, it seems the Browns defense left the Bengals offense stay on the field too long.
Honorable Mention
1. Coach Kevin Stefanski
Cleveland's head coach gets an honorable mention for getting the team ready to play in a short week after a disastrous Week 1 performance.
Stefanski earned his 1st career win as a head coach, but it wasn't easy.
In addition to everything else, he had to deal with an early bad call which caused him to burn a challenge on an obvious complete pass.
Thankfully, the challenge that shouldn't have been because the call was so wrong didn't hurt the team later.
2. Joe Burrow
I know he is not a Cleveland Brown, but football fans in general have to be impressed with this kid.
It is his second NFL game, and he has the composure of a veteran.
He needs more of a supporting cast which the Bengals will no doubt get for him.
But he is a joy to watch nonetheless.