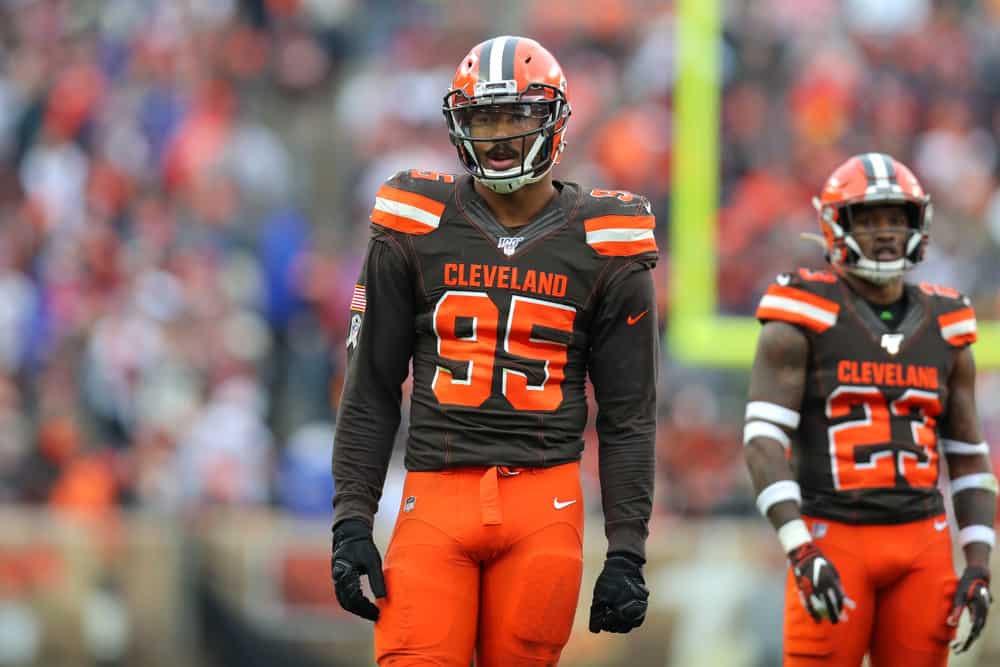 "Double number 95".
Look, I haven't played football at any level above high school.
Still, it's a safe bet to assume those very words, or some iteration of them, are uttered by opposing offenses getting ready to deal with the Browns.
It's been an easy decision to double-team Myles Garrett in previous seasons.
Teams are willing to let someone other than a top pass rusher in the league try and beat them.
That decision to double Myles won't come as carefree this year, however, with the presence of Jadeveon Clowney.
Garrett, alongside a talented defensive front, will have the table set for him to win defensive player of the year.

Fewer Double Teams
If your star defensive end sees constant double teams, why not go sign someone who faces that even more?
As often as Garrett dealt with two offensive lineman, Clowney received that treatment more often than all but two pass rushers over the past three seasons.
Highest double team rate when pass rushing as an edge, 2018-2020.

Michael Bennett 30%
Za'Darius Smith 29%
Jadeveon Clowney 28%

(ESPN / Next Gen Stats)

— Seth Walder (@SethWalder) April 14, 2021
For some quick perspective, looking at just last season, Garrett did pass Clowney in terms of double team rate.
Highest double team rate for edge rushers this season pic.twitter.com/I8EGZcdvOE

— NFL Stats (@NFL_Stats) December 11, 2020
With both men now on Cleveland's defensive front, offensive coordinators will have their hands full.
Again, it's no easy decision to double one of these guys.
The other side will make you pay for it on a consistent basis.
Throughout the course of a 60-minute ball game, opposing offensive lines should be gassed when the fourth quarter clock reads nothing but zeros.

Coverage Sacks
Coverage sacks are some of the most fun in the NFL.
Sure, it's fun watching a pass rusher have his way with an offensive lineman.
It's also fun watching the other team's quarterback scramble around for what seems like minutes before eventually getting crumpled by the pass rush.
At the end of last season, Pro Football Focus ranked Cleveland's secondary at 26th, noting their struggles in covering the slot.
Despite some terrific play from Denzel Ward, Cleveland's defensive backs were far from great in 2020.
However, that's a group that has a chance to take a significant step forward in 2021.
Safety Grant Delpit and cornerback Greedy Williams should both be ready for a full season of action after they missed all of last year.
Safety John Johnson III and slot-corner Troy Hill will also be upgrades next season for Cleveland.
Both were brought over from the Rams and should instantly aid the Browns' ability to cover slot receivers.
The LA Rams fielded the league's best pass defense last season. Interestingly, Troy Hill and safety John Johnson III ranked first and second among the team's defensive backs in slot coverage snaps.

— Brent Sobleski (@brentsobleski) March 19, 2021
A (Hopefully) COVID-less Season
Even after finishing with 12 sacks last season, good for sixth most in the NFL, there could have been even more production from Garrett.
Myles contracted COVID-19 last season and it admittedly impacted his ability to breathe at times late last year.
Outside of the actual disease, just the protocols and restrictions surrounding last season made things tough.
However, that's something every player had to deal with.
Not everyone caught COVID-19 though, and Myles unfortunately did.
Assuming that doesn't happen this season and he stays healthy for the full regular season, a defensive player of the year award could very well be on the horizon for Garrett.