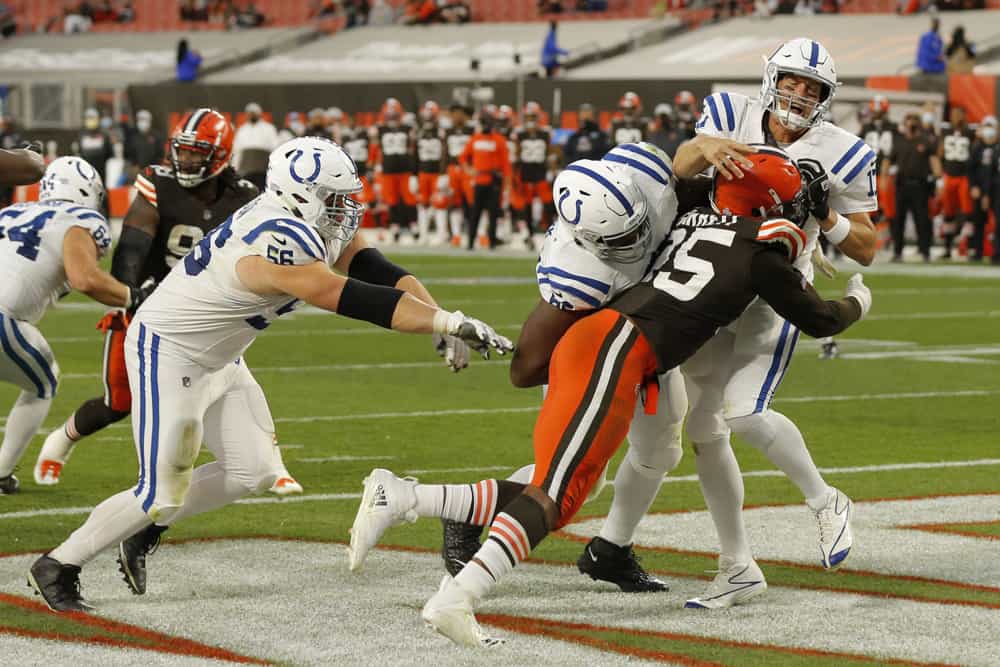 Andrew Berry went straight to work improving the Cleveland Browns defense.
He landed some of the best defenders in free agency at safety and cornerback.
Then he added a couple of defensive linemen with something o prove in Takk McKinley and Malik Jackson.
Andrew Billings, Greedy Williams, and Grant Delpit return from a lost season to help, too.
But Berry's latest signing is what many feel will put the Browns over the top in 2020.
OFFICIAL: Welcome to Cleveland, @ClowneJD❗️

We've signed 3-time Pro Bowl pass rusher Jadeveon Clowney » https://t.co/5ZpFZR8QCU pic.twitter.com/rEA6gFUxUj

— Cleveland Browns (@Browns) April 14, 2021
Much is being made about the impact Jadeveon Clowney will have on the Browns pass rush.
This despite his notable lack of career sack numbers.
Clowney's versatility has some predicting he will bump Billings or Jackson out of a tackle position on occasion.
McKinley could use his speed rush outside of Clowney, while Myles Garrett does the same next to Andrew Billings or Jackson.
The addition of Clowney gives the defensive coordinator a lot of new options.
But dare we think the Cleveland Browns will lead the league in sacks in 2021?
What Have They Done Lately? 
Last season's Browns pass rush did not set a very high bar for improvement.
Their 38 sacks put them in the middle of the pack, 15th among the 32 NFL teams.
Almost half of those sacks came from the departed Olivier Vernon (9), Sheldon Richardson (4.5), and Larry Ogunjobi (2.5).
Clowney and McKinley put up 6.5 sacks together in their last reasonably healthy season of 2019.
Malik Jackson had a career-best 8 sacks in 2017, but only 6 since then.
Cleveland managed to boast the 7th-best quarterback hurry rate last year, which sounds promising.
Malik Jackson's sack takes points off the board. Nice play. pic.twitter.com/CDWurl1F8h

— DIE-HARD 🦅 Fans (@Eaglesfans9) October 18, 2020
But they also owned the 9th-worst pressure rate and knocked quarterbacks down fewer times than any other team.
To make matters worse, the Browns face significantly better offensive lines and pass attacks in 2021.
Last year, the Browns non-divisional opponents allowed an incredible total of 349 sacks.
Browns' opponents included 8 of the 9 worst pass-protection units and only 3 teams ranked in the upper half.
This season, they play 10 games against opponents who gave up fewer than the average number of sacks.
And 2 more, Minnesota and New England, who came in just below the median of 36.
Why Browns Fans Can Still Be Optimistic 
If Cleveland faced the 2021 schedule with the same defensive front-7 as last year, things could be tough.
But there are plenty of reasons to think the latest Browns defense will exceed last year's sack total.
For one, Myles Garrett appears to have recovered from his extended Covid issues of last year.
Garrett at full speed and capacity makes a difference by himself.
Myles Garrett was getting this sack by any means necessary 😂

(via @Browns) pic.twitter.com/jLMD8bxlT4

— ESPN (@espn) September 27, 2020
Joe Woods might have a larger pool in the gameday rotation, too, strengthening the line in the 4th quarter.
But an even bigger impact will come from a healthy defensive secondary.
Better coverage will afford the line some extra time to get to the passer, and coverage sacks count.
And added faith in the corners and safeties should let Woods mix in more blitzes.
Cleveland's blitz percentage was the third-lowest in the NFL last year.
One can argue that showed faith in the front four's ability to apply pressure.
But it also reflected an "all-hands-on-deck" mentality in the struggling second and third levels of the defense.
Will The Browns Lead The NFL in Sacks in 2021? 
Cleveland's defensive improvement should include more sacks in 2021.
But to jump into the 50s range, where Pittsburgh (56) and the Rams (53) led the league, is a challenge.
On the one hand, with the 17th game, Cleveland needs to add just 1 sack per game to finish with 55.
That sounds rational when you factor in their new personnel.
How many sacks will Takk McKinley have this year? Let me know down below!@Takk pic.twitter.com/lxlYVkCWLd

— Hotlanta Highlights (@HotlantaHlights) August 30, 2018
Joe Woods can disguise his defenses better, with multiple players capable of moving forward or backward.
Healthy safeties and corners can make quarterbacks hesitate long enough for rushers to get to them.
But good teams will be ready for any pass rush and can adapt their game to beat even the best.
And the Cleveland Browns play more of those good teams than they did last year.
There is little doubt the team can put up better sack totals and it wouldn't surprise many to see them among the leaders.
But it is a far safer bet to think the Browns will be a top-10 sacks team than the best overall.