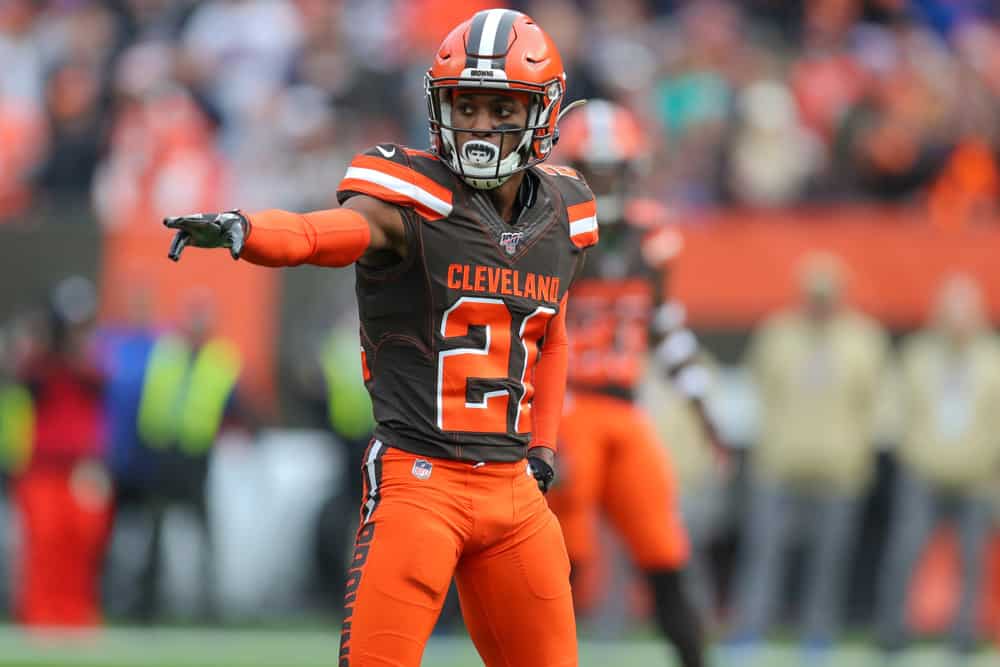 With new young linebackers and the loss of veteran leadership, the Cleveland Browns will depend on the younger players to become leaders.
Will one of those players be cornerback Denzel Ward?
Ward is entering his third season with the Browns and will turn 23 years old later this month.
The Browns are hoping for a career-season out of their former Pro Bowler, but how much more can the franchise ask of him?
Gaining Respect
Ward is an easy pick for a leadership position based on his track record.
In 2018, Ward made the Pro Bowl in his rookie season.
He finished the season with 53 tackles, 11 passes defended, and three interceptions.
Before the season even started, Ward had the respect of his teammates.
Patrick Maks of ClevelandBrowns.com detailed how Ward came to minicamp after being drafted at the No. 4 overall pick in the 2018 NFL Draft.
He talked to former defensive coordinator Gregg Williams, who said that he came to work without ego or sense of entitlement.
"Both he and Myles — I'll have to say this, I want to be honest with this – have fit into the locker room faster than most rookies that I've had the chance to draft," Williams said at the time. "I don't move them up the depth chart without the understanding of how they're fitting in with the other veterans that play on the field."
What made the story even more special is that Williams claimed that veterans on the defense were coming up to him.
They wanted Ward on the field.
"When a veteran comes to me and says, 'Hey coach, we're better when Denzel is out there,'" Williams said. "'So really? Now you're taking ownership of him? Oh really? Now you're mentoring him? We'll see. I will give him a couple of reps out there, and we will see."
A Step Forward In 2019
Ward may not have made the Pro Bowl in 2019, but he still put up a decent season.
He finished the season with 43 combined tackles, 11 passes defended, and two interceptions.
Denzel Ward house CALL! 🏠🗣

The Browns DB gets his first career pick-6 on this 61-yard play ⬇️

(via @NFL) pic.twitter.com/X9zHvH4q1e

— FOX Sports: NFL (@NFLonFOX) December 8, 2019
The captains for the Browns last season were Baker Mayfield, Christian Kirksey, and Charley Hughlett.
Kirksey is gone, which opens up one slot.
Ward may not be a captain for the team next year, but he is someone that has proven he can produce at the NFL-level.
With quite a few younger players, as well as newer faces, someone like Ward should look to step up as a voice in the locker room.
Final Thoughts
Ward has never been afraid of a challenge.
He is someone that has put up solid numbers at his position.
If the Browns need another leader in the locker room, then the coaching staff should absolutely talk to Ward.
He commands the respect of the locker room and quite frankly is an obvious choice.
Denzel Ward. Odell Beckham, Jr. Young guy not afraid to take on the uberstar vet. #Browns fans, these two should give you a show during training camp. #ironsharpensiron
cc @andrew_siciliano pic.twitter.com/qqpwzU8rW8

— Aditi Kinkhabwala (@AKinkhabwala) June 5, 2019