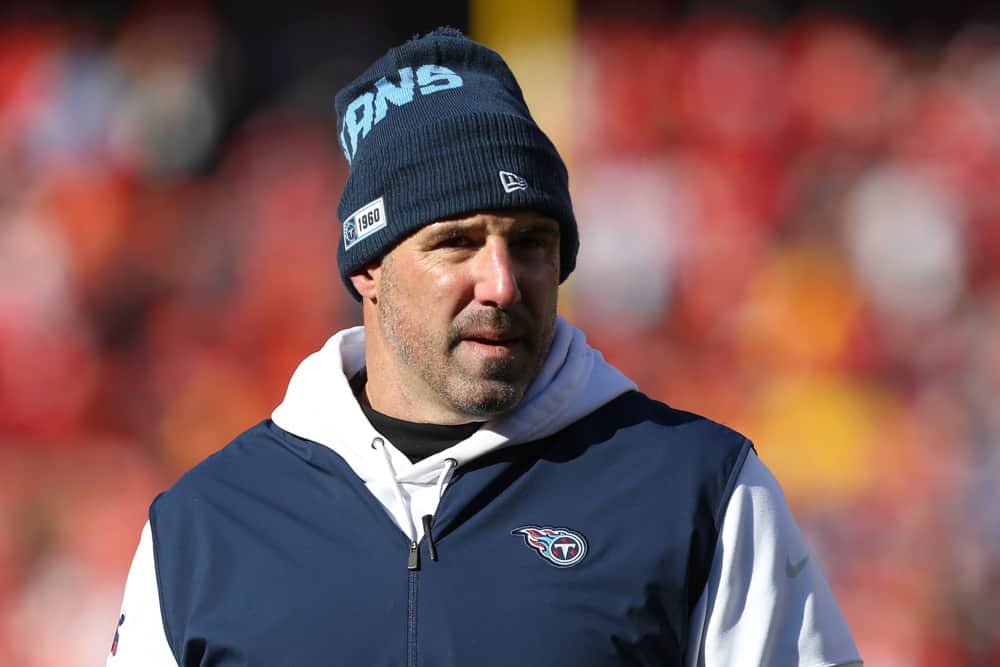 Many associate Tennessee Titans Coach Mike Vrabel with his playing days with the New England Patriots.
He was on three of those Super Bowl teams during the 2001, 2003, and 2004 seasons.
Avid Ohioans (and Cleveland Browns fans) know that Mike Vrabel actually has Ohio roots.
Born in Akron
45-year-old Vrabel was born in Akon, Ohio.
He was a standout football star at Walsh Jesuit High School in Cuyahoga Falls, Ohio.
Growing up, Vrabel was a Cleveland Browns fan.
He did not like Bill Belichick as a teenager.
#Titans coach Mike Vrabel said he didn't like Bill Belichick when he was a #Browns fans growing up in Northeast Ohio because 'he got rid of my favorite player Bernie Kosar'

— Mary Kay Cabot (@MaryKayCabot) December 2, 2020
Ironically, years later, he would have his greatest successes as an NFL player under that same Coach Belichick, with the New England Patriots.
Vrabel Stayed In Ohio For College
Vrabel accepted a scholarship to play football at Ohio State University.
He was a defensive end between 1993 and 1996.
Vrabel is one of two people who was named Big Ten Defensive Lineman of the Year two times, in 1995 and 1996.
(Wendell Bryant of Wisconsin was the other.)
Vrabel recorded 36 sacks and 66 tackles during his OSU career.
To this day, he is the record holder for sacks and tackles.
In 2000, he was named a member of the Ohio State Football All-Century Team.
He is also a member of the Ohio State Athletics Hall of Fame, inducted in 2012.
Which NFL Teams Did Mike Vrabel Play For?
Vrabel has a long NFL career, starting with the Pittsburgh Steelers in 1997.
He stayed with the Steelers until 2001 when he became a member of the New England Patriots through 2008.
Vrabel spent the final two seasons of his career, 2009 and 2010, in Kansas City.
February 28, 2009: #Patriots traded QB Matt Cassel and LB Mike Vrabel to the #Chiefs for a 2009 2nd round pick (Patrick Chung). Vrabel finished his NFL career with Chiefs in 2009 & 2010 and today coaches against the them in the AFC Championship Game.

— Ed Werder (@WerderEdESPN) January 19, 2020
He announced his NFL retirement July 2011 and immediately joined the Ohio State coaching staff.
Vrabel coached linebackers in 2011 and then moved defensive line coach for the Buckeyes for the 2012 and 2013 seasons.
Then he came back to the NFL and began his coaching career there with the Houston Texans.
Stays True To Ohio Roots
This spring when the country was essentially locked down because of COVID-19, Mike Vrabel brought some good news to the airwaves.
He reached out to a lifelong OSU and Tennessee Titans fan who was recovering from COVID-19.
Coach Vrabel took time this morning to check in on Ron Kegarise, an 87-year old @OhioStateFB alum and #Titans fan, who is stuck inside during quarantine. Ron's wife passed away last fall.

That's our Coach! 💙 @CoachVrabel50

Let's stick together, Titans fans. pic.twitter.com/ThnnRc8Qxg

— Tennessee Titans (@Titans) March 23, 2020
Tennessee Titans Head Coach
Fast forward to early December 2020.
Coach Mike Vrabel and his Tennessee Titans host the Cleveland Browns in a key Week 13 matchup.
Both teams are 8-3.
On Sunday, you can bet Vrabel will be thinking about how to beat his childhood team.
His Titans are fighting to first place in the AFC South, one game ahead of the Indianapolis Colts.
Meanwhile, the Browns are fighting to hold on to the fifth seed in the AFC playoff rankings.
Vrabel Is Humbled By His NFL Success
Asked about the
privilege to play and coach in this league
, Vrabel throws it back to the glory days of the Browns.
"I've always said that it's been an honor and a privilege to play and be able to coach in this league, going all the way back to the Kardiac Kids back in Cleveland."