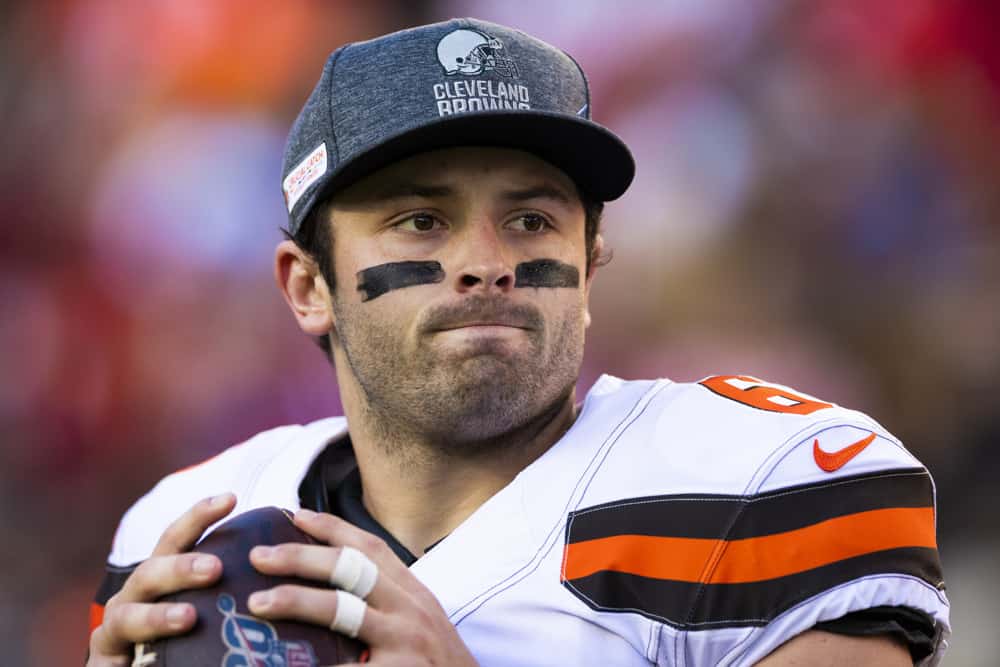 The saga between Colin Cowherd and Baker Mayfield could go on forever.
On Friday, the latest and greatest episode of their "feud" came to light on The Herd.
Cowherd, known for being extremely critical of Mayfield, stated he believes the Browns should move on from Mayfield at quarterback if he loses to the Tennessee Titans on Sunday.
Cowherd has made a plethora of hyperbolic statements before about Baker.
Still, this one seems to have Browns fans on social media in a shoot.
Could there be some truth to what he is saying, or is Cowherd just looking to boost show ratings?

Is Sunday THAT Important?
Sunday's game with Tennessee is huge, no doubt about it.
Depending on what the Bills do, a win over the Titans could thrust Cleveland into the third AFC playoff spot.
Though there's still football to be played after this week, getting into that position would be a huge momentum boost for the Browns.
A loss would keep them in the fifth or sixth spot, so winning Sunday would mean a lot in that regard.
Sunday is also a chance to get back at Tennessee for the week one throttling they gave the Browns last season.
Malcolm Butler Pick-6!

The @Titans have three INTs in this quarter 👀 @Mac_BZ #TENvsCLE

📺: CBS
📱: NFL app // Yahoo Sports app

Watch on mobile: https://t.co/PoZiStO3mL pic.twitter.com/bPAYPXM6hp

— NFL (@NFL) September 8, 2019
That game ended up foreshadowing what would be a long, frustrating season in northeast Ohio.
This matchup is a true test of how far the Browns have come as a team.
There are questions, even at 8-3.
Much of that has to do with the losses to Baltimore and Pittsburgh.
But Tennessee is of the same caliber as those two.
Knocking them off proves to the entire NFL that the Browns are officially back on the national stage.

Career Boost for Baker?
Here's the thing with Colin's take about Sunday having career implications for Baker.
If he wants to believe a blowout loss ends things for him in Cleveland, so be it.
However, to be consistent, if Mayfield comes out and lights up the Titans in a big win, Cowherd's entire narrative on Baker HAS to change.
Keeping consistent isn't always the most important thing for some of the national media people.
Still, it'd be a treat to see how Cowherd might backpedal out of a top-tier Mayfield performance.
Cowherd notes the reasons for Baker to have a big game in that audio clip.
He cites a poor pass rush for Tennessee along with bad 3rd down defense, both of which are true.
Sunday's matchup could create the perfect storm for Mayfield to have a monster performance.
Even if he doesn't, does that really indicate the beginning of the end of his career?
Doubtful.
Even with some up-and-down play, he's doing just fine for a third-year quarterback.
Through 40 NFL starts:

Baker Mayfield: 9,660 yds – 66 TD – 42 INT – 62%

Peyton Manning: 10,312 yds – 70 TD – 52 INT – 60.5%

Tom Brady: 8,890 yds – 57 TD – 34 INT – 62%

Aaron Rodgers: 9,392 yds – 70 TD – 29 INT – 64%@JonBozeka had the idea, I just added a little. #Browns

— Hayden Grove (@H_Grove) November 30, 2020
Baker Mayfield had a QB rating of 116.7 today, marking the 5th time he's cleared 100 on the season. He did it 3 times all of last year.

Browns are 5-0 in those games this season.

— Andrew Gribble (@Andrew_Gribble) November 29, 2020
Cowherd does point out that he believes this "beginning of the end" thing only comes to fruition if Baker isn't even able to keep pace with Tennessee.
While I still disagree, a third blowout loss to a playoff opponent would be concerning.
Even so, why does that all have to fall on Baker?
Defensively is where the Browns were at their worst in the Steelers and Ravens losses.
This game against the Titans will be important for Mayfield's career, Cowherd has some truth to saying that.
However, even if the Browns are blown out, it doesn't mean things are over.
Even if the Browns run up the score on Tennessee, Baker isn't instantly a top-five quarterback.
I understand the points national guys like Cowherd have, but one regular season game will never completely define an entire NFL career.