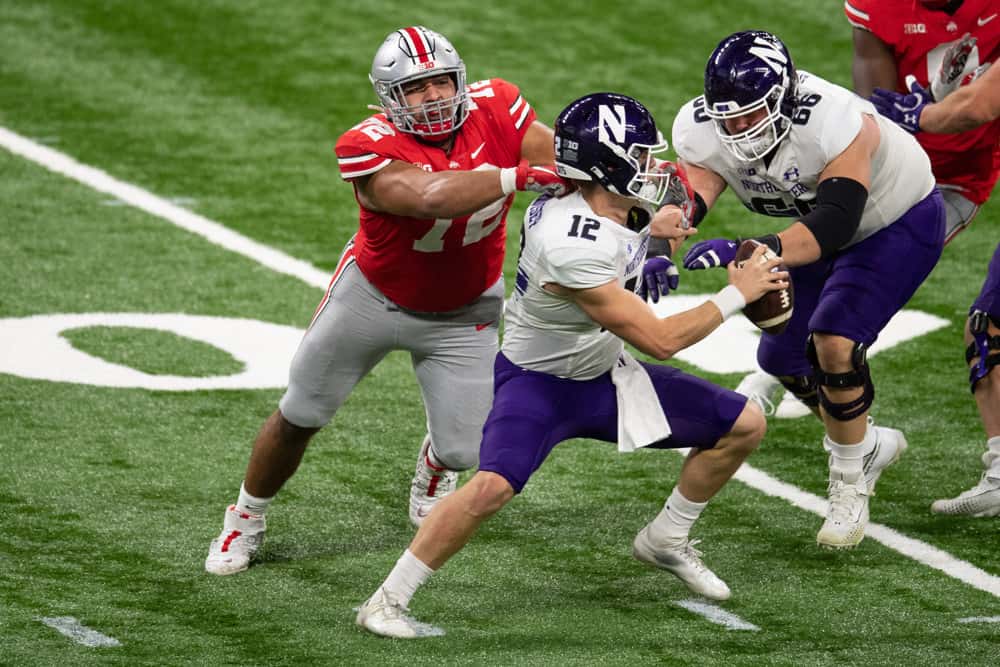 The Cleveland Browns drafted defensive tackle Tommy Togiai in the fourth round of the 2021 NFL Draft.
The #Browns select DT Tommy Togiai from the Ohio State Buckeyes with the No. 132 pick.

Via: @camijustice pic.twitter.com/qcrZ4mhIgy

— Cleveland Sports Talk (@CLEsportsTalk) May 1, 2021
The 21-year-old Togiai was born in Idaho but considers Ohio his second home after spending the last three seasons at Ohio State University.
Togiai played 22 career games, starting in only 7 of them, at Ohio State and had 27 solo tackles and 1 forced fumble.
When asked about how he felt about staying in Ohio, Togiai said:
"I love Ohio, and I'm just excited to go back to Ohio and get to work."
I know there's a lot of OSU fans that are Browns fan and I know there's a lot of people who hate the "draft OSU players"…

Tommy Togiai is awesome! Very underrated while at OSU. He's a STUD

— Browns Time (@DevotedBrownie) May 1, 2021
Togiai Made Big Decision To Declare For The NFL Draft
Some thought Togiai would play his senior season at Ohio State in 2021, but Togiai opted to declare for the 2021 NFL draft instead.
Togiai said:
"I was betting on myself, and it really worked out for the best."
Tony Pauline of Pro Football Network offered this draft analysis on Togiai.
"Togiai elevated his game last season and was the force opponents had to account for on every snap in the middle of the Ohio State line. He comes with average size and limited growth potential but would be a good addition as a defensive tackle in a four-man line."
PFF:
Tommy Togiai only played 121 snaps in 2018 and 247 in 2019 before taking over as a starter in 2020. He made the most of his opportunity as one of the country's highest graded defensive tackles. He may not have ideal traits, but he consistently disrupted opposing offenses.

— BrownsFreak51 (@BrownsFreak51) May 1, 2021
High Goals
As the 132nd overall pick, Togiai is determined to make the most of the opportunity with the Browns.
He hails from the same high school (Highland High School in Pocatello, Idaho) as New Orleans Saints quarterback Taysom Hill so there is NFL lineage in his hometown.
Many believe his performance at OSU's Pro Day garnered the attention of the Browns.
The 6'2″ 300-pound Togiai benched 225 pounds 40 times.
Browns 4th-round pick Tommy Togiai put up 40 reps on the bench press

FORTY.

— PFF Draft (@PFF_College) May 1, 2021
Dan Saganey, director of player personnel for the Browns, talked about Togiai's feat.
"I was there to see him get ready to light it up. It's cool to see somebody blow a test out of the water."
Welcome back to Ohio and to the city of Cleveland, Tommy Togiai!