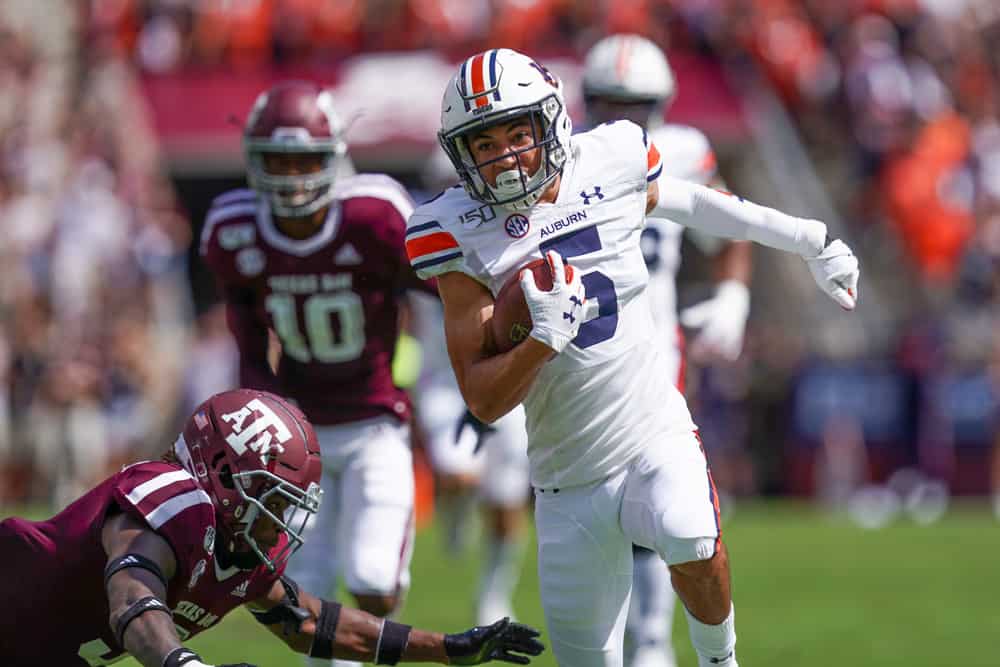 Possibly, it's a little too early to begin talking about awards for the upcoming season.
Although, the 2021 NFL Draft recently ended, so it's difficult to not get excited about the new rookies.
As always, BetMGM released their odds for the 2021 offensive Rookie of the Year.
Unsurprisingly, the list is headlined by quarterbacks Trevor Lawrence, Zach Wilson, and Justin Fields.
Cleveland Browns wide receiver Anthony Schwartz is not too far behind him them at No. 20.
Defying The Odds
It's not often that a third-round receiver wins Rookie of the Year.
The Auburn product is a different breed of player and shouldn't be counted out.
Schwartz put everyone on notice this past season with his insane speed.
I love what Anthony Schwartz brings to the table! Elite world class speed. Changes direction with no wasted motion or decrease in speed.

Space playmaker. Movement receiver for free releases. pic.twitter.com/CvPdkUMHla

— Damian Parson 🏈 (@DP_NFL) April 27, 2021
He very well might be the fastest player in the NFL, but Tyreek Hill isn't going to give up his throne easily.
The odds are going to be against Schwartz since he's joining a loaded Browns wide receiver group.
At first glance, Schwartz isn't going to see as much playing time as other receivers in his draft class.
Rashod Bateman and Terrace Marshall Jr. currently sit at +5000 odds to win rookie of the year.
After that, Schwartz joins a handful of other receivers at +6600 odds to take home the accolade.
Those are obviously not ideal odds for Schwartz, but he still sits at the 20th-best odds to win it.
Welcome To Cleveland
As already mentioned, Schwartz joins an already fairly stacked wide receiver group.
It might be difficult for the Browns to split up all the touches equally when they have this much talent.
Most likely, Schwartz will end up being the No. 4 receiver, assuming no one gets injured during training camp.
He has intriguing upside and put scouts on notice during the 2020 season.
Through 12 games, Schwartz recorded 54 receptions, 636 yards, and three touchdowns.
His best feature is his insane speed that can be helpful to the Browns in multiple ways.
It seems highly unlikely that Schwartz even comes close to taking home Rookie of the Year honors, but you never know.
There's always the possibility of injuries and Schwartz has big-play ability, so who knows what could happen.
Regardless, it appears the Browns have secured quality depth at wide receiver and apparently a top-25 Rookie of the Year candidate as well.