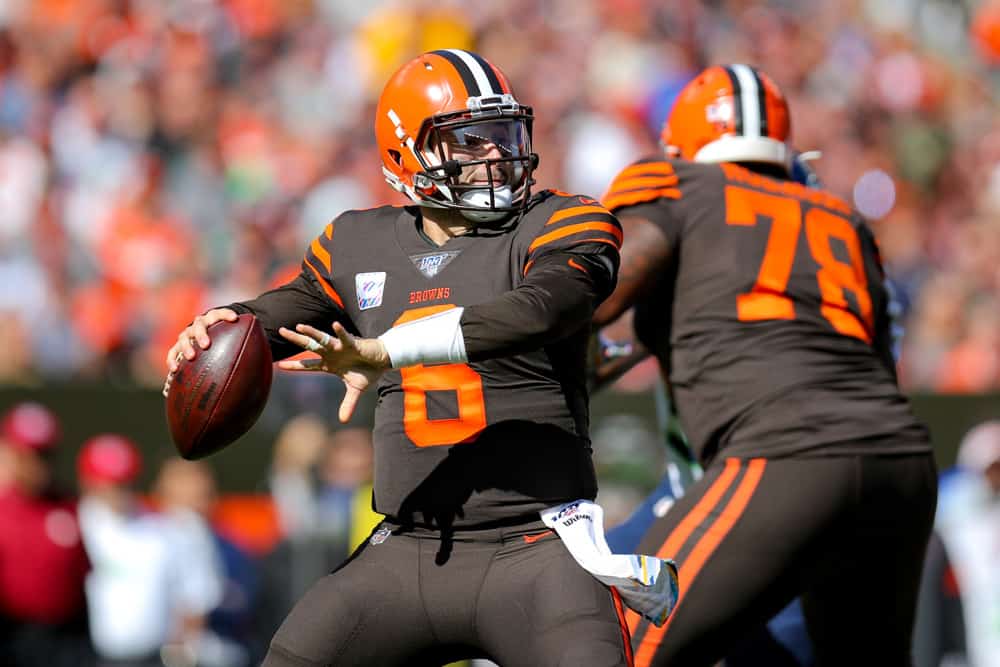 Remember last season, when Baker Mayfield was expected to lead the Cleveland Browns to the playoffs?
Everything pointed to good times ahead for Cleveland fans.
Mayfield showed the draft day naysayers he could win football games in 2018.
John Dorsey added a second Pro Bowl wide receiver and a former rushing champion to help.
Betting the over on the Browns projected win total was the most popular bet in Vegas.
Some folks were even betting on Cleveland making it to the Super Bowl.
Then… 6-10 happened.
The Cleveland Browns will finish the 2019 season with a record of 6-10.

Absolutely incredible.

— Hayden Grove (@H_Grove) December 29, 2019
There was a litany of coaching errors, meltdowns, player rebellion, and bizarre antics that played a part.
But none of those masked the fact that Baker Mayfield had a pretty awful season.
For someone discussed as a preseason MVP contender, a 78.8 quarterback rating justified criticism.
His offensive line, play-calling, drops, and 40 sacks played a part.
But at least one pair of NFL experts said Mayfield felt way too much pressure on him when the losing started.
If that was the case, Hall of Famer Tony Gonzalez just sounded alarm bells in Cleveland.
Gonzalez Says No Player In NFL Under More Pressure Than Mayfield
Gonzalez believes the former Heisman Trophy Winner is under the most pressure in the NFL in 2020.
"With all the talent they have there, this is another team where you look at the skill positions — with Odell Beckham, Jarvis Landry, Austin Hooper from the Atlanta Falcons, David Njoku. They have so many players — Kareem Hunt and Nick Chubb and a good defense," Gonzalez said. "What it comes down to is Baker Mayfield. In my opinion right now, there is no player in the whole NFL that has as much pressure as Baker Mayfield going into this season."
Gonzalez further:
"They gave him everything. … They have done everything to give him the keys to the Ferrari. Now he's just got to go drive it, but he's got to learn how to get out of third or fourth gear. He's got to take it to sixth gear this time. Looking at that roster, they are a playoff team for sure, if he can get it together and play how I think he's capable of playing, this is a team that could challenge Baltimore for that title."
"There is no player in the NFL that has as much pressure as Baker Mayfield going into this next season… If he can put it together, this is a team that can challenge Baltimore for that title."
– @TonyGonzalez88 pic.twitter.com/RowBPuihpy

— FOX Sports: NFL (@NFLonFOX) May 5, 2020
Baker inadvertently put more pressure on himself at the end of last year.
He admitted his season was not good and vowed to come back a different player.
#Browns QB Baker Mayfield: "It was a different year for me. Definitely didn't have it al figured out. A lot of learning lessons, life lessons for me. I'm going to come back a different animal come spring time."

— Keith Britton (@KeithBritton86) December 29, 2019
Then he announced he could figure things out himself, and he would not work with a quarterbacks coach in the offseason.
Vegas betting sites project the Browns for around 9 victories in 2020.
If Mayfield thinks the new Browns leadership has lower expectations based on last year, he´s mistaken.
Andrew Berry told ESPN´s Mike Golic and Trey Wingo:
"We're excited about the environment that we've created around that position and around that room in general, and we really do expect him to have a fantastic year. I know Kevin [Stefanski] and the staff have done a really nice job with the virtual offseason so far, implementing the new system and we think that he'll be able to thrive in it this season."
Will Browns History Repeat Itself?
It is easy to temper expectations when it comes to the Haslam-era Cleveland Browns.
In fact, many folks downplay the Browns´ playoff chances.
There are plenty of Baker Mayfield doubters who think 2019 is his true standard.
Baker Mayfield's accuracy is unmatched 🔥🎯🔥 pic.twitter.com/DbLSxsIUjn

— Elite Andy Dalton (@EvilAndyDalton) May 2, 2020
Some long-suffering fans and adversaries just expect something to go wrong again.
But most experts and fans who followed this team during the offseason believe the Browns are about to take off.
Sure, you can say fans thought the same thing last year.
But that was because the shiny new Odell Beckham blinded them to the offensive line and coaching deficits.
The Browns replaced an ineffective coaching staff who expected players to know how to play in their scheme.
Instead, Kevin Stefanski leads a cerebral group of teachers who echo the same, cohesive points all day.
The offensive line is certain to be a strength as much as it was a weakness last year.
Berry added more weapons for Mayfield in Austin Hooper and Donovan Peoples-Jones.
Team has a lot to prove, but does any QB in the league have a more talented huddle than Baker Mayfield? pic.twitter.com/XhO4dlRfAw

— Kyle Brandt (@KyleBrandt) May 5, 2020
And Stefanski practically announced his offensive strategy of play-action and roll-outs to help his quarterback.
They added an experienced backup to serve as a mentor
But Case Keenum also presents just enough of a threat to keep Mayfield on his toes.
The only question mark is Baker Mayfield.
Mayfield´s history is one of beaten challenges and conquered adversity.
Cleveland fans hope the next chapter in Mayfield´s story is a Cleveland Browns Championship.
It would be the best answer to whether their chosen leader can handle the pressure.