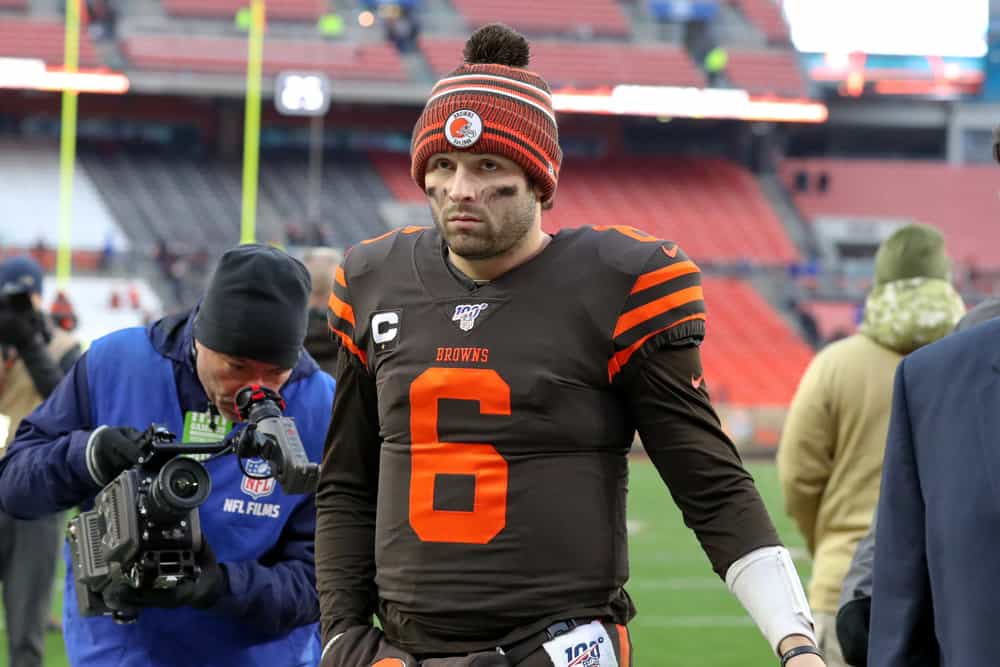 ESPN reporter Jeff Darlington and analyst Jeff Saturday spent part of the weekend evaluating the play of Cleveland Browns quarterback Baker Mayfield and New York Jets quarterback Sam Darnold.
Both quarterbacks enter their third season in 2020.
"Last year, when it came to expectations, they had risen so high for Baker, that it was going to be hard for him to live up to them quite frankly," Darlington said.
In August 2019, oddsmakers considered the Browns as preseason favorites to win the AFC North despite the team not winning their division since 1989.
During Saturday's edition of ESPN's "NFL Live," Darlington said the Browns created those expectations, but also called them "unfair."
Odds to win the AFC North (Bovada):@Browns +120@steelers +195@Ravens +295@Bengals +1500

— Odds Shark (@OddsShark) August 13, 2019
After finishing with a 6-10 record, the Browns missed the playoffs for the 17th consecutive season.
It marks the longest active playoff drought in the NFL and the second-longest active playoff drought in North American professional sports (MLB, NBA, NFL and NHL).
Darlington questioned the Browns' decision to hire former head coach Freddie Kitchens, whom the team fired in December.
"I just never thought that was going to be the right hire for a young player like Baker, and a team that needed to be pulled together," Darlington said. "I think that Kevin Stefanski, coming off of the Mike Zimmer way…will be better for Baker and a more stable situation."
Saturday said on-field success is not guaranteed even with the Browns' talent with offensive skill position players like Odell Beckham Jr., Jarvis Landry, Nick Chubb, Kareem Hunt, and David Njoku.
"Everybody thinks that because you added talented football players this thing is going to come together, it does not," Saturday said.
Saturday thought many media members put a lot of pressure on Mayfield.
"I think quarterbacks get too much credit when they win and too much credit when they lose," Saturday said. "I think a lot of that went to Baker Mayfield."
Saturday mentioned how, during the 2019 season, Mayfield decided to respond to his critics — which included criticism from ESPN analyst Rex Ryan and Fox Sports Radio host Colin Cowherd.
"You can't help your team outside of the locker room talking to people," Saturday said. "You gotta be in the locker room, you gotta be on the field, working to get better each and every week, and how do you elevate the guys around you?

"I think coming into his third year I think that's where he will make the most progress."
In two seasons respectively as starters, Mayfield has a 12-17 record and Darnold is 11-15.