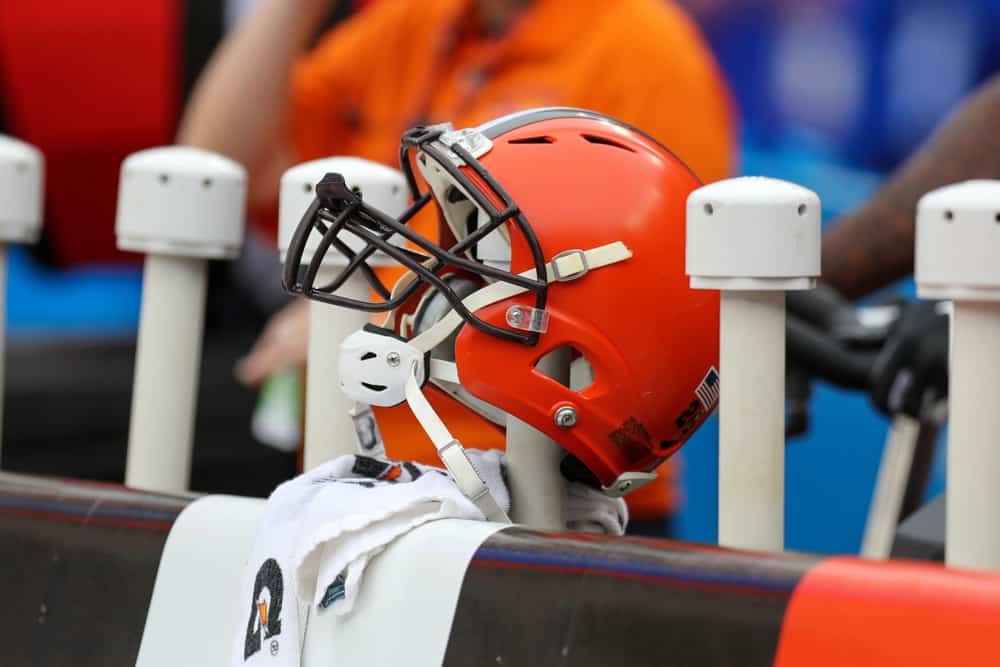 Congratulations Arizona Cardinals fans who were able to take a surprising victory lap on social media Monday.
The Cardinals were winners of the J.J. Watt sweepstakes as the most sought-after defensive end in free agency came off the board.
source: me. pic.twitter.com/1Y6okQBUy5

— JJ Watt (@JJWatt) March 1, 2021
That may be disappointing for Cleveland Browns fans, who saw their team as the favorites at one point in time to land Watt.
Cleveland doesn't have to leave free agency empty handed at the defensive end position though.
There are still plenty of names available, some of whom could be a big factor with the Browns defense in 2021.

1. Leonard Williams
One of the guys being talked about more commonly across social media is Leonard Williams.
Williams played in a 3-4 defensive system in New York, different from playing the end position in a 4-3.
He's played both defensive tackle and end in New York, causing some issues regarding his label and franchise tag status.
A franchise tag subplot…Leonard Williams' grievance remains unresolved w/ NFLPA, per sources. He wants DE label, not DT, and if he wins, 2020 tag jumps from $16.1M to $17.8M — thus, a second tag from $19.4 to $21.4M. Could factor into talks as Giants want to sign him long term

— Jeremy Fowler (@JFowlerESPN) March 1, 2021
He is coming off a career season with the Giants where he set career highs in sacks (11.5) and tackles for loss (14).
Proceed with caution, however, before breaking the bank over those numbers.
Paired alongside Williams on New York's defensive front last year were Dexter Lawrence and Dalvin Tomlinson.
Those two accounted for 7.5 sacks total and were very impactful on the Giants defense.
Williams would not be coming to Cleveland to lead a pass rush by himself though.
He wouldn't even be the center of attention.
That honor would still go to Myles Garrett.
Leonard is one of, if not, the most expensive option available for Andrew Berry to look at.
Sometimes you get what you pay for though, right?

2. Yannick Ngakoue
Sticking with the theme of guys under 30, enter Yannick Ngakoue.
The 26-year old end spent his first four seasons in Jacksonville before splitting time between Minnesota and Baltimore in 2020.
He tallied eight total sacks and boasts a PFF grade of 70.0, solid marks entering free agency.
In Yannick Ngakoue's first 6 games as a Viking he faced a GAUNTLET of offensive tackles.

David Bakhtiari, Anthony Castonzo, Taylor Lewan, Laremy Tunsil and Tytus Howard and Duane Brown.

He still amassed 5 sacks, 8 QB hits and 2 forced fumbles. Jesus.

— Jordan (@Texans_Thoughts) February 24, 2021
Ladies and Gentlemen, Yannick Ngakoue is starting to heat up.

This looks so effortless for him. #Skol #Vikings pic.twitter.com/uQetybNCdR

— Matt Anderson (@MattAnderson_8) September 28, 2020
Despite playing in three different defensive systems in the past two years, Ngakoue remained productive.
Similarly to Leonard Williams, Ngakoue's combination of youth and ability will reward him a more-than-decent sized pay day in free agency.
A contract with a yearly salary in the $18-20 million range is likely.
Setting up a long-term duo of Garrett and Ngakoue might be enough to entice the pocketbooks of Cleveland's front office.

3. Bud Dupree
They say you can't have your cake and eat it too.
I beg to differ.
With Bud Dupree hitting free agency this summer, the Browns can make their rival, the Pittsburgh Steelers, a worse team while also improving themselves.
Dupree turned a corner the last two seasons in Pittsburgh after disappointing the first three.
A torn ACL ended what was a fantastic 2020 campaign, leaving the Steelers front office with tough decisions to make under a tight salary situation.
Whoever signs Bud Dupree this offseason is going to get a heck of a player. He's exactly what you're looking for in an EDGE player. Complete pass-rusher and great against the run. Always needs to be accounted for.

His last two seasons have been awesome to watch. pic.twitter.com/nPeWZYcJMX

— Daniel Valente (@StatsGuyDaniel) February 23, 2021
The latest reports rule out any kind of "hometown" discount for Pittsburgh, only helping the Browns odds of getting him.
.@JFowlerESPN on @937theFan that Bud Dupree is in line for a "massive payday." He thinks the knee will checkout. Dupree already running. No chance at a 1 year discounted deal for the Steelers.

— Andrew Fillipponi (@ThePoniExpress) March 1, 2021
Dupree's week six performance against Cleveland was dominant and shows why he would look just fine in brown and orange.
Dupree finished his shortened campaign with eight sacks, but finished 2019 with 11.5.
He's been a player trending in the right direction in recent years, something that cannot really be said of Watt.
His value is right next to what Williams' and Ngakoue's would be, making him a viable option for Cleveland.
Plus, you steal one of your divisional foe's best defensive players away from them.
There doesn't seem to be much to dislike about this one.