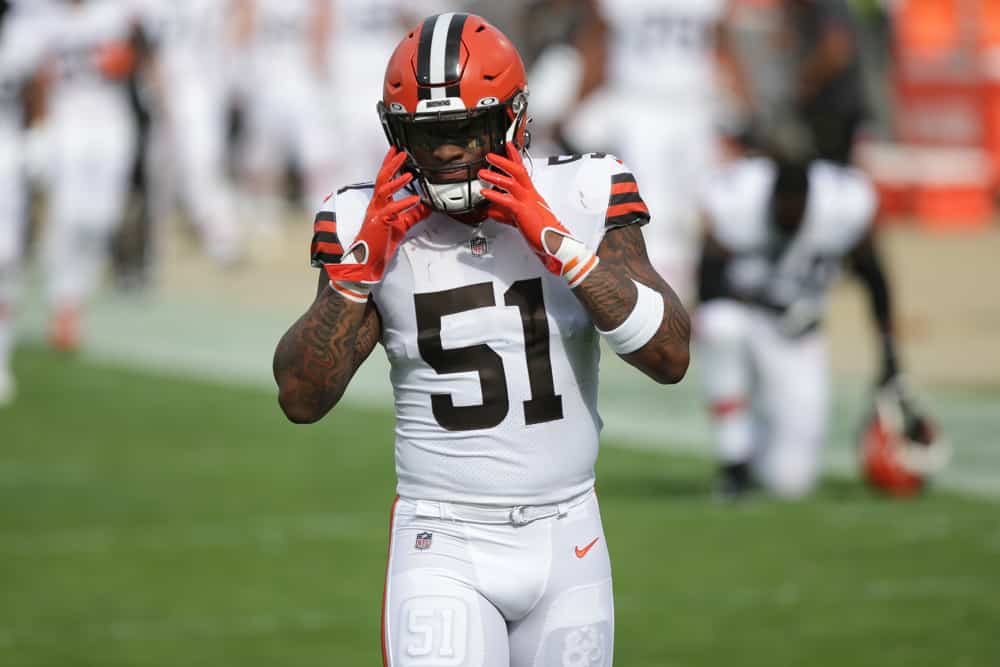 The Cleveland Browns are officially out of the J.J. Watt sweepstakes.
On Monday, the superstar defensive end signed a two-year deal with the Arizona Cardinals.
Cardinals signing J.J. Watt to two-year, $31M deal. (via @RapSheet) pic.twitter.com/SJYjP9kmDo

— NFL (@NFL) March 1, 2021
Sadly, Browns fans won't get to see the dynamic duo of Watt and Myles Garrett.
However, there could be another big name pass rusher heading to Cleveland this offseason.
Linebacker Mack Wilson appears to be making a push to bring Von Miller to Cleveland.
Wilson's Pitch
Following the Watt signing, Wilson made a push on social media for the Browns to go after Miller.
The eight-time Pro Bowl linebacker could be a potential fit for Cleveland with his future in Denver uncertain.
Wilson wasted little time letting the world know that he'd love to see Garrett and Miller together in 2021.
Von Miller & Myles Garrett 🔥🔥🔥🔥🔥🔥🔥 Ima pray on this one! 🙏🏾🙏🏾🙏🏾 Make it happen @Browns

— Mack Wilson (@5mackwilson1) March 1, 2021
The nine-year veteran is in his final year with the Denver Broncos.
Currently, the Broncos are trending towards a slight rebuild, which could mean Miller might be available this offseason.
Denver does have a team option on Miller, so potentially he could become a free agent, but that does seem unlikely.
"If he's [a free agent], he's going to have a very good market," Ian Rapoport said, "I will say at this point, I doubt that he's free. Because at this point, they've got the team option coming up — I don't think they're going to pick up the option — because I think there's a good chance, I think there's a real chance the two sides get together and make it make sense."
The 31-year-old linebacker did miss all of the 2020 season due to an ankle issue.
Despite that, there is no evidence to suggest that the Broncos are ready to part ways with the future Hall of Famer.
Should The Browns Pursue Miller?
The Browns are in need of another pass rusher with Olivier Vernon expected to hit the open market this offseason.
Watt seemed like a fit on paper, but is officially off the table, which means Miller might be the next best option.
Obviously, the Broncos aren't going to give him up for free, but the Browns do have enough assets to acquire a superstar player like Miller.
Yes, Miller is coming off a season-ending injury, but there is no doubting his ability with over 100 career sacks.
Von Miller (@VonMiller) with the hesi/spin. Sets his blocker up with the hesi to off-balance him before executing the spin inside. Have a pre-snap pass rush plan! #passrush pic.twitter.com/h8gh6SRhHg

— DLineVids (@dlinevids1) February 26, 2021
He would be an immediate upgrade to the Browns defense.
A defensive unit that is in desperate need of another elite pass rusher.
It remains to be seen whether or not Wilson's social media persuasion works.
However, there could definitely be a case made for the Browns going after Miller this offseason.