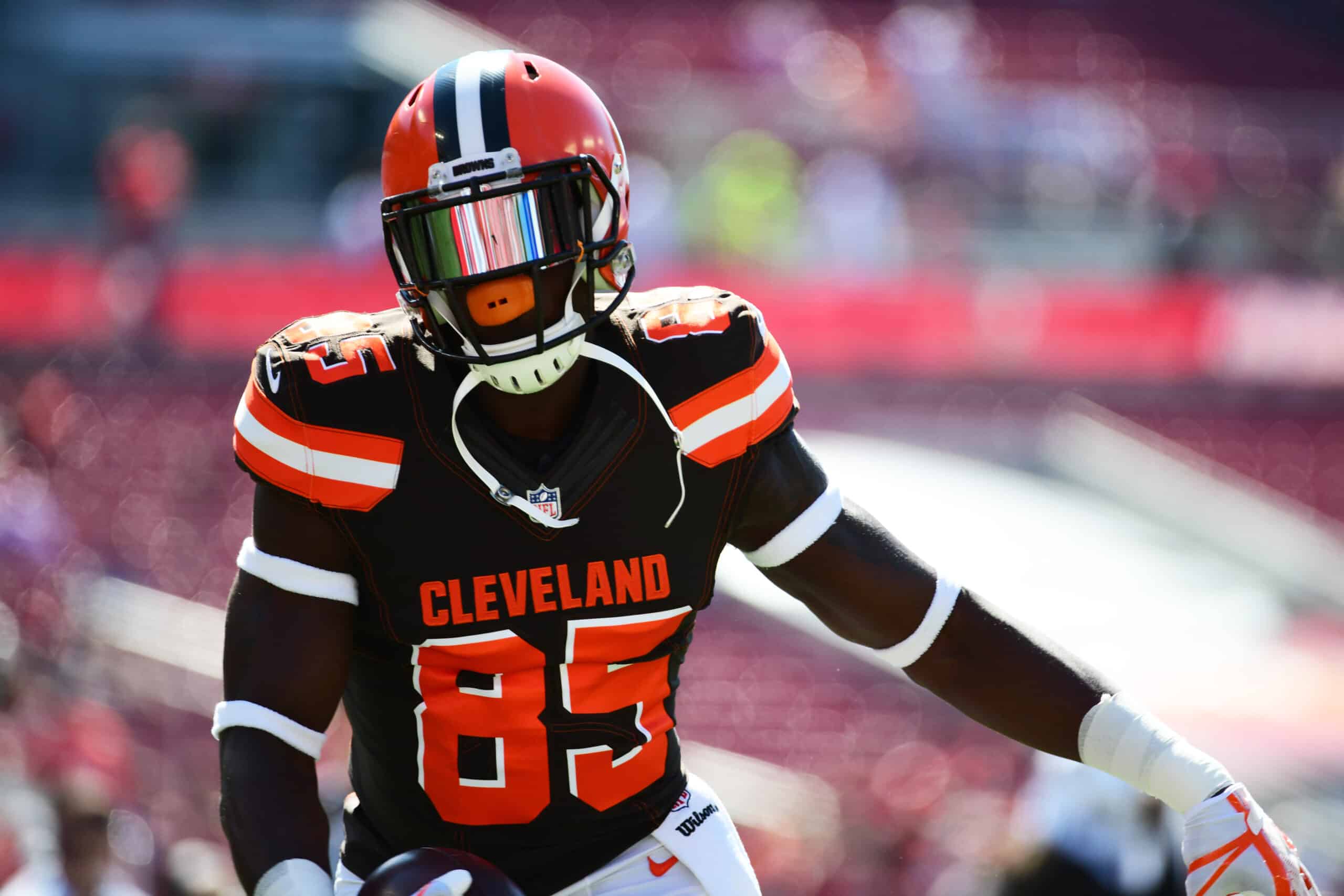 In 2017, the Cleveland Browns used the No. 29 overall pick to select tight end David Njoku.
There were obviously high expectations for Njoku after being taken in the first round.
He put together a decent rookie campaign with limited snaps then had a breakout campaign in 2018.
Since then, Browns fans have seen very little success from Njoku.
At this point, it's uncertain if the 24-year-old will ever reach will full potential.
The Njoku Saga
His performance on the field hasn't been the only frustrating aspect of Njoku.
The struggling tight end continued to go back and forth on his commitment with the Browns.
Last summer, Njoku reportedly requested a trade through his agent.
Cleveland signed Austin Hooper to a massive deal and drafted Harrison Bryant in the fourth-round of the 2020 Draft.
At the time, Njoku didn't see a future for himself in Cleveland and apparently asked to be traded.
Then weeks later, Njoku pulled back the trade request and said he was fully committed to the Browns organization.
Browns' TE David Njoku, who requested a trade earlier this summer, has had "some good meetings with the new Browns' organization including GM Andrew Berry and he has decided to give the team his full commitment right now and go from there," said his agent, @RosenhausSports.

— Adam Schefter (@AdamSchefter) August 1, 2020
Njoku ended up obviously staying in Cleveland last season, but didn't bring much to the field.
Through 13 games, Njoku recorded 19 receptions, 213 yards, and two touchdowns.
Those were all career lows, assuming we're not counting the season where Njoku played four total games.
Njoku hasn't been an asset on the field in over two years and continues to be more of a distraction than a help.
It's worth noting that Njoku and the Browns organization are reportedly in a good place after the 2020 trade request.
#Browns TE David Njoku is reportedly 'in a good place' and is no longer pursuing a trade. pic.twitter.com/puruoYkkvn

— Browns Dispatch (@brownsdispatch) May 24, 2021
Cleveland did pick up Njoku's fifth-year option, so he's expected to be on the roster heading into the 2021 season.
Hopefully, Njoku has put all this off-the-field drama behind him and is ready to focus on football.
In 2018, Njoku showed plenty of promise, but it's uncertain if that will surface again.
A Breakout Star?
There is a reason that Njoku was taken in the first round of the draft.
He showed excellent upside in college and we saw flashes of it during the early part of his NFL career.
Sadly, injuries have held Njoku back and he doesn't exactly have a huge role on the team anymore.
Since 2018, Njoku has seen 39 targets, so it's tough to do anything when you aren't being thrown the football.
It's not going to get any easier for Njoku with Bryant emerging as a reliable option last season.
Harrison Bryant's second career TD comes on #NationalTightEndsDay! #Browns

📺: #CLEvsCIN on CBS
📱: NFL app // Yahoo Sports app: https://t.co/MIIkbfUwYk pic.twitter.com/aBvNXTK0EX

— NFL (@NFL) October 25, 2020
There's a good chance that Bryant enters training camp as the No. 2 tight end in Cleveland.
It's worth noting that Hooper isn't going anywhere after Cleveland made him one of the highest-paid tight ends in the league.
That being said, it sounds unlikely that Njoku gets a significant amount of snaps in Cleveland going forward.
The chances of Njoku becoming a "star" tight end are extremely slim at this point.
Hopefully, Njoku can contribute, but fans shouldn't expect him to be anything more than a league-average tight end.