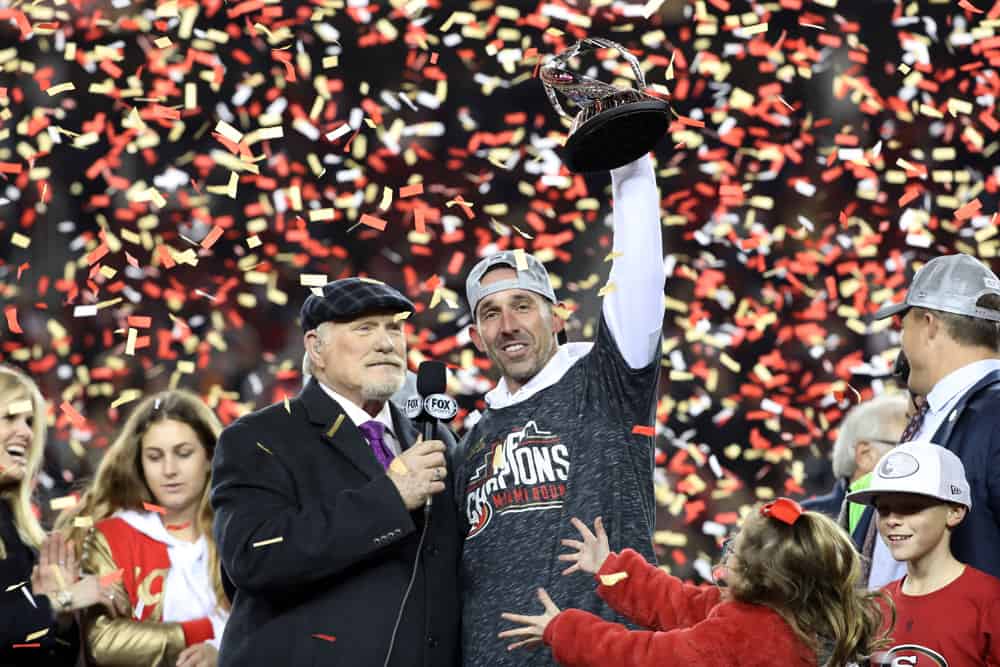 Cleveland Browns fans are among the longest-suffering sports fans in history.
There are precious few moments to wax nostalgic about.
Even the good times leave a bad taste in their mouths.
Like the 2002 playoff game, the Browns' only playoff appearance since their 1999 reincarnation.
The last time the Browns were in the playoffs?

The @Steelers had an EPIC 17-point comeback victory in the 2002 AFC Wild Card game. #FBF pic.twitter.com/9JuYhZORJC

— NFL Throwback (@nflthrowback) September 7, 2018
The 9-7 Browns took on the Pittsburgh Steelers in a wild card game.
Cleveland already suffered a pair of 3-point losses to the Steelers in the regular season.
Here was a chance to exact revenge and chase ghosts of seasons past.
Instead, the Steelers handed Cleveland another heart-breaking 3-point loss- 36-33.
Romeo Crennel brought the team back from a 4-12 campaign to win 10 games in 2007.
The Browns went 10-6 in Joe Thomas' rookie season in 2007. Everything seemed so bright. And despite his incredible performance and reliability, he never got to appear in a playoff game (and never experienced another winning season). That's a kick to the groin. He deserved better.

— Zack Meisel (@ZackMeisel) March 14, 2018
But there were two more losses to the hated Steelers.
Those games gave Pittsburgh the division title tiebreaker and left the Browns a game short of a wild card spot.
The latest generation of Browns fans doesn't even have a winning season to look back on.
But there was 2014 when Browns fans found themselves cheering a playoff contender.
Head coach Mike Pettine had the Browns' defense playing well.
Offensive coordinator Kyle Shanahan put together a functional offense.
Hoyer probably somewhere over Kansas by now, heading east. The guy went 7-4 as Browns starter in 2014, a record that will never be broken.

— Don Banks (@DonBanks) October 31, 2017
After Week 12, the Browns were 7-4.
They were in a four-way dogfight for the division title.
Three AFC North teams finished the season with 10 or more wins.
Cleveland was not among them.
Five consecutive losses doomed the Browns to another last-place finish.
There were lots of reasons for the collapse.
Kyle Shanahan listed 32 of them for Pettine to present to ownership.
That was Shanahan's last day as a Cleveland Browns coach.
What Happened?
Kyle Shanahan tells people the decision to leave Cleveland was one of the most difficult of his life.
Soon-to-be #49ers HC Kyle Shanahan on bolting the #Browns: 'It was one of the hardest decisions I've ever made' https://t.co/tP6oNlhcJs

— Mary Kay Cabot (@MaryKayCabot) February 3, 2017
But after talking to his wife, Shanahan wrote down 32 reasons the Browns should let him go.
Kyle Shanahan gave the Browns a 32-point presentation on why he wanted out http://t.co/J4zL8MOhhi pic.twitter.com/P8YNG4oWjO

— Scott @ WFNY (@WFNYScott) February 4, 2015
It sounds like an overwhelming argument.
The current 49ers head coach remembers being nervous about talking to Mike Pettine.
He wasn't sure what kind of reaction to expect.
Plus, quitting a contract two years early could hurt his career.
The way Shanahan tells the story, Pettine was "pretty cool" about his decision.
His former boss' curt recollection about the meeting indicates he wasn't as cool as Shanahan thinks.
"You can use the word 'quit', said Pettine.
Trying to compartmentalize Mike Pettine and Kyle Shanahan coaching/coordinating in a game to go to the Super Bowl. pic.twitter.com/muELyhF8js

— Scott @ WFNY (@WFNYScott) January 20, 2020
"If he doesn't want to be part of the organization anymore, I didn't need to go through 32 reasons."
Shanahan's argument was good enough for the team to release him from his contract.
With a little prodding from former Browns CEO Joe Banner, Arthur Blank hired Shanahan in Atlanta.
Cleveland joined seven other teams in searching for a new offensive coordinator.
What Was So Bad?
Shanahan never made his list public.
Searching Google won't find a true copy of the presentation.
But Shanahan insists one of the reasons for leaving was not his relationship with Pettine.
As the 49ers prepared to play Pettine's Green Bay defense, a sideline video of the pair resurfaced.
An interception gave the Browns a short field.
Two quick passes put the Browns in a goal-to-go situation.
With a Kyle Shanahan v Mike Pettine battle on Sunday, what a great clip. This one has it all:

✅ Mike Pettine tries to tell Kyle Shanahan what to call
✅ Kyle stare down
✅ Kyle calls the opposite for a TD
✅ Johnny Manziel pretends he's the best play caller alive pic.twitter.com/OhfJZjaxzt

— Warren Sharp (@SharpFootball) January 17, 2020
Pettine tells Shanahan to call a run play.
Shanahan smirks and stares at Pettine in response.
Finally, Pettine caves and tells Shanahan he trusts him and to call his best play.
Brian Hoyer rolled out and hit Andrew Hawkins for the touchdown.
Shanahan says the video shows a healthy relationship.
He was able to counter the head coach's call because the pair trusted each other.
But Shanahan didn't appreciate GM Ray Farmer's in-game text messages questioning his play calls.
The offensive coordinator pushed for Jimmy Garoppolo or Derek Carr in the 2014 draft.
Browns asked then-offensive coordinator Kyle Shanahan to rank available QBs in 2014 draft.

His ranks? 1. Carr. 2. Garoppolo. 3. The rest.

— Jeff Darlington (@JeffDarlington) October 31, 2017
But ownership overrode the coaches and scouts to draft Johnny Manziel.
Even at 7-4, Shanahan faced pressure to start Manziel over Hoyer.
When he finally caved in the middle of the five-game skid, everyone saw why Shanahan resisted.
Shanahan put together a functional offense with Hoyer, Isaiah Crowell and Terrence West in the backfield, and a receiver group headed by Hawkins and Taylor Gabriel.
Yet every decision he made was second-guessed by Farmer or other members of the front office.
It was no secret the Haslams meddled too much and created disarray and mistrust.
Cleveland suffered from a losing culture where employees openly dreamed of "getting out."
It was all too similar to Shanahan's previous experience in Washington.
What Were the Repercussions?
Shanahan never imagined things would work out so well for him.
Landing the coveted job in Atlanta with Matt Ryan, Julio Jones, and Devonta Freeman was a coup.
He could easily have won a "problem child" reputation coming off a broken contract.
In his second season with the Falcons, Shanahan ran his offense in the Super Bowl.
New England delivered a crushing loss, aided by Shanahan's decision to come off the gas with a big lead.
But San Francisco hired him as their head coach just a few days later.
In two weeks, Shanahan will coach his team in another Super Bowl.
Kyle Shannahan Folks!! Pride of Cherry Creek!! He is going to the Super Bowl as the HEAD COACH of the 49ers!! #COReppin pic.twitter.com/u5bUvtuOr3

— Maximo Vela (@LJmaximo) January 20, 2020
Jimmy Garoppolo, a passer Shanahan lobbied for in the Browns' 2014 draft, will lead the 49ers' offense.
In Cleveland, John DeFilippo took over the Browns' offense in 2015.
He and Pettine were fired after a 3-13 finish.
#Packers new DC: "Former Browns head coach Mike Pettine was proud of his nickname — Blunt Force Trauma — because he wouldn't sugarcoat things for players. But after a 7-4 start in 2014, the Browns lost 18 of 21 games and he was fired. " News Herald, Cleveland

— Mike Clemens (@MikeClemensNFL) January 10, 2018
Cleveland suffered through a 6-54-1 stretch before showing signs of recovery the past two seasons.
Shanahan continues to take the high road when discussing his time in Cleveland.
He has kind words for the Haslams, Pettine, and especially the Browns' fans.
Kevins Stefanski is picking through Shanahan assistants to fill his coaching staff.
And hoping some of Shanahan's success will find its way back to Cleveland.