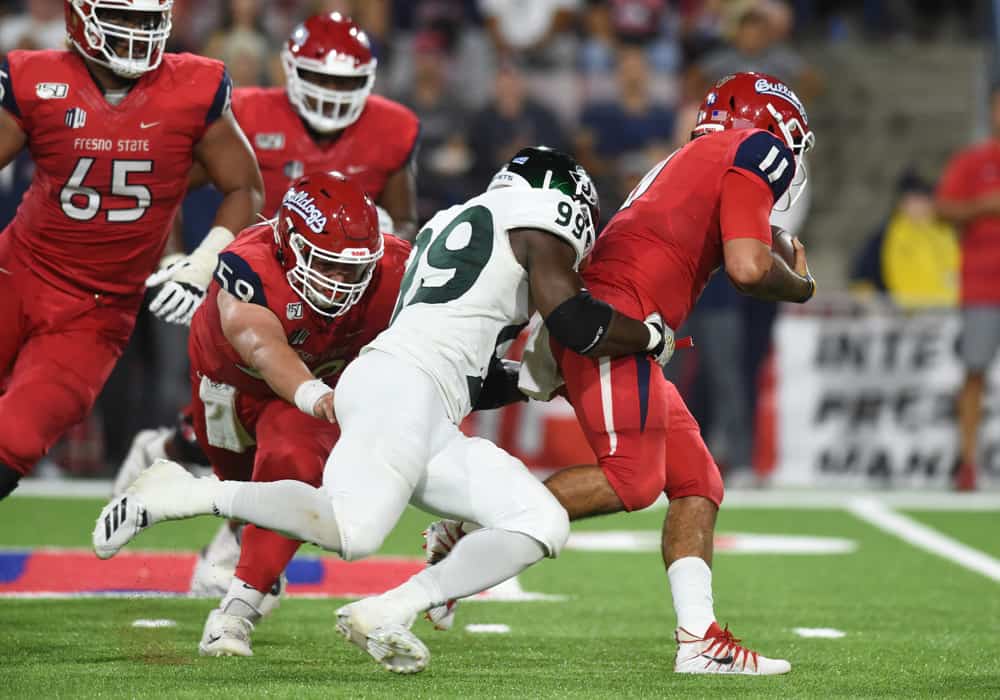 After the 2020 NFL Draft concluded, the Cleveland Browns decided to bring in 15 undrafted players.
Most of them are going to have an uphill battle to earn a spot on the 53-man roster.
Many of those players come from smaller schools, which sometimes makes it tough for them to get drafted.
The Browns decided to take a chance on a small school player in defensive end George Obinna.
He was impressive in college, but will have to battle in camp if he wants a spot in Cleveland this season.
Obinna in College
Obinna was a defensive end in college, but the Browns believe they can convert him into an outside linebacker at the professional level.
He was extremely productive during his four seasons at Sacramento State.
Obinna is an experienced player who has the versatility to play more than one spot on the football field.
The Browns feel that Obinna could be useful at the linebacker spot if he's able to gain more weight.
The #NFLDraft is just days away and the Hornets all-time sack leader, George Obinna, is showing us all he's NFL ready! #StingersUp pic.twitter.com/auLRVDo9c8

— Sac State Football (@SacHornetsFB) April 21, 2020
He is a pass-rushing specialist who owns the team record in sacks with 33.5 throughout his career.
Obinna also collected 136 tackles, 47 tackles for loss, and four fumbles forced during 46 games played in college.
During his senior season, Obinna recorded 46 tackles, 20 tackles for loss, and 14 sacks during his final year at Sacramento State.
That was an impressive way to finish out his college year, but it apparently wasn't enough for teams to take a chance on him during the draft.
Why Did Teams Pass on Obinna?
Yes, Obinna put together a solid college career, but that's only part of the picture.
He did also play at a smaller school against players that weren't quite as dominant.
The talent level at the professional level is going to be much better than what Obinna faced in the Big Sky Conference.
He does not have the ideal size or athleticism for the outside linebacker role.
His smaller size and lack of quickness is likely going to cost him at the professional level.
Obinna was able to get away with it in college, but he'll be up against stronger and faster players than what he is used to seeing on the football field.
His numbers in college were solid, but it appears most organizations didn't feel that Obinna could make the transition to the professional level.
The Browns decided to give Obinna a chance after the draft, so hopefully he can prove all the doubters wrong during camp.
Can Obinna Make the Browns Roster?
It's going to be an uphill battle for Obinna to make the Browns active 53-man roster.
His versatility to play defensive end and hopefully linebacker should help his effort.
As of right now, Obinna is projected as the third-string right defensive end.
TOUCHDOWN! George Obinna scores Sac State's second defense touchdown of the day with a scoop and score of 73 yards. Hornets lead 48-27 #BigSkyUp #StingersUp pic.twitter.com/7h5nftgv0J

— Sac State Football (@SacHornetsFB) October 6, 2019
The Browns have plenty of depth on the defensive line, so it won't be easy for Obinna to earn a spot.
He's coming into the league without a full-time position, which could make it more difficult for him to stick.
However, it's going to depend on how he plays during camp and the preseason.
The odds are definitely against Obinna, but everyone loves an underdog story.
He probably won't be a starter in the NFL, but at least he'll have a shot at making the Browns roster in camp.