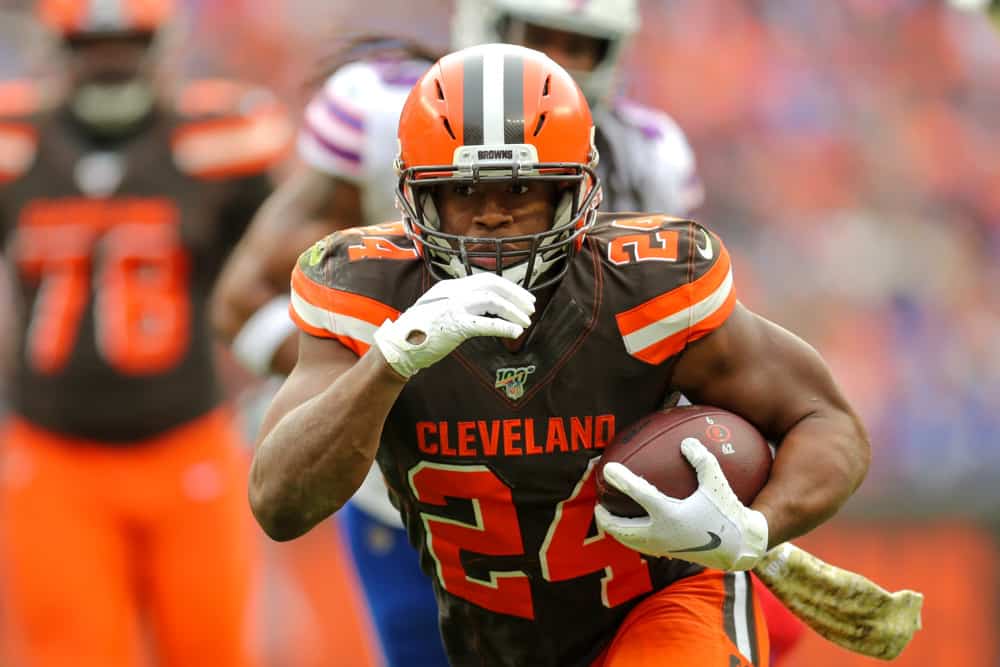 Cleveland Browns running back Nick Chubb stated his opinion about the fantasy football draft decision between Jarvis "Juice" Landry and Odell Beckham Jr.:
You heard it here first fantasy nerds….

Nick Chubb is taking Jarvis Landry over OBJ in Fantasy Football this year pic.twitter.com/hB6ZJKUVp3

— MTVCleveland (@mtvCleveland) May 17, 2020
"Odell, he's gonna have those games where he goes crazy – four touchdowns, 200 yards, stuff like that. It's hard to pass on that. But you get Juice, you gonna get consistent, one, two touchdowns a game, 80 yards receiving. Me, I don't really like gambling, so I'll probably have to go with Juice."
In 2019, the first year that Landry and Beckham both were with the Browns, Landry outperformed his teammate.
Even though 2020 fantasy football experts do not see this happening again, Chubb thinks Landry and Beckham will play similarly to 2019.
According to Pro Football Reference, Landry was ranked the 14th-best wide receiver in fantasy football last season.
Meanwhile, Beckham finished 31st among wide receivers in standard fantasy leagues.
In all types of fantasy leagues, Landry was a better wide receiver than Beckham in 2019.
Is Landry Really the Better Fantasy Football Wide Receiver?
As we head into the 2020 season, Landry and Beckham will be looking to bring the Browns to the playoffs for the first time in 18 years.
During the offseason, Landry also reached out to all fantasy football fans and said that he will be back for another star-studded season:
Jarvis Landry vows he's going to do better for fantasy owners next season:

"Pick me again" 😂 pic.twitter.com/Ivu3iqF6HY

— SI Extra Mustard (@SI_ExtraMustard) January 30, 2020
If Landry, as well as Beckham, are going to perform well this upcoming season, it comes down to how Mayfield can get them the ball.
Mayfield, who organized Browns offseason workouts in Texas, will need to improve in many areas headed into this season.
The Browns have the second-easiest 2020 schedule, which should be beneficial to both Mayfield and his main two targets.
If Mayfield performs as projected by Dan Orlovsky, then Landry's performance could be among the top 10 wide receivers in the NFL.
Will Beckham Have a Bounceback Season?
According to the combined ESPN and CBS Sports projections on FantasyPros.com, Beckham will outperform Landry in 2020.
Beckham is projected as the 15th-best receiver while Landry is 23rd.
The fantasy points are projected to be similar: Beckham is projected to score just five more points.
The production is expected to come from more receiving yards for Beckham.
Pro Football Focus also thinks that Beckham is undervalued headed into this year:
Odell Beckham Jr. could be a value in fantasy drafts

🗣️ @JeffRatcliffe pic.twitter.com/IEzc8KGtin

— PFF Fantasy Football (@PFF_Fantasy) May 8, 2020
Many experts agree: Beckham has a consensus Fantasy Pros ranking of No. 11 while Landry is No. 30.
These standard fantasy league rankings were from 51 experts.
Is OBJ's fantasy stock on the rise? 📈@JimSannes and @GreggSussman discuss why year two should look much different than year one for Odell with the Browns.

FanDuel Hurry Up ➡️ https://t.co/ekQ5rgxurB pic.twitter.com/LqtfHnyA3D

— FanDuel (@FanDuel) April 18, 2020
If many people are using Fantasy Pros for their fantasy draft preparation, then Landry may be the undervalued one.
In standard league drafts conducted thus far, Beckham has an Average Draft Position (ADP) of No. 18 overall (No. 6 among wide receivers), while Landry is No. 69 (No. 29 wide receiver).
Beckham even jumps up to an ADP of No. 12 overall and No. 4 among wide receivers in Point Per Reception (PPR) leagues.
In PPR, Landry's ADP is No. 63 overall and No. 25 among wide receivers.
Even with Chubb's Backing, is Landry Undervalued Headed Into the Season?
It seems like almost everyone, except Chubb, thinks that Beckham will be having a bounceback season.
With Beckham's stock seemingly very high at the moment, Landry is much more of a value pick heading into the upcoming season.
If fans are thinking like Chubb, they are thinking about Landry's consistency last season.
In 2019, Landry produced six different games with double-digit fantasy points in standard leagues.
Beckham produced five such games, and he had four games under five fantasy points.
Landry had just three games where he posted fewer than five points.
With this in mind, fantasy football managers may have a difficult decision if they are trying to draft a Browns wide receiver.