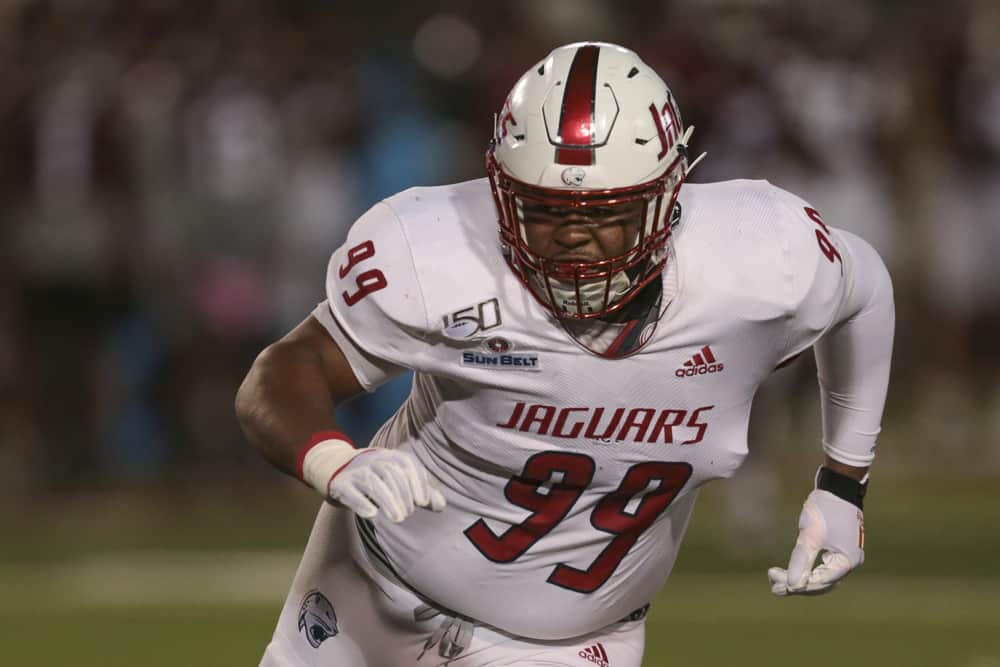 The 2020 offseason has gone fairly well for the Cleveland Browns thus far.
They've revamped their offensive line while adding Pro Bowl tight end Austin Hooper through free agency.
The Browns also signed 15 undrafted players who will battle for a spot on the 53-man roster during camp.
These players will have an uphill battle ahead of them, but some might be able to snag a roster spot.
One of the most intriguing undrafted players is South Alabama defensive tackle Jeffery Whatley.
 Who is Jeffery Whatley?
Whatley was a big-time recruit when he first arrived at Southern Alabama.
He did not see any playing time during his first year in college.
Whatley recorded 10 tackles and one tackle for loss through four games during his sophomore campaign.
He followed that up with 12 tackles, and 1.5 tackles for loss through eight games during his junior season.
South Alabama's Jeffery Whatley with a third-down sack (on a play on which he was held).

Georgia Southern punting for the 5th straight time in the 2nd half.

— Creg Stephenson (@CregStephenson) October 4, 2019
Whatley was not able to do much damage during his first few seasons in college, but that changed in his senior year.
In 2019, Whatley finished with 39 tackles, 14 tackles for loss, and four sacks through 12 games.
He earned honorable mention All-Sun Belt by PFF after his performance during his senior year.
Why Didn't Whatley Get Drafted?
Plenty of talented players slip through the cracks and go undrafted each year.
However, Whatley was not expected to be drafted despite a solid performance during his final year in college.
He does not quite have enough athleticism to be a reliable option at defensive end.
Whatley lacks quickness and is not the ideal fit for defensive tackle.
The fact he is basically without a position is likely the reason that professional organizations decided to pass on him during the draft.
He is a bit of a late bloomer and did not face strong competition while playing at South Alabama.
Although, the Browns are giving him a chance to prove he is worth a roster spot.
Browns Depth Chart 
The front-four on defense is stacked for the Browns heading into the 2020 season.
They have four reliable starters led by superstar pass rusher Myles Garrett who is returning from suspension this season.
After that, the Browns have veteran Adrian Clayborn and Chad Thomas as backup options at defensive end.
At defensive tackle, the Browns have three-year veteran Andrew Billings and rookie Jordan Elliott as reserve options.
The Browns seem to be fine with the current talent they have, so it'll be tough for Whatley to earn a roster spot in camp.
Can Whatley Make The Roster?
The Browns are hopeful that Whatley has some untapped potential after seeing what he did during his senior year.
He should not be expected to be a regular contributor, but he might be able to grab a role as a depth player.
Maybe he'll be able to develop into someone who can be a rotational type of piece for Cleveland.
Our @TheGroveMobile student-athlete of the week is Jeffery Whatley! #JagNation pic.twitter.com/J2ju3y18XJ

— South Alabama Jaguar Athletics (@WeAreSouth_JAGS) November 15, 2019
There is a chance that Whatley earns a spot as a backup defensive tackle during camp.
It'll be an uphill battle, but that could be said about every undrafted player heading into the preseason.
He won't make a major impact in Cleveland right away, assuming he does make the roster.