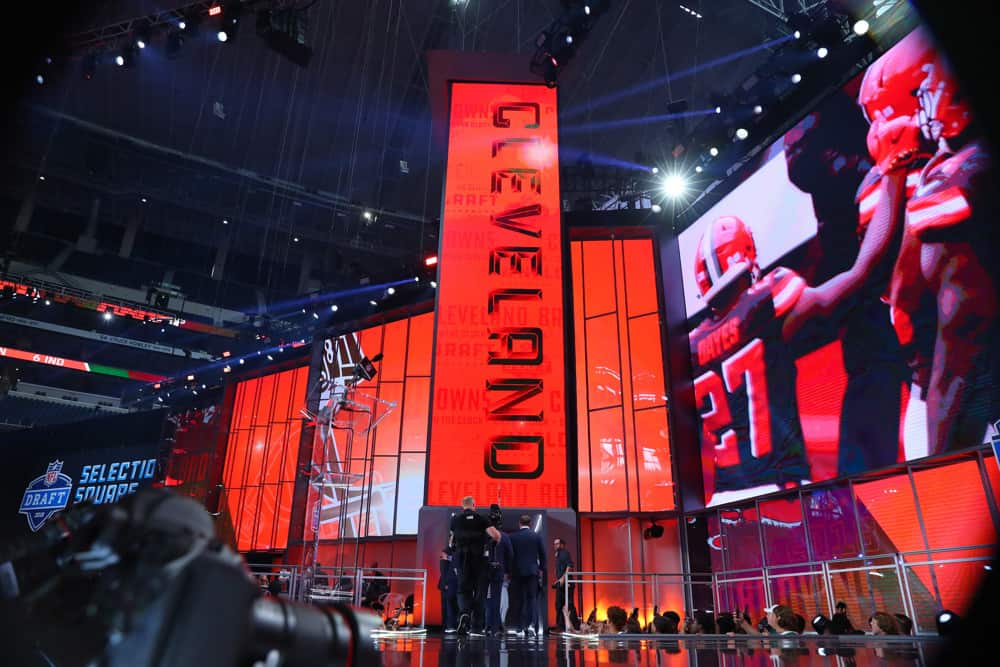 With their 21-16 victory over Cincinnati in Week 18, the Cleveland Browns' 2021 season came to a close.
The Browns ended the year 8-9, far below pre-season projections.
The Cleveland Browns finish their disappointing 2021-22 season with a win over the Bengals as they look forward to next season pic.twitter.com/2j9zBJEhbt

— Lee Harvey (@MusikFan4Life) January 9, 2022
After last season saw the team return to the playoffs after a long absence, Cleveland made several roster upgrades in the offseason.
It was hoped that those upgrades would mean further advancement in the playoffs.
Unfortunately, things didn't pan out the way the Browns front office envisioned.
By virtue of their third-place finish in the AFC North, Cleveland will have a higher first-round draft slot this year than expected.
Here is a look at what spot the Browns currently own for the 2022 NFL Draft.
Unlucky Number?
With their win over the Bengals, the Browns own the 13th overall pick of the draft.
Cleveland Browns will pick 13th in 2022 NFL Drafthttps://t.co/kTCAbMn80O pic.twitter.com/ycq2aKbnXb

— WKYC 3News (@wkyc) January 10, 2022
If they had lost to Cincinnati, Cleveland would have landed at the 10th spot.
Additionally, the Browns could have found themselves at the number 15 position.
However, the results of several other Week 18 games moved the team up in order.
Although the Browns are third in the division, they had a strength of schedule of .518.
That mark is better than the Ravens, who finished with the same record and split the season series with Cleveland.
Interestingly, the last time the Browns had the 13th overall selection was in 2006.
They drafted Florida State defensive end/linebacker Kamerion Wimbley with the pick and he remained with the team until 2010.
Position of Need
Last season, Cleveland's final record put the team at the 26th overall spot.
They addressed their weakness at corner by grabbing Northwestern's Greg Newsome.
As 2021 wraps, it is painfully evident that the Browns need receiver help.
With the exit of Odell Beckham Jr., Jarvis Landry is Cleveland's best pass-catcher.
However, it has been rumored that he may also have a new home for 2022.
Even if Landry stays, the Browns must have top talent at the position to help the offense.
The 2022 receiver class is very strong and, at the 13th spot, Cleveland will have a number of good receivers to choose from.
Ohio State has Chris Olave and Garrett Wilson.
Ohio State is the only school to have THREE WRs earn a 75+ grade

🏈 Jaxon Smith-Njigba
🏈 Garrett Wilson
🏈 Chris Olave pic.twitter.com/vMsYk1mNOo

— PFF College Football (@PFF_College) December 20, 2021
USC's Drake London looks appealing, although he is coming off a season-ending injury.
In total, the Browns have eight picks in the upcoming draft, subject to trades.