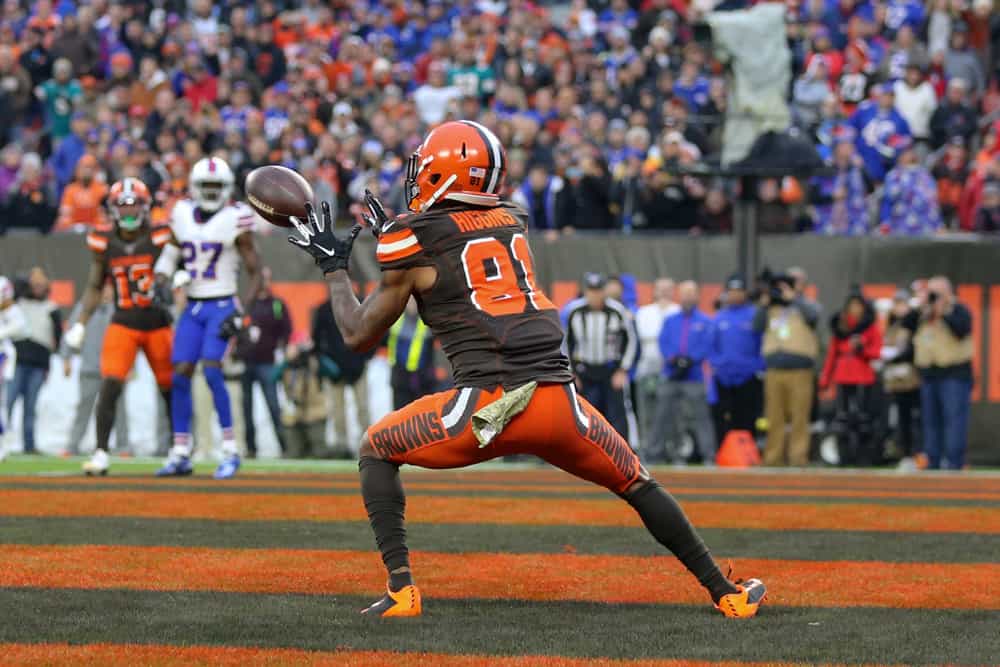 The Cleveland Browns didn't have to bring back wide receiver Rashard Higgins.
Instead, the team is hoping that Higgins can rebound and deliver as the team's No. 3 receiver.
On Tuesday, the Browns agreed to a one-year, $910,000 contract with Higgins.
If the Browns get the 2018 version, this is a steal.
That poses the question: which version of Higgins will arrive in 2020?
The 2018 Version
In 2018, Higgins broke onto the season with 39 receptions for 572 yards and four touchdowns.
He had the best catch percentage of his career at 73.6% and 14.7 yards per reception.
During that season, Higgins only had one less touchdown than Pro Bowler Jarvis Landry.
In all fairness, he probably could have more, if the coaching staff gave him more than 53 targets that season.
Touchdown #Browns de Baker Mayfield a Rashard Higgins con lo que se van al Halftime con la ventaja 6-3 ante #ravensflock pic.twitter.com/G7cVDoMrqX

— Danhi Romero (Tipster) ⚾🏈🏀⚽ (@danhiromero) October 7, 2018
The 2019 Version
It was a dramatic dropoff last season.
In 2019, Higgins played in 10 games, just one start, and had only four receptions for 55 yards.
His one touchdown was a game-winner in November.
"TOUCHDOWN! IT'S RASHARD HIGGINS!"

🗣 Jim Donovan's call of our game winner pic.twitter.com/dk2JOTagr2

— Cleveland Browns (@Browns) November 11, 2019
Why was there such a dropoff in production?
Well, it might be a perfect example of Freddie Kitchens just messing up a perfectly good thing.
The Key To 2020
The signing of Higgins is the ultimate low-cost, high reward scenario.
After all, Higgins came back to Cleveland for less money and posted a sense of unfinished business in Cleveland.
I felt too much pain to walk away from this shit!!!

— Wood (@CALLME_WOOD) April 29, 2020

It's all going to come down to trust.
Will new head coach Kevin Stefanski trust Higgins and can he trust that he will regain his old form?
Higgins' career was greatly damaged last season, which led to him signing for a veterans minimum.
However, the 25-year old still believes he can produce on a team.
People forget how good Rashard Higgins really is. Keep sleepin' on him! The man is the best #3 wide out in the league 💪

— Everything Cleveland (@EverythingCLE_) April 28, 2020
nbsp;
Which Version Will We See In 2020?
If Higgins can find some sort of consistency, then the minimum deal was worth it.
With OBJ, Landry, David Njoku, and Austin Hooper all lining up, that should take a lot of attention from opposing defenses.
What do we really want from Higgins?
When looking at the stats for the Super Bowl champion Kansas City Chiefs, the team featured Travis Kelce with over 1,200 yards receiving.
Next on the list was Tyreek Hill with 860 receiving yards and Sammy Watkins with 673 yards.
Both OBJ and Landry secured over 1,000 yards receiving last season, so they will take the heavy load.
Hooper is set to be the team's third-best threat.
With Njoku and Higgins vying as the team's fourth-best option, asking for maybe 25-30 receptions for 450 yards receiving and three touchdowns would not be asking a lot.
In 2018, he showed that he can do it.
He just has to go out and rebound this season.
this pass from Baker to Rashard Higgins had a 16% chance of being completed, per Next Gen Stats. that's the lowest of Week 15 so far. this is becoming a weekly occurrence for the Browns QB pic.twitter.com/Qt7RPKvnD3

— Jordan Zirm (@clevezirm) December 17, 2018