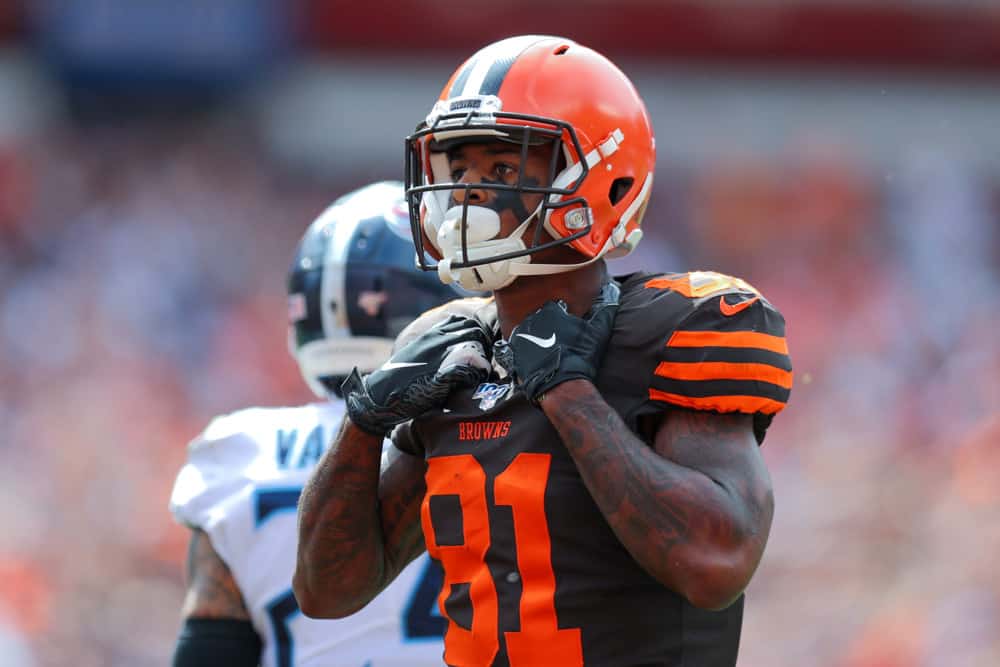 The 2020 NFL Draft is officially over and the Cleveland Browns have some exciting new faces in town.
But, it seems a familiar face will be coming back to town.
According to Cleveland.com's Mary Kay Cabot, the Browns agreed to a deal with wide receiver Rashard Higgins.
#Browns have agreed to a 1 year deal with Rashard Higgins, per league source

— Mary Kay Cabot (@MaryKayCabot) April 28, 2020
Higgins NFL Career
Higgins was selected in the fifth round of the 2016 NFL Draft by the Browns.
Higgins wasn't a huge part of the offense during his first season with the team.
During his second season he hauled in 27 receptions, 312 receiving yards, and two touchdowns.
He followed that up with a nice breakout campaign in 2018.
Higgins hauled in 39 receptions, 572 yards, and four touchdowns through 13 games.
However, his 2019 season was an absolute disaster all around.
Higgins missed four games due to a knee injury and was never really used in the offense after that.
Higgins vs Kitchens
It all started when Higgins reportedly refused to enter the game versus the Seattle Seahawks in Week 6.
He was activated that week after being injured for four games prior, so clearly the Browns were expecting Higgins to play.
Kitchens was let go after the season, so hopefully things will be different for Higgins and new head coach Kevin Stefanski.
Am told WR Rashard Higgins' new one-year deal to resign with the Browns is worth $910K. Higgins really wanted to return to Cleveland, turned down more money from elsewhere. He will compete for the No. 3 WR spot.

— Jake Trotter (@Jake_Trotter) April 28, 2020
Where Will Higgins Fit on the Roster?
Both Odell Beckham Jr. and Jarvis Landry will obviously be ahead of Higgins on the depth chart.
Although, the Browns don't have much depth behind those two-star receivers.
The team did draft WR Donovan Peoples-Jones in the 6th round.
Higgins struggled last season, but did show promising signs during the 2018 season.
During four seasons with Cleveland he has 76 receptions, 1,016 yards, and seven touchdowns through 54 games.
Beckham hauled in 74 receptions, 1,035 yards, and four touchdowns in 2019.
Clearly, Higgins is not going to be a top option on this team, but he could provide quality depth.
He has been around the organization for four years and knows the system well.
Before Higgins signed, the Browns had Damion Ratley listed as their No. 3 option.
He saw a total of 24 targets during the 2019 season, so having Higgins is good for this team.
Higgins won't be a superstar, but he has a great shot at earning the No. 3 spot on the roster.
Could Higgins Breakout Again in 2020?
Higgins was a fifth-round pick, so expectations weren't too high when he landed in Cleveland.
However, he's made the most of his chances and actually was a useful option in 2018.
The chemistry issues with Kitchens were a big reason as to why Higgins wasn't used much last season.
There is hope that Higgins can bounce back again with a Stefanski in charge and a new direction.
Fans shouldn't expect Higgins to make the Pro Bowl, but being a reliable No. 3 option should be a possibility.