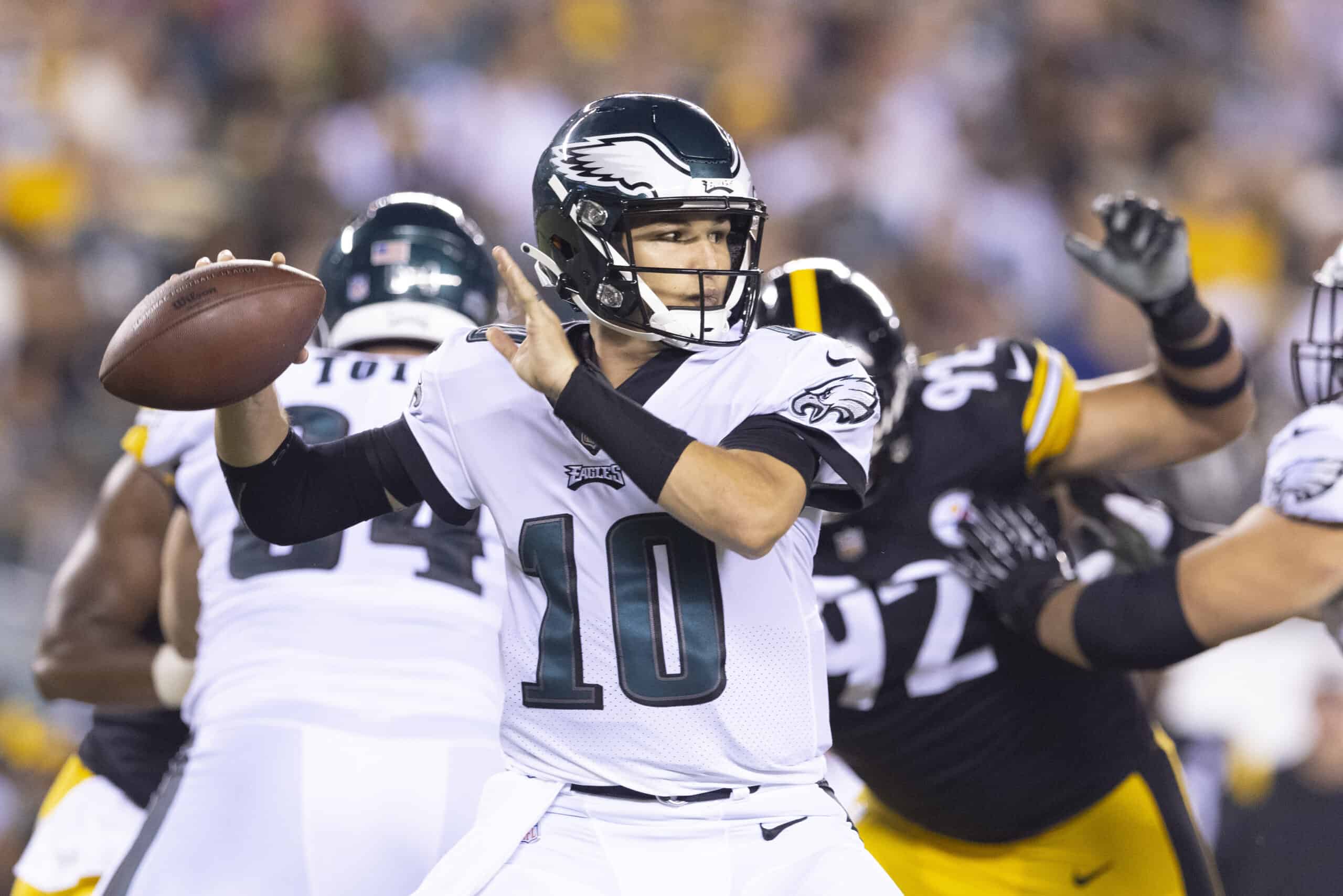 The Cleveland Browns signed quarterback Nick Mullens to the practice squad.
#Browns newest QB Nick Mullens (#9) on practice squad pic.twitter.com/M2b7zV4z5C

— Fred Greetham (@FredGreetham9) September 1, 2021
Mullens is probably not a household name in the Midwest; however, he is well known on the West Coast.
His NFL career consists of three seasons at San Francisco backing up starting quarterback Jimmy Garoppolo.
Playing Experience
Because he was backup to Jimmy G who unfortunately is prone to injury, Mullins saw considerable playing time.
The 26-year-old is a 2017 UDFA out of Southern Mississippi.
In 2018, when Jimmy G tore his ACL, Mullens got 8 starts.
Nick Mullens, in his first NFL start went 16 of 22 for 262 yds and 3 touchdowns as the 49ers won 34–3. His passer rating of 151.9 was the highest since 1970 for a QB with at least 20 passes. He was also the first player in 49ers history to throw 3 touchdowns in his first game..🧐

— BrownsFreak51 (@BrownsFreak51) September 1, 2021
He threw 13 touchdowns and 10 interceptions.
In 2020 when Jimmy G suffered an ankle injury, Mullens saw more action.
In 8 starts, he threw 12 touchdowns and 12 interceptions.
For his career, he has completed 387 passes for 4,714 yards.
He had a 5-11 record and completed 64.5% of his passes.
Following the 2020 season, he became an unrestricted free agent.
Everyone knew that the 49ers were planning to draft a quarterback in the 2021 NFL Draft so this was not a complete surprise.
On June 14, he signed a one-year deal with the Philadelphia Eagles but was waived on August 28 because the Eagles signed ex-Jaguar Gardner Minshew.
Mullens vs. Lauletta
The Browns released Kyle Lauletta who had been competing for the QB3 job this preseason.
Lauletta had moments of grandeur mixed with mediocrity which ultimately led to his release.
Mullens is the same age as Lauletta, but he has a wealth of game experience that Lauletta lacks.
Browns offensive assistant T.C. McCartney had worked with Mullens at San Francisco so the Browns coaching staff was familiar with him.
Coach Stefanski acknowledged that familiarity helped.
"The thinking is get a quarterback in here, take a look at him. He has some prior experience in this system. (Offensive assistant) T.C. McCartney was with him in San Francisco, so had some intel on him as a person and a player."