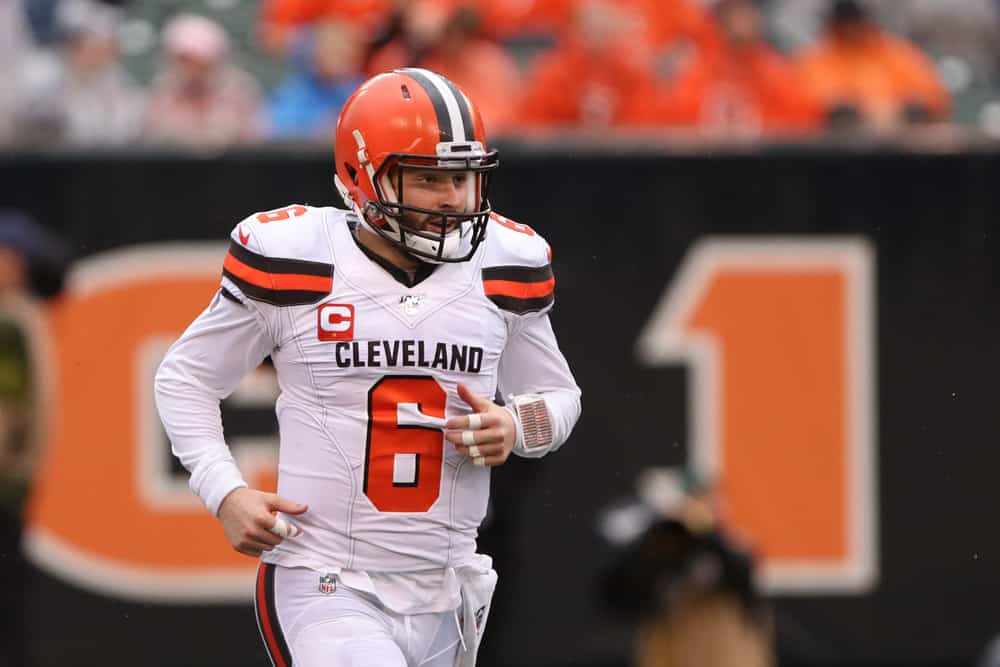 Three members of the 2021 Cleveland Browns team were named to Pro Football Focus's (PFF) 2021 All-Underrated Team.
PFF selected one player to each position through some element of statistical analysis, but it is not clear what process was used.
Here are the Browns who made the PFF All-Underrated Team.
1. Baker Mayfield – Quarterback
PFF highlighted Mayfield's performance in the second half of the 2020 season.
His growth in the second year under Coach Kevin Stefanski's system is also a factor for making the list.
He is about to embark on his fourth year in the NFL and has experienced highs and lows in Cleveland.
Mayfield has worked extremely hard and matured but continues to have his share of fans and detractors.
.@SeanUnfiltered on @BullandFox: "I think people are out of their damn ever-loving mind around the country to think Baker Mayfield is just a guy and an average player. Their amateur-hour evaluation needs to come sit with me and I'll walk 'em through it."

— Keith Britton (@KeithBritton86) September 1, 2021
He appears ready to lead arguably the best roster ever assembled in Browns history.
2. Wyatt Teller – Right Guard
Browns fans know what Teller can do.
He is a member of the best offensive line in football.
PFF ranks in 2020:

🔸Wyatt Teller: 1st
🔸Joel Bitonio: 2nd
🔸Jack Conklin: 2nd
🔸J.C. Tretter: 2nd (not pictured)

PFF's No. 1 OLine heading into 2021 💪 pic.twitter.com/xeXjN0diZT

— PFF (@PFF) August 30, 2021
We also saw how much the running game relies on Teller.
When he was out with an injury last season, he was sorely missed.
Teller is set to be a free agent at the end of the 2021 season so this sadly could be his swan song as a Cleveland Brown.
Last month Coach Stefanski was asked to say what pops into his mind when he thinks of Teller.
 "Tenacious. Physical football player. Oftentimes is playing through the echo of the whistle. He brings certainly a physicality to that group."
3. John Johnson III – Free Safety
It is a good offseason for Cleveland Browns when they can argue about who was the best offseason addition to the team.
There are valid arguments for several players including John Johnson III who was a member of the Los Angeles Rams potent defense.
JJ3 is an excellent player and leader on the field, a consummate professional.
John Johnson III has played 3,490 snaps during his four years in the NFL… and out of those 3,490 snaps, he has been flagged for a penalty a total of 2 times.. TWO times.. talk about a smart football player.. THAT.. is freakin' incredible…🤨

— BrownsFreak51 (@BrownsFreak51) March 16, 2021
Though he will not be handling the play calling duties (Anthony Walker is slated to do so), we know that JJ3 is a good communicator and will be a part of some blockbuster defensive plays in 2021.
Coach Stefanski knows how great JJ3 is.
"John has been outstanding from the moment he stepped foot on campus back in June.  Provides great leadership. He has a really good understanding of what we want to do and our schemes. He does not get fooled. He is around the ball."
Other Notable AFC North Players Mentioned
Ironically, there is only one other AFC North player highlighted on the 2021 All-Underrated Team.
He is Cincinnati Bengals wide receiver Tyler Boyd.
I am not sure what that says for the Pittsburgh Steelers and Baltimore Ravens' rosters.
What Does This Mean?
Like every other preseason prediction, it does not matter how players are viewed until they play the games.
However, it is probably better to be on the underrated team than on an overrated team.
It is clear that all three of these Browns players need to stay healthy and play as they are capable of doing so for the Browns to excel in 2021.