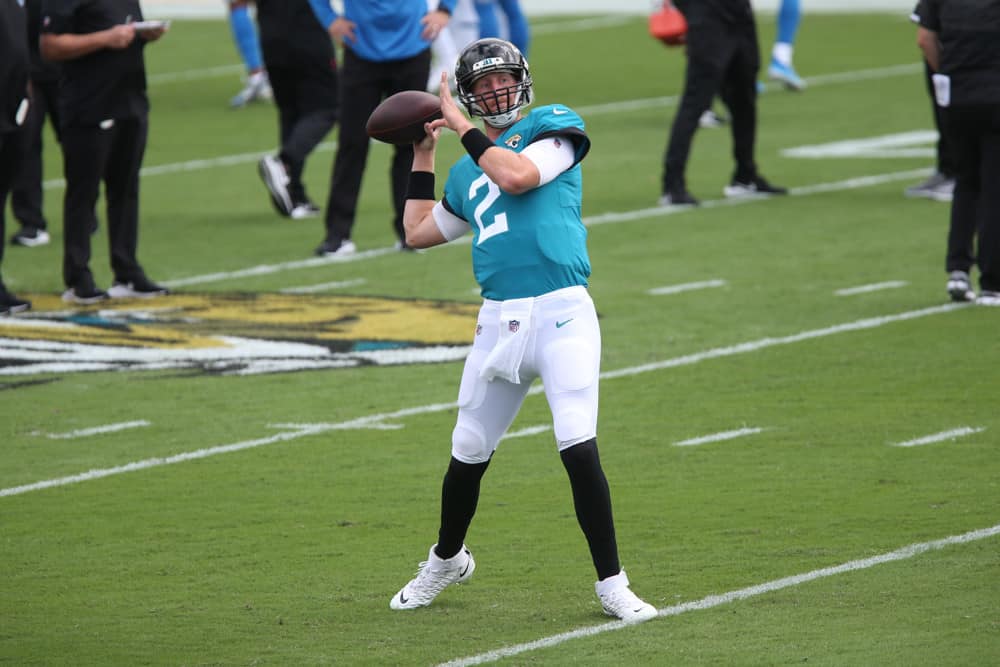 The Cleveland Browns will take on the 1-9 Jacksonville Jaguars this weekend.
After looking at his available quarterbacks, Jags head coach Doug Marrone is going with Mike Glennon.
Jaguars are starting Mike Glennon vs. Browns on Sunday.

— Adam Schefter (@AdamSchefter) November 25, 2020
Yes, you've read that right. Mike Glennon.
Taken in the third round, 73rd overall buy Tampa Bay in 2013, Glennon was a stand out at NC State.
In 36 games overall for the Wolfpack, Glennon started 26 of those.
He threw for 7,411 yards, 63 TDs, 31 INTs, and completed 60.4% of his passes.
Scouts were wowed by his 6'7″, 220+ frame, and thought he could have some success in the league.
It hasn't turned out the way scouts thought it would.
Time In Tampa Bay
Glennon would end up starting 13 games his rookie year, in which the Bucs went 4-12 overall, and 4-9 with Glennon under center.
Lovie Smith would be hired for the 2014 season, and he brought in Josh McCown to be his starter.
While Glennon would start 5 games due to a McCown injury, Smith was never really sold on his ability to lead the team.
In 2015, the Bucs would draft Jameis Winston, which signaled the end of Glennon's time as a starter for the Bucs.
He would backup Winston again in 2016, but would find himself a free agent after the end of the season.
Chicago Bears
In March 2017, Glennon would sign a 3 year, $45 million deal with the Chicago Bears to become their starter.
At the draft in April 2017, the Bears would select Mitchell Trubisky with their first-round pick.
Glennon only lasted 5 turnover marred games as the starter before being benched for Trubisky.
He would be released at the end of the season.
Recent Career
The last few years would see Glennon reach what is officially known as "journeyman status."
He spent 2018 with the Cardinals, 2019 with the Raiders, and bounced between the active roster and the practice squad with the Jaguars this season.
Overall for his pro career, Glennon has thrown for 5,163 yards, 36 TDs, 20 INTs, and completed 60.9% of his passes.
What Does This Mean For This Weekend?
This is going to be Glennon's first start since his time in Chicago in 2017.
As I alluded to in a previous article, Jacksonville doesn't have what you would call a dearth of talent.
This seems like Marrone just sticking someone out there at QB while he awaits the axe that seems likely to fall on him once the season ends.
If you're a fantasy fan and have James Robinson, you might rack up the points this weekend.
James Robinson could really pop with Mike Glennon at QB in Week 12

Glennon started four games for the Bears in 2017 and check out how often he targeted the running back (Jordan Howard + Tarik Cohen)

– 17 🎯
– 10 🎯
– 13 🎯
– 8 🎯

He's a check down machine

Credit: @YZR_Fantasy

— Adam Koffler (@AdamKoffler) November 27, 2020