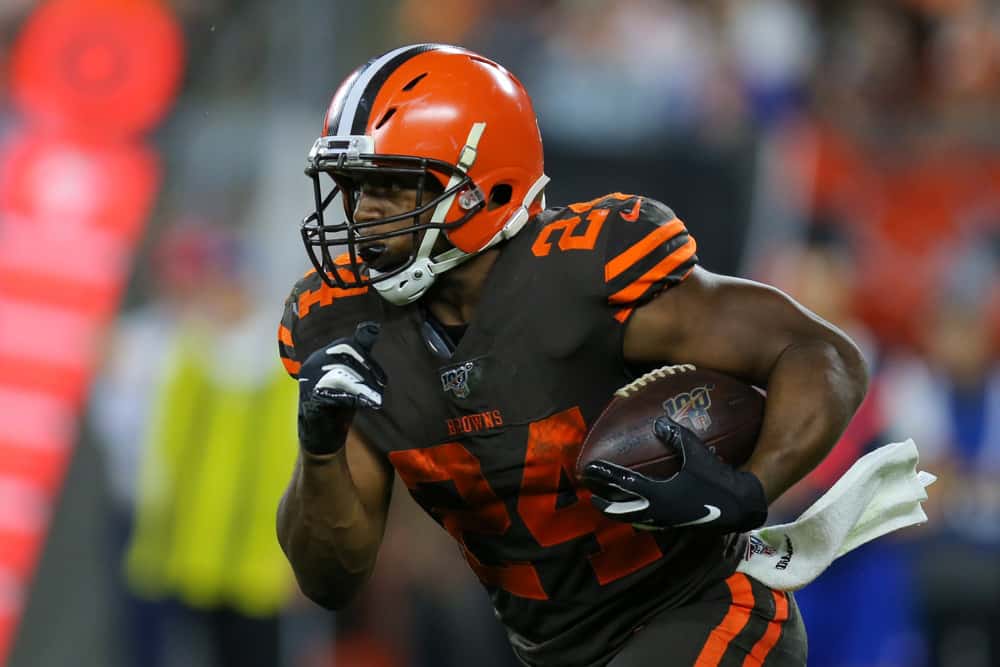 Much of the Cleveland Browns 7-3 success is due to the tremendous running game led by RB Nick Chubb.
While his 4th quarter runs have been the talk of the town the past two games, Next Gen Stats has quantified Chubb's late-game yardage since the beginning of his career.
Nick Chubb goes beast mode 😤

(via @NFL)pic.twitter.com/4dUo89f64I

— Bleacher Report (@BleacherReport) November 22, 2020
Rushing Yards Over Expected
Next Gen Stats has a metric known as "rushing yards over expected" in the 4th quarter of games.
It is a quantitative measurement of how many yards the running back should get based on defenses and blocking versus how many yards he actually earns.
Nick Chubb has gained +387 rushing yards over expected in the 4th quarter since 2018, 135 more than the next closest player (Derrick Henry: +252).

Rushing Yards: 54
Expected Rushing Yards: 4
Yards Over Expected: +50#PHIvsCLE | #Browns pic.twitter.com/sthVpbz9as

— Next Gen Stats (@NextGenStats) November 22, 2020
Since Nick Chubb entered the NFL in 2018, he has led in this category.
Second best behind Chubb over the same timeframe has been Tennessee Titans RB Derrick Henry.
Running Game is Browns Identity
The Browns' greatest successes come when they run the ball well.
But it's not easy, and it requires persistence.
Chubb talked about the Browns running attack following the Week 11 victory over the Philadelphia Eagles.
"That is our identity. We know it is going to be tough when everyone knows we are a running team for the most part. I think (quarterback) Baker (Mayfield) and the receivers definitely help us out a lot. When we needed one of those guys to make a play, they made it."
Regarding the rushing effort against the Eagles, Coach Stefanski added:
"I think the guys stuck with it. We were searching for the right personnel group and searching for the right scheme versus them. That is a good run team. They played downhill until they were gassed. We knew it was not going to be easy. They come off the ball, so we kind of were poking around looking for the right run scheme for our guys…I think we kind of unlocked it a little bit there at the end and were able to get some hard yards. Not going to be easy versus that front."
Browns Playoff Hopes
It's no secret that the Browns playoff hopes rest largely on the legs of Nick Chubb and Kareem Hunt.
Hunt appears to be back in peak form after dealing with a groin injury, and Chubb's spring in his step is back after the MCL sprain that sidelined him for four games.
Equally important to the success of the running game is the return of G Wyatt Teller.
He wasted no time getting back to the top-notch play he was turning in prior to being injured.
Teller was named the PFF Offensive Player in Week 10.
PFF explained why Teller was their top choice:
"Teller was the PFF Offensive Player of the Week in his last full game played back in Week 4 before getting hurt for his dominant run-blocking, and he took home the award in his first game back for the same exact reason. No guard came close to sniffing him in positively graded run block rate, and only one edged him out in negatively graded run block rate. He thrived in Kevin Stefanski's outside zone heavy rushing offense against Houston — especially in the fourth quarter — and did so as well at the start of the year."